Earth Girls Are Easy was and is still one of my favorite movies. It also just claimed the title of being my favorite movie to have screencapped ever! Each scene is an explosion of loud, 80's color. I just want to jump in the screen like Mary Poppins and get my nails did!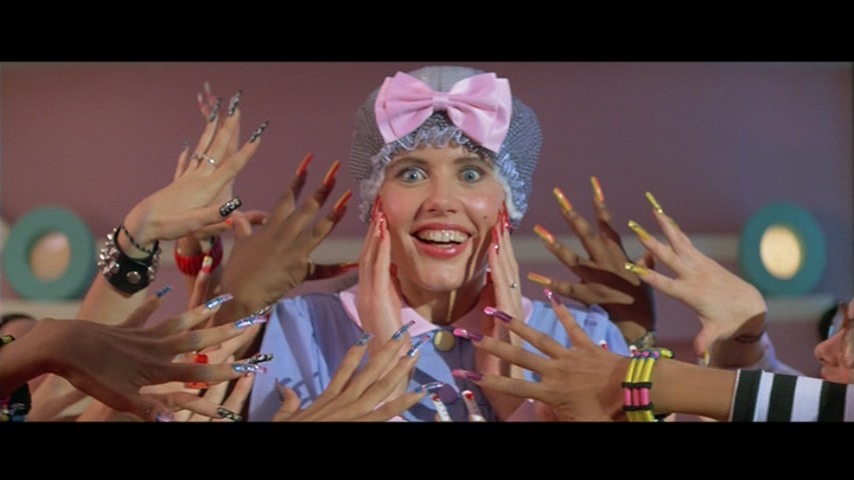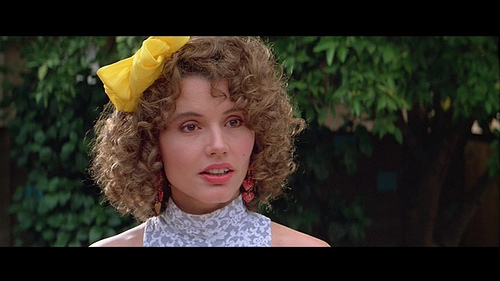 Valley girl manicurist Valerie, played by my favorite actress slash professional archer Geena Davis, discovers her doctor boyfriend cheating on her, but finds romance in her own backyard when an alien spaceship crashes into her swimming pool. Out come three extraterrestrial hunks played by Damon Wayans, Jim Carrey and my ultimate childhood crush (before Fred Savage and Mikey from The Goonies): Jeff Goldblum (THE FLY!!!!!)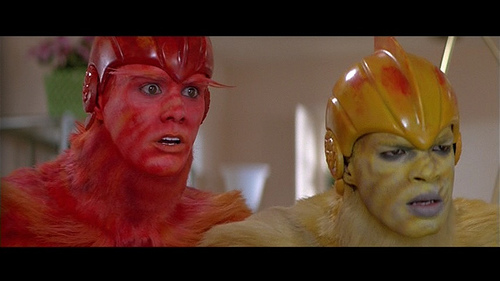 They are completely covered in crayon-colored fur, but are still FINE AS FUCK, especially JG right here! Why am I so turned on?? Am I alone? (crickets..)
Geena Davis with her top ramen hairdo.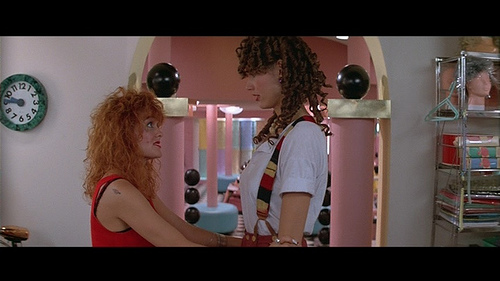 One of the best scenes is at the beauty salon, where Valerie's BFF and sidekick Candy, played by the amazing Julie Brown (not the Downtown) helps Valerie sexify her look. Julie Brown is so awesome in this. Where are you Julie?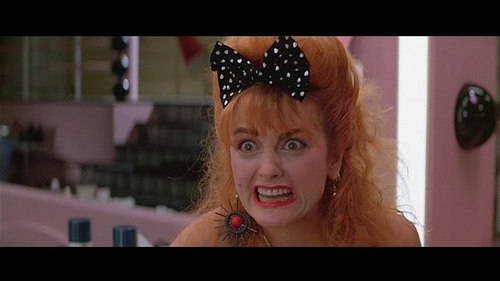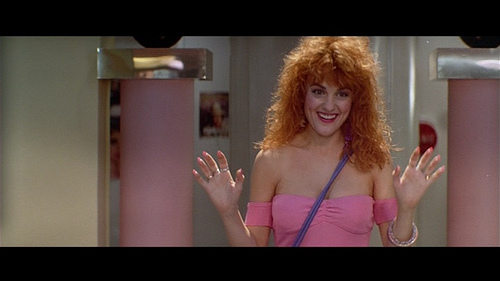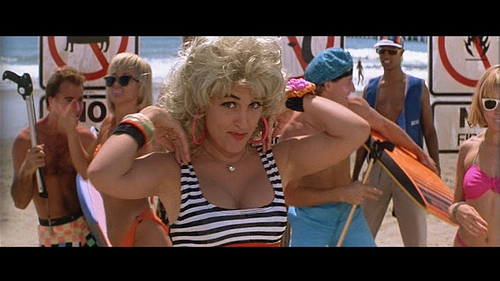 This is probably one of the first movies to pioneer the cinematic tradition and insta-gem that is a really good MAKEOVER MONTAGE SCENE. Synchronized dance and song are even better.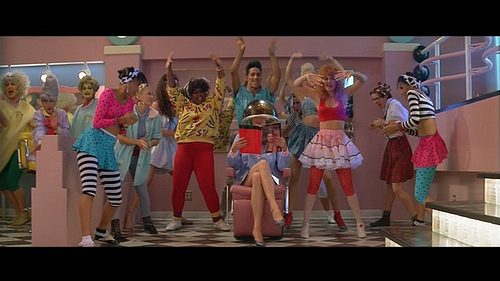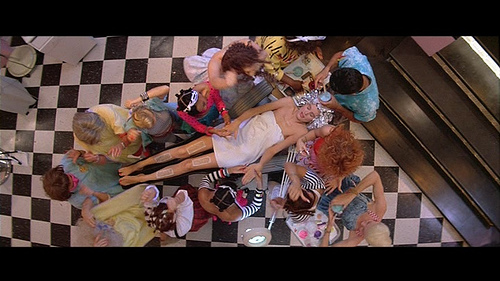 Candy also gives the alien hunks a good shave so they can pass as human. Wish I had that job. WUT
There are so many good details in the props and costume department for this movie. The phones! Quintessential 80's lip phone, duck phone and even a GIANT phone for yours truly.

Give me these tights and shoes! Are those heart shoelace clips? Can we bring those back? I remember I used to have Minnie Mouse ones that attached to my L.A. Gears.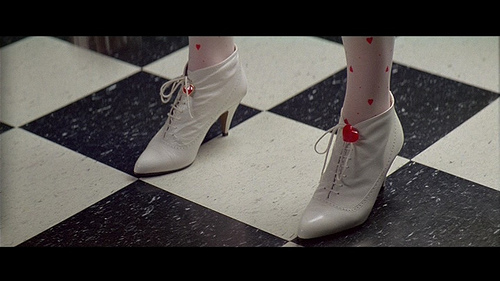 Gimme that heart bag Geena!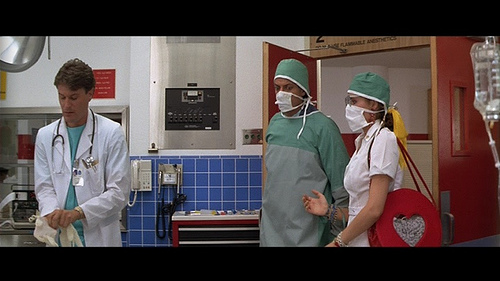 Another great scene is the appearance of Angelyne and her famous pink corvette. If you live in Southern California chances are you have seen her driving around.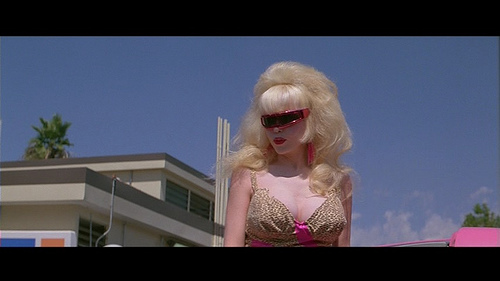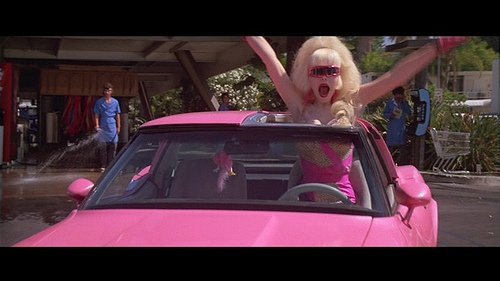 And now…FASHION! This time I did a set focusing on monochromatic outfits inspired by each of the alien hunks. I love head-to-toe crazy color. With a 'lil pizazz you can be a walking Crayola as well! Werk it gurl.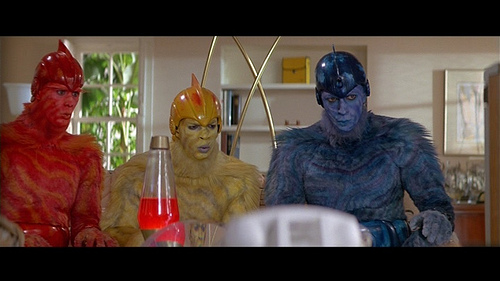 Zeebo:
Earth Girls Are Easy Zeebo Set
by
Agent Lover
featuring
Juicy Couture
Wiploc:
Earth Girls are Easy Wiploc Set
by
Agent Lover
featuring
Melissa shoes
Mac:
Earth Girls are Easy MAC set
by
Agent Lover
featuring
Miss Selfridge
::faints::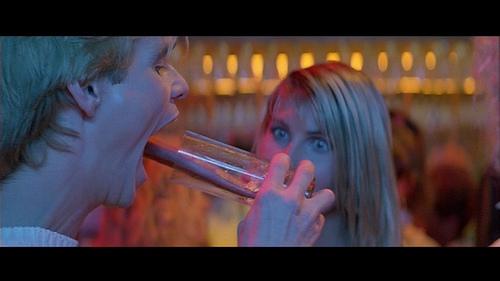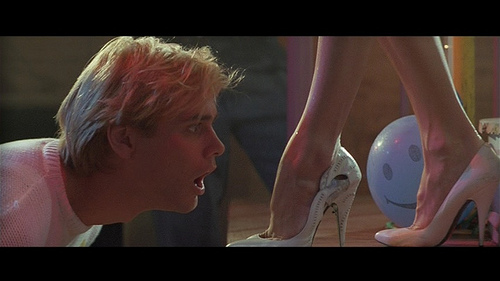 LOVE YOU FOREVER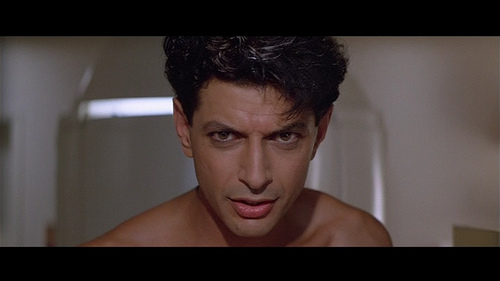 One last word…ASHLEY TISDALE AND ALL OF HOLLYWOOD do not TOUCH this movie. I can't take it anymore. These remakes. My heart can't take it! Stop this remake shit! Designer imposter filmmaking!?!
DA HALE NO
.
Related Posts: