To kick off the weekend, I have a lil' blog mini series inspired by three different films with one thing in common…their main characters are getaway girls. All three of these bad girls on the run still manage to convey an effortless style while partaking in some dangerous activities! In this mini-series we will take a look at their individual styles and with the help of Polyvore, see if we can find similar looks using modern pieces.
With this first post, dedicated to the lovely gea*, we take a look at Anna Karina's character of Marianne in Pierrot Le Fou.
Jean-Luc Godard's usage of primary colors will appeal to those of us who lean towards Crayola-solid reds, yellows and blues in our wardrobe choices. I especially love the candy cane romper she is wearing up above. I can see Nubby rocking that piece! Unfortunately, that is the only scene you can have a good look at so I had to be quick with the screencap! Here's a little outfit I put together inspired by the red and white usage. You can even throw some suspenders in that if you were feeling sassy enough.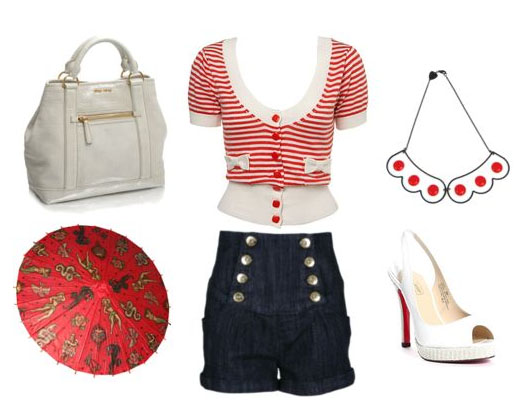 Although nautical style became popular again in the past few years, I feel that it's not really a true trend because it's classic enough to be worn year after year. Do you agree? Am I bias since I love the look so much!? I think Marianne proves this to us with her sailor-inspired outfits in the movie. Hot in '65, hot now.
Lastly, I found a blazer that has more of a feminine silhouette than the schoolboy waistcoat she wore during the beginning of the movie, and paired it with a t-shirt that pays homage to a pivotal scene in the film…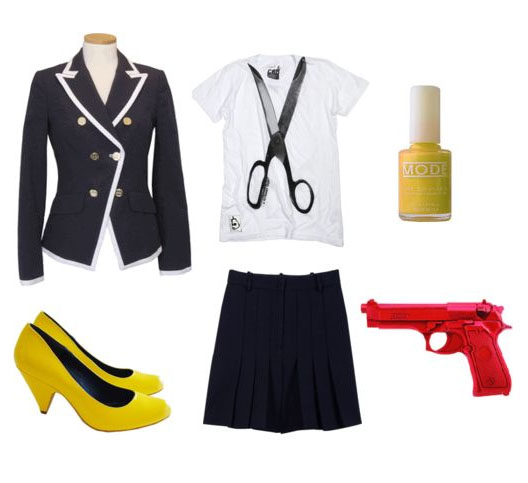 And there you have an interpretation of our first Getaway Girl's style, Marianne Renoir! What do you think? Stay tuned for Parts 2 and 3!