Bettie Page Heaven Bound, an art show paying tribute to the life of Bettie Page, and curated by Lenora Claire, opened this past Saturday at the World of Wonder gallery. As you can imagine, the girls and I had the most glamorous slash craziest time ever which is always expected at Lenora's events.
The ladies and I with Dita Von Teese and Selene Luna!
Nikki, Nicki, Reyna and I with the legendary Olivia!

A couple of Olivia's pieces
Polite in Public had a spanking machine in their photobooth. ME GUSTA! Notice how my face is the least surprised and affected…
Then the amazing Bobby Trendy joined in on the fun…I know. I die. This is going to be my Christmas card everybody.
Let's talk FASHION! This crazy gold spider on my head was actually made by me! I'll be writing about it more in the next post.
Gold Widow headpiece made by me
vintage dress
one silk glove with gold stacks
black heart ring & leopard head ring
black heart purse -H&M
Betsey Johnson black glitter Polly heels
I also made an octopus one for Tiffany to wear. Looked good on her blonde 'do! Here we are with the beautiful Lenora Claire.
Elvira as Bettie Page by Austin Young!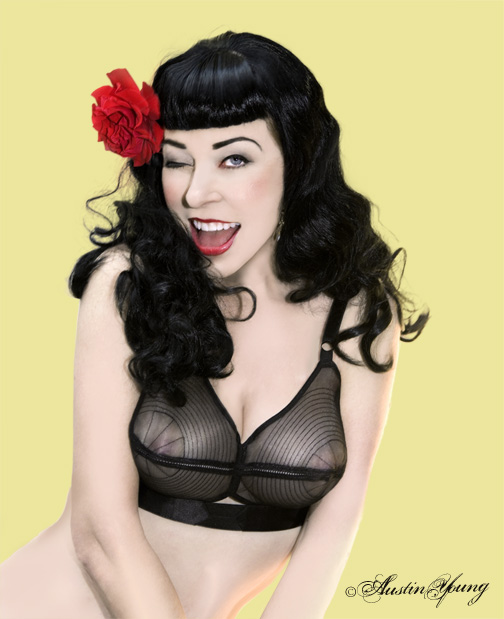 Reyna and I taking turns sitting with Bettie Page's actual shoes!
Always nice to see Mr. Jason Savvy!
Here's a wild little video Nicki took of me giving the lowdown of the show. The end is the best…crazy Micks.
In the meantime!
XOXO

Related posts:
+ Mad Crushin' on Lenora Claire
+ Lenora Claire's Birthday at Houdini Mansion
+ Unpleasant Dreams
+ Lenora Claire likes doNUTS
+ You Better Work