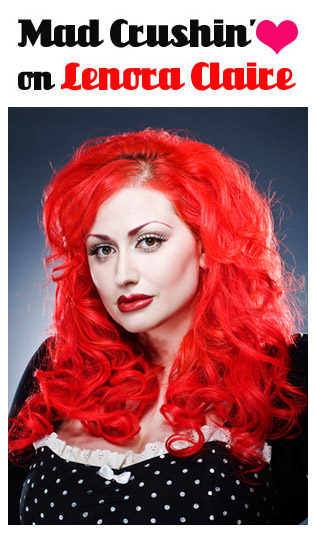 Photo by Marla Rutherford
My favorite redheaded gal pal, the one-woman powerhouse known as Lenora Claire, is an art curator, model, writer and web series host. Anybody else with that much on their plate would have trouble keeping it together but Lenora Claire manages to pull it off with grace, all the meanwhile looking gorgeous. She gives us the scoop on her beauty secrets and style inspirations and talks to us about her upcoming art show Bettie Page: Heaven Bound.
+ Tell us all about your upcoming art show tribute to legendary icon Bettie Page.
I knew it was going to be difficult to come up with a follow up art show after my Golden Gals Gild Wild show which featured erotic art based on the Golden Girls and got nation wide press ranging from NPR to the National Enquirer but I had the amazing opportunity this summer to pose for the legendary artist Olivia and we started a really lovely friendship. When Bettie passed away the idea for a tribute show featuring Olivia's beautiful work as well as several other amazing artists was born.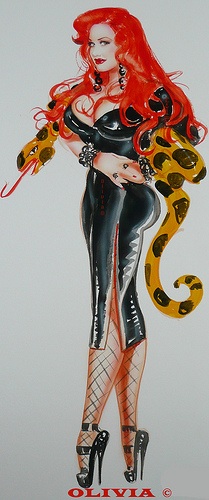 Lenora Claire by Olivia
+ How do you describe your personal style, from day to day to a night on the town?
I'm the queen of the slinky black cocktail dress. I pretty much wear variations of that (I have about 100) paired with my trademark neon red hair. I get compared to everyone from Jessica Rabbit to Bozo the clown so I must be somewhere in the middle.
+ Any beauty secrets you can share?
Since I have been dyeing my hair red which is the most impossible color to keep for ten years I've mastered the art of keeping up my crayola color. Since heat makes molecules expand (yes, I'll blind you with science) that opens the hair shaft allowing color to leave so never wash with hot water always wash with cold. Also, I dump some of my dye in to my conditoner bottle so I freshen up my hair every time. On my face I love mac studio fix and always, always, always, work those false eyelashes. Also, ladies ask your best drag queen friend to teach you how to contour. We all have Ms. Potato Head faces so if you learn the art of contouring you can create the illusion of cheekbones or change around anything you don't like.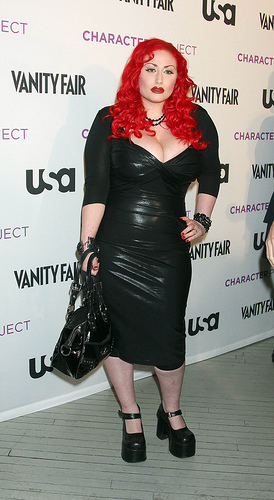 + Do you have any particular style icons?
Jayne Mansfield, Leigh Bowery, Dianne Brill, Vivienne Westwood, and Grace Jones.
+ What are your inspirations?
The Pierre et Gilles color pallet, Japanese street fashion, Thierry Mugler, and too many cult films to name.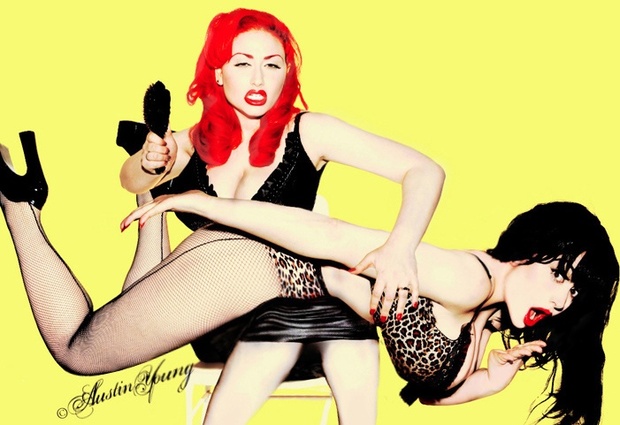 Photo by Austin Young
+ Favorite artists?
James Bidgood, Joe Coleman, Henry Darger, Olivia, Mark Ryden, Colin Christian, and Alejandro Jodorowsky.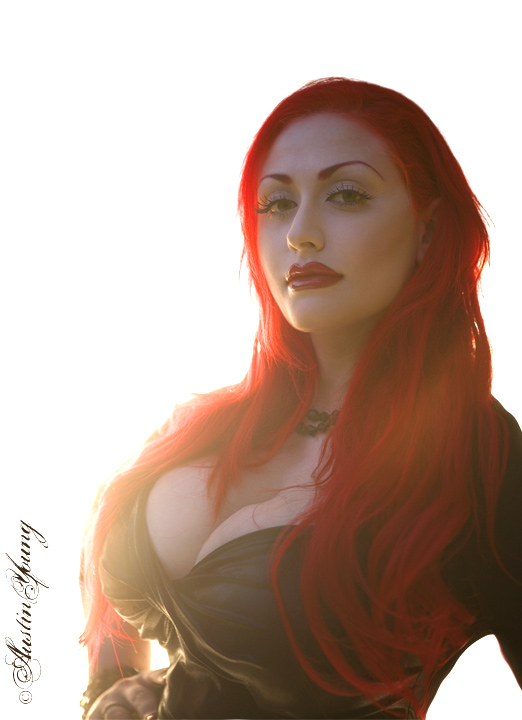 Photo by Austin Young
+ Who would you love to work with someday?
I would love for Thierry Mugler to make me an outfit that Pierre et Gilles would shoot me in for the poster for my film directed by Alejandro Jodorowsky or John Waters starring myself and Paul Ruebens.
+++++++++++++++++++++++++++++++++++++++++++++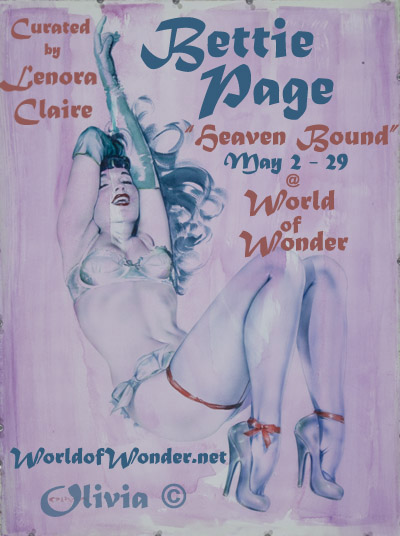 If you are in the LA area this weekend, Bettie Page: Heaven Bound opens Saturday, May 2nd with a gala opening reception at World of Wonder Gallery and runs until May 29th. Lenora's events are not to be missed! I plan to be right in the middle of that three-ring circus as I always am!
Bettie Page: Heaven Bound
May 2, 2009 8pm-Midnight
$5 admission
World of Wonder Storefront Gallery
6650 Hollywood Blvd Hollywood, California 90028
(323) 603 6300
More Lenora Claire here:
www.LenoraClaire.com
www.Myspace.com/LenoraClaire
http://www.facebook.com/people/Lenora-Claire/731212083
http://en.wikipedia.org/wiki/Lenora_Claire
http://twitter.com/lenoraclaire
http://www.flickr.com/photos/lenoraclaire/

Related posts:
+ Lenora Clare Likes doNUTS
+ You Better Work
+ Lenora Claire's Birthday at Houdini Mansion