Category —
Chola Style
Every classy and sassy girl going to the prom needs a corsage right? The usual choices of flowers and ribbons are pretty little things, but a badass homegirl needs a unique wrist corsage that expresses her individuality.
I made my first tacky corsage back in high school. I actually still have it. The ingredients used? A doll head, aluminum foil, some jacks. WTF? Obviously my love for tacky ass shit goes way back. For our second Homegirlz photoshoot, Rucas go to Prom, I revived my corsage-making expertise to bring out the finest in prom girl accessories. What supplies do we need for this lazy crafting adventure?
* Tulle
* Glue Gun
* Ribbons and Bows for the bases – I used big hair clips and violently ripped off the snap barrette part like THE HULK
* Corsage bracelet found at most craft stores
* A bunch of crap from the 99
* ~Your imagination~
Since I am a theme whore, every corsage had to be specially personalized for each of my heinas. For the church-going ruca, a corsage embellished with Catholic imagery was perfect. I found the mini Jesus statue in a 50 cent toy machine. Added a cross and some Virgin Mary pins and there we have it!
The girly girl ruca loves lip glossin' and Mariah Carey's slow jams, so what can be better than butterflies, baby powder pink, and something that spells out just how "sexy" she is? The silver butterflies and "sexy" additions are actually from some cheap earrings and the little white plastic fan is a quinceañera favor.
The bad girl ruca loves nothing more than getting faded on a Saturday night. She even keeps a blunt in her corsage [and a lighter in her bra, of course.]
Does your girl have a favorite cartoon that might even double as her nickname? I took apart a Tweety Bird keychain and added some Mexican Lotería cards and a pink bandanna to compliment my homegirl Tweety's dress. I love me some Mexican Lotería cards! They are weird and actually kind of scare me for some reason.
There is no hotter combination than Betty Boop and gambling. For my own corsage I took apart a Betty Boop earring, cut up some playing cards and glued on these mini card buttons and came up with this rojo-colored masterpiece.
Just remember homegirls and homeboys, for the Lazy Crafter, all you really need is a glue gun and your imagination and you can make your dreams come true…
July 2, 2008 6 Comments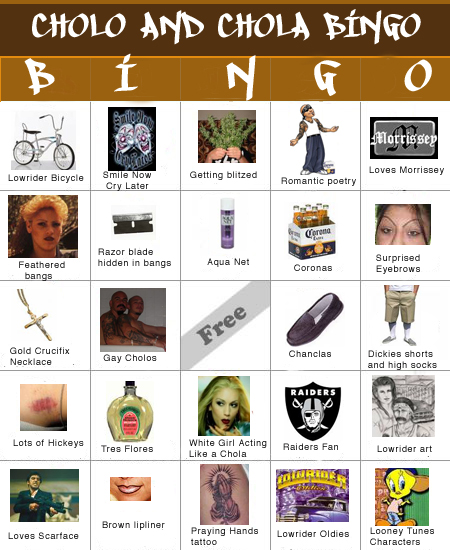 Funner to play than Hipster Bingo as long as you don't get jumped. For more cholita goodness check out the Chola Style Guide.
This will conclude my Bingo Card making for awhile. Why didn't you tell me Photoshop makes time fly even faster? Luckily Lost was a repeat tonight…
On a side note, I want to start dating Asian guys now because of America's Best Dance Crew. Jabba Wockeez and the boys from Kaba Modern are sending my ladyboner through the roof. Asian guys who can dance like that HIT ME UP.
March 27, 2008 10 Comments
When I was thirteen, my "cousin" Gigi came to live with us for a couple of weeks. ["Cousin" as in the Filipino way where everyone is your auntie and your cousin, probably even your boyfriend] Anyway, she got into some sort of shenanigans back home and was sent to stay with me, who was a perfect angel back then. Gigi loved cholos, and looked like a chola herself or at least had the hairdo, which was stiff as straw, raped-by-Aquanet, peroxide-lightened hair. In the two weeks Gigi was with us, I learned how to concoct a makeshift cocktail from Boone's Strawberry Hill and my mom's mangoes, and we would sip them while sitting in my front yard catcalling at the guys who would drive by in their cars, pumping their music as loud as they can. Gigi called that move "The Mating Call." I was sad when she went back home since it was nice having a chola sister for a little while.
After years of other similar friendly run-ins, I theorized that cholos and cholas may be the undiscovered comedians of the world. They come up with more pop culture-referenced, witty one-liners than you could ever imagine. Their style was very fashion forward, with their now ironically hip Virgin Mary shirts and other Catholic paraphernalia. They were fixing classic cars longer than your rockabilly boyfriend and listening to the best band in the world, Zapp & Roger.
If you grew up in southern California, then you know what I am talking about. You were probably appreciating cholo/chola style long ago. Of course, Gwen Stefani rocked wife beaters and Dickies back in '95 and obviously still sports some chola-esque elements. In the past decade cholo/las have become a popular choice in Halloween costumes [aside from Halloween 2007's easy-to-do costume: Amy Winehouse.]
Are you down for chola style and want to know where to begin? Perhaps my do-it-yourself Chola Style Guide can help pave the way.
+ Watch movies about cholos. Blood In Blood Out, American Me and Mi Vida Loca are good starters. Then you can watch Scarface, which isn't a movie about cholos but they love it and think Al Pacino is a badass just like you do.
+ Refer to this Ultimate Gangsta Starter Pack that I made for Robyn Swank a few years ago when she was obsessed with cholos. The starter pack was my first foray into custom gift basket making [which I will of course get into at another time]. Items included were a 40 ounce of malt liquor [don't forget to spill some for your homies], a switchblade [to cut fools who try to step to you], brown lipliner, an appropriate movie [as reviewed in#1], a hooded sweatshirt featuring a gangsta and his heina with Jesus watching over them, crip slips [even comfortable enough to wear to Coachella! ], a Virgin Mary bandanna, and big gold hoop earrings.
+ Give yourself a chola-themed nickname. In seventh grade I used to write Gigglez all over my Trapper Keeper. If you are a wallflower, Shy Girl will work perfectly. This is pretty simple. As Dlisted pointed out, "Chola girls in High School had nicknames that sounded like the names of the bitches on Flavor of Love."
+ Write some poetry to your man in lock-up. A chola loves doing this for her man. I know it's been years since you let your own feelings out on pen and paper. Don't be afraid to let go and show Chuy just what you mean to him. If you are not poetically-inclined, post the lyrics to "Angel Baby" on his myspace page. When he gets out of jail he will undoubtedly appreciate the sentiment.
+ Last but not least, take some pictures at the mini-mall with your homegirls. Choose your background wisely [you can never go wrong with the classic "Smile Now, Cry Later"], coordinate your outfits, and get together beforehand to draw on each other's eyebrows and drink wine coolers. My homegirls and I did this a little while ago as you can see up above. Make sure to get a lot of wallet-sized photos because everyone will want one. Don't worry about covering up your hickeys. Your man likes it when his heina is all tagged up.
January 9, 2008 47 Comments