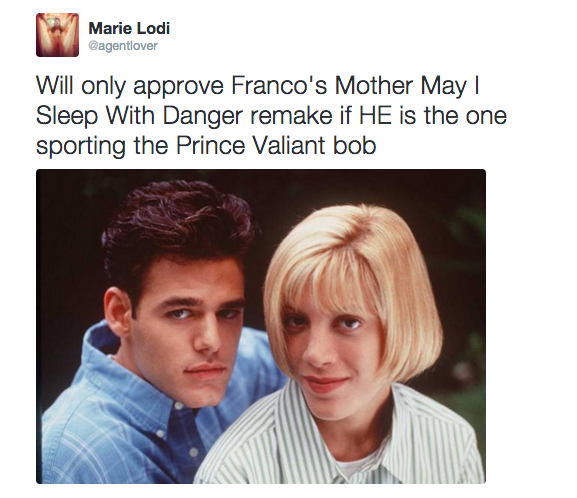 If you've been a reader at this old memaw blog since the beginning of time (2008), you know how much Lifetime Original Movies (LOMs) are important in the Agent Lover world. Since the '90s, I have been an avid viewer and can easily watch a triple LOM marathon when I'm at my parents' house (my mom is also a huge fan of LOMs.) The world of the LOM has simultaneously changed and stayed the same. This past year, I watched with bated breath as Haylie Duff found out the man she was married to had another wife. I've enjoyed both Double Daddy and Kidnapped: The Hannah Anderson Story. I've sat patiently through all three Unauthorized films about our favorite old shows (and wrote about them.) We got all the usual suspenseful thrillers with C-list actors, but we also received a very interesting wild card: a Lifetime movie with some super famouses. Will Ferrell and Kristen Wiig starred in a LOM called A Deadly Adoption. 
For decades, Lifetime was always sort of a ~guilty pleasure~ for people. Most watched, but they didn't really talk about it. Like porn. When I wrote this Top Ten Lifetime movie list four years ago and held a contest to win Death of a Cheerleader, I was happily FLABBERGASTED at the amount of passion everyone put in to win. My heart grew three sizes bigger that day. Times have changed. These days, it is "cool" to like "uncool" things like LOMs. Everyone is just letting their freak flag fly. Lifetime picked up on that and got "serious" with their biopics, though we all know the real gems are the ones filled with sordid escandalo. Add the names of A-list comedians to one of them and that's some next level shit.
In the most gangsta biz move, the network launched a Lifetime Movie Club app, sort of like a Netflix consisting entirely of LOMs for 4 bucks, which 'scuse me, why am I not subscribed to that yet?? Oh, because it is NOT on Amazon Fire Stick. Anyway, we are living in a post-ironic, post-cool, LOM-accepting world now.  I have no idea what's going on here anymore. Because of this new acceptance and the success of A Deadly Adoption (6 million viewers), it's not too surprising that ol' Jimmy Franco wanted to get it on that. The thirstiest fake weirdo we know has been announced to remake one very precious LOM. Yes, I'm taking about 1996's Mother May I Sleep With Danger? starring Dame Tori Spelling and Ivan Sergei. IT'S JUST PREPOSTEROUS.
I have raged against the reboot machine many times before, but this is where I must stomp my chancla down real hard. Really, HOW DARETH U. Franco is set to executive produce the remake, but not star in it, thank gawd. We already have to see him play gawtdamn Tommy from The Room. There is no word yet on casting for the MMISWD? remake, but there ARE rumors that Tori Spelling will be cast as the MOM. LAWD HAVE MERCY! I wonder if she's doing better now following her Hibachi grill incident, BTW.
The thing is, I don't believe this is truly the work of Franco. I just can't buy that this was any of his idea. Whoever the PUPPETMASTER is, they were smart enough to get a name like Franco involved. The media is all over this shit and passionate people (like moi) are RILED UP. If this is the kind of response they want, this is what they will get. Look for me on the local news as I show up to James Franco's house driving a tank plastered with images of Tori Spelling's hideous bob. This form of protest is, of course, inspired by Vivienne Westwood.
In other news, it's about time I update that ol' Top Ten List of Lifetime movies. I will post it as an 8-year blogiversary gift next month. Perhaps I will even do another DVD giveaway, that is, if there is ANYONE reading this blog anymore. HELLO, IT'S ME *played-out Adele joke*
Speaking of DVDs, look at what popped up on Amazon which I taylor swiftly added to my Amazon wishlist.