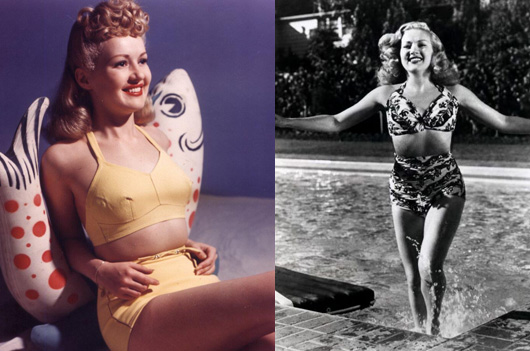 WELL, EVERYONE. IT'S OFFICIALLY: SUMMATIME. And you know what that means…time for me to start whining to the world about how bad I want to lay by a pool, drink a lil' mojito, and work on this tan while softly singing along to the sensual jams of one Sean Paul (YAS you better right click and play in another window while you are reading this post! And NO, I have not given up on my dear Sean Kingston. Can't a girl enjoy summer in a Sean sangwich???) It also means I need a new bathing suit to help manifest that vision, which brings us here. First of all, can you believe this is the FIFTH ANNUAL RETRO BATHING SUIT POST!! We officially have as many posts on this as there are Fast and The Furious movies. That really means something to me, you guys. *Vin Diesel tear* Anyway, this year's MUSE is none other than actress and pin-up Betty Grable, whose gams were so slammin', they were insured by her studio for one million dollars. Can you imagine having one of your body parts insured? Like how much could I get for my freckles? Or my nail beds?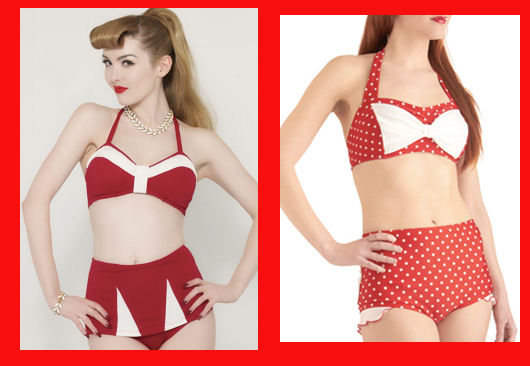 ♥ What Katie Did Top and Bottoms, $67.50 and Bow Tide Swimsuit Top, $57.99 and Bottoms, $59.99, Modcloth ♥
Let's start this thing off with a bang! This red and white two-piece from one of my favorites, What Katie Did, reminds me so much of my old high school drill team uniform. It's also available in a one-piece and both styles also come in black and white or a periwinkle blue. I want them all! This  bow bikini top on Modcloth has been catching my ojo for MONTHS. It's totally Wanda Woodward steez, no?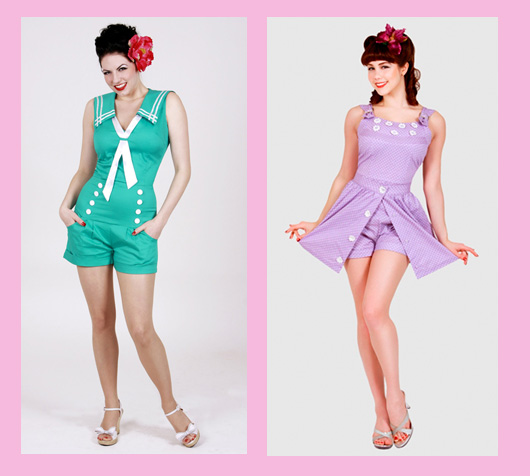 Ahoy Playsuit, $64 and Violetta in purple, $76, both at Bettie Page Clothing
I love playsuits. Sadly, I still haven't found one that looks flattering on my short torso/big booty bod and doesn't give me an 80's sitcom mom ponch. Do you know what I'm talking about?? I wonder if one of these from Bettie Page Clothing is the Holy Grail of playsuits for me!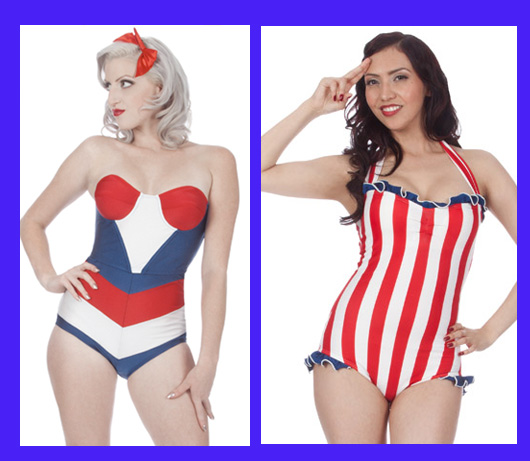 Olivia Bustier, $98 with Amelia Bikini Bottom, $68 and Stella One-Piece, $108, both by Fables By Barrie
It's a common expectation for me to find the newest and cutest nautical-themed suit each year, but these two from Fables By Barrie are really cool because they make you look like a superhero! Or a ROCKET POP!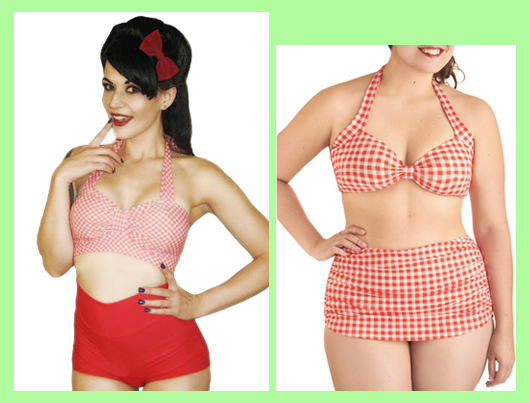 ♥ Dixie Lee Top, $64 and Ruby High Waist Bottoms, $62, both at Get Go Retro and Aye, Aye Cabin Two-Piece, Modcloth, $89.99 ♥
I know there's probably enough red in my picks already, but HELLO it IS a power color. And I'm always a sucker for gingham, so I had to put these two BEAUTIES in here. The one on the left is from Get Go Retro and the two-piece on the right is from Modcloth. Perfect to wear grillin' some weenaz on the BBQ…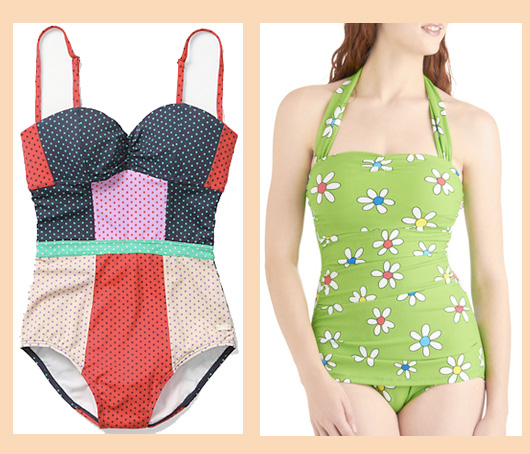 Sweetheart Patchwork Malliot, $218, Anthropologie and Bathing Beauty in Groovy Daisy swimsuit, $89.99, Modcloth.
It was SO hard to pick a #1 favorite bathing suit this year but I was able to narrow it down to these two. This patchwork dottie suit from Anthropologie is obv a lot of fun and you know I had to pick this daisy swimsuit from Modcloth's Be the Buyer program. In my Summer 2012 Summer Fantasy Dream Sequence, I'd wear that daisy suit with a hat like the one Jodie Foster wears in Taxi Driver and sunglasses that look like that invite from Moschino Cheap and Chic's S/S 2010 runway show. I wish they had made actual sunglasses like them.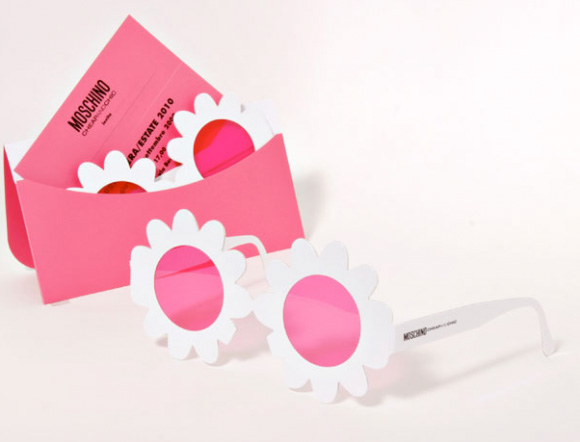 Have you gotten your *SUMMATIME SWIMSUIT* yet?