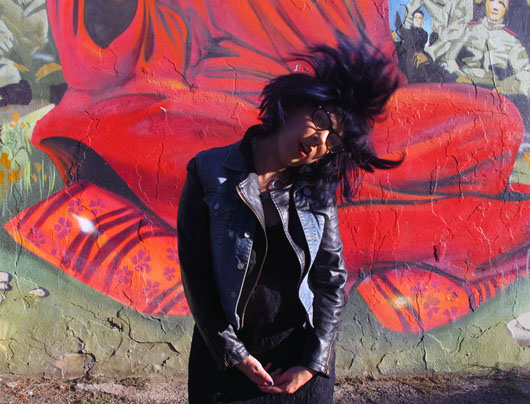 Aurora Lady is a portrait artist and girl power soldier living in LA. When we first met, we immediately bonded over our unabashed love for Drew Barrymore and Mariah Carey. Her new collection, Cathedral of Rebellion, celebrates the bad girls we all adore and in this interview with the lady herself, we get to learn about all the things she loves! We are also giving away some goodies from the new collection so make sure you read about how to do that at the end of the post!
What inspires your art?
I go through very obsessive, neurotic phases, and I these phases totally inform my content. Right now, I'm getting Spring-y: loads of pastel colors I find in the Pasadena Rose bushes, stray cats that have different colored David Bowie eyes, Scorpios, blended peach margaritas at this bar called Amigos, podcasts about politics and  sex, talking with a friend so intimately that you start crying, and women who rock muumuus and caftans (Mrs. Roper and Stevie Nicks). My favorite, though, is talking to other women who have cultivated their style, and then finding out about their influences. It's the best way to dig deep and look for inspiration.
If you could describe your style as the love child of any two people/things, who or what would they be?
My style would be a cross between Steve Martin circa 1979 with the white suit and bunny ears, and Drew Barrymore circa 1993, when she was a bad girl who took everything off, except her dark red lipstick. And even though I've been consistently in love with both of these people and their respective styles for decades now, it's really their attitudes that just sent me over the moon. I like people who know exactly who they are, but aren't held back by that self awareness.

Who are some females, artists and otherwise, that you admire?
My latest collection, "Cathedral of Rebellion", is a love letter to seven women who have made their mark on me, in one way or another. They are all completely different and I completely love them. There's Marie Antoinette, Lydia Deetz, Marilyn Monroe, Lindsay Lohan, Lolita,  Courtney Love, Mary-Kate Olsen: they've all had a hand in my consideration of the type of woman I am. They've each had their highest of highs and lowest of lows, and that's what's kept me attracted to them. I adore people in pop culture who know their own humanity, who aren't solely pursuing a perceived perfection. My biggest girlcrush right now is this woman in Canada named Jessica Luxury (also a Scorpio!), and I'm pretty sure she's gonna rule the world. She's a sex positive body activist and is so smart and clever on every level. She's like my power animal– even reading her Facebook updates make me wanna work harder, be more present, and love with every bit of  my humor and strength. Jessica and her partner host their own sex show called "Heavy Petting". AMAZE! When I moved from Fresno to Los Angeles, I made an effort to make friends with women who were focused on their careers and living their dreams. Now, my girlfriends are the people I look up to and admire, because they're constantly making killer projects, creating lifestyles that empower them and other folks. They are complete badasses and keep me moving forward. I could sing their praises til the end of time—instead, I make sure I talk 'em up on my blog and hope that their love is embraced by my readers.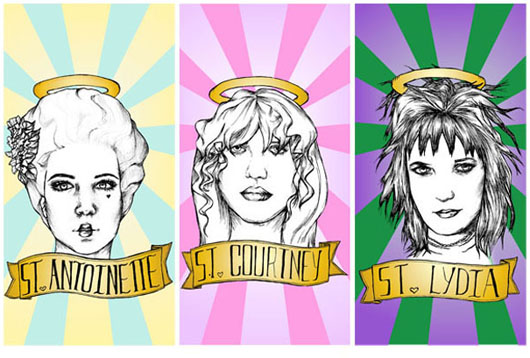 Is there a particular decade in history you feel a connection with?
It's more like certain elements and ideas from certain decades are what I connect with, and it's mostly through memory. I'm old enough know that I have really beautiful, romantic ideas about the pop culture I grew up with in the 90's. And I feel really appreciative of the 40's and 50's because that's when my grandmother came of age, and I was close to her. My mother was definitely a product of the 60's and I saw that in the things she gravitated to, and now I am drawn to as well—it's so strong that when I am watching older Angelica Houston movies, sometimes I pretend that her and my mother were friends, or were connected on some cosmic level. I do my make up like my mother did hers, not because she taught me, but because it links me to her on a daily basis, and she learned how to do hers at a certain time. I think people might automatically view it as an homage to a certain era, but most of the time, it's just a singular way to share something with someone I love.
What music are you currently listening to?
I'm really into the new Exit Music. I can't wait to get that album! I also really love Fun.'s "Some Nights"—I've always adored Queen and I think Fun. is a fantastic progression in that style.  My husband and I are really into record hunting; last year we got set up with a record player and now vinyl is pretty much all we listen to.  We're sticking to a lot of the classics right now: Matthew Sweet's "Girlfriend" and Tom Petty and the Heartbreakers "Damn the Torpedos" are pretty much always on rotation. And, of course, "Rumours" from Fleetwood Mac. That album has officially seeped into my bloodstream and is now a huge part of me. Now I'm starting to collect the vinyl versions of the CDs I loved as a teenager: "Last Splash" from the Breeders and "Exile in Guyville" from Liz Phair. I still can't get through a listen of "Exile" without wanting to write a letter to some dude. Only now, it's different dudes for different things. That would be a pretty fun 'zine to make, "Letters to Dudes in the Key of Exile."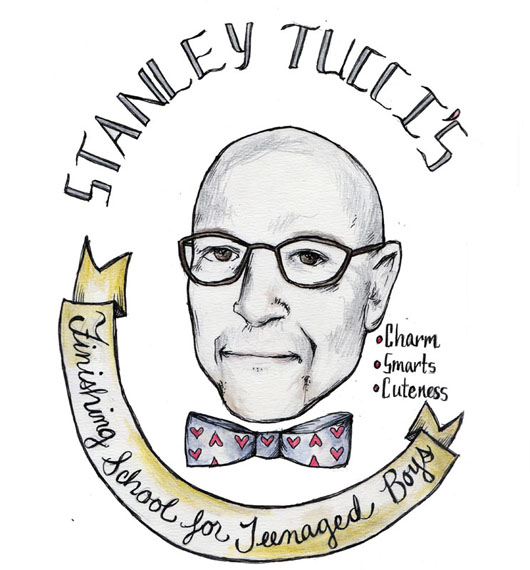 What are your wardrobe staples?
I adore vintage clothing! I know that's vague, but it also gives you the idea that I just like things that have a history to them. My staple would probably be this fake black leather biker jacket that I found at Goodwill on La Brea. I wish I had about 8 of them, so I could decorate them different ways! I also love dresses—lightweight, puffy a-lines, and long polyester maxi's from the late 60's are totally my jam. I love my little black vintage ankle boots. And I would consider make up a wardrobe staple: I love a strong penciled in brow paired with whatever Lime Crime lipstick I happen to have in my purse.
 Is there anything you collect?
How about hearts?! I'm actually very against "collections", personally. I constantly take stuff to the Goodwill and it freaks me out to know that I'll be saddled with certain possessions for the rest of my life. Collections generally make me very depressed. It's part of why I like the internet—I enjoy cataloging and organizing in an intangible manner. It's the only way to keep collections truly tidy.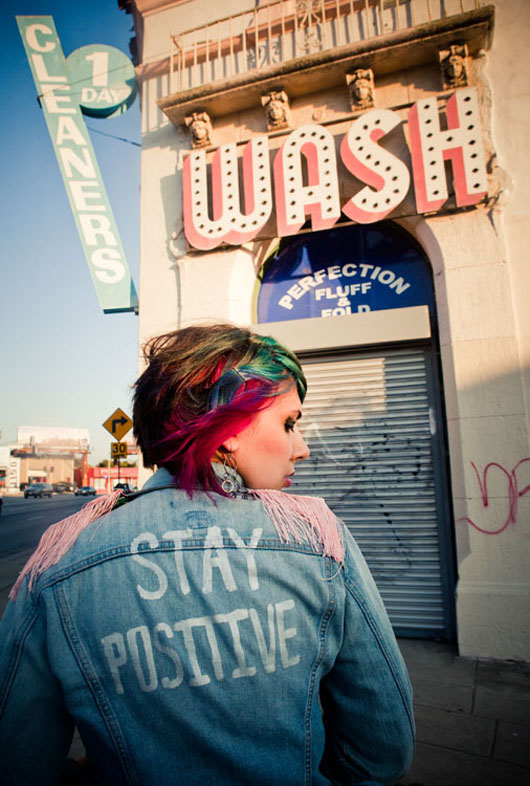 Your five current obsessions:
The color of Lime Crime's Airborne Unicorn lipstick (I want this pink/purple hybrid to be my hair color!), iced chai tea soy lattes from Lovebirds Café in Pasadena, starting or not starting another zine focused on feminist discourse, DIY sewing projects that utilize crafts made by people I don't know (like quilts or crochet or embroidered towels refashioned into skirts or black metal drum kit cases.)
 Do you have any advice for aspiring lady artists?
Eliminate the static! Find a job that allows you to showcase and use your talents, and if you don't have that job yet, create it. Don't waste time on people who are dream killers—seriously, break off all ties from them and get the hell out. Be ruthless and use every moment to work on your art—even if you are working a desk job, have notepads next to you so you can write down every idea, and listen to podcasts that inspire you while you are pushing papers. Wake up an hour early to draw before your commute. Use your sketchbook at lunch and take notes on everything.  Talk to EVERYONE about what you are passionate about, and don't limit your social circle to other artists! Your vision is needed and there is room for every sort of perspective. Look for opportunities to help others—ask what their passions are and connect people. Most of all, just keep going and don't get discouraged. I mean that. It's really, really easy to say I'm never going to get anywhere with this, and stop. That's a sad way to live. If I had given up, I'd still be living in a podunk town, wishing I had had the guts to go balls to the wall and make money off my art.
What's next in the world of Aurora Lady?
I just did a collaboration with my favorite makeup company ever, Lime Crime, and I have some more partnerships coming up. This is so exciting for me and has been a huge goal of mine; it's terrifically nausea-inducing to know it's finally happening! I've got more portrait projects on deck, and I'm working on a show in downtown L.A. I'm also doing a St. Antoinette sticker campaign—look out for her face on the streets! She's going to be everywhere!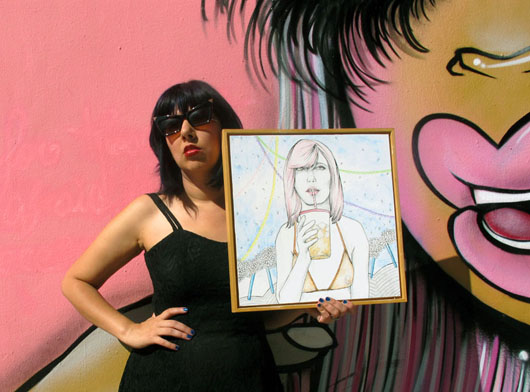 ♥♥♥♥♥♥♥♥♥♥
AND NOW FOR THE GIVEAWAY! One lucky reader will win a set of all Cathedral of Rebellion buttons, plus a signed Cathedral of Rebellion print of their choice! Just leave a comment below! Comments will be closed on Thursday at midnight and I will choose a winner randomly on Friday! Good luck! MORE GOOD NEWS!: Aurora is offering 20% off to AL readers with the coupon code: secretagentlover
EDIT: The winner has been chosen! #22 Kitty! Please email me at marie[at]agentlover.com to claim your prize!!!