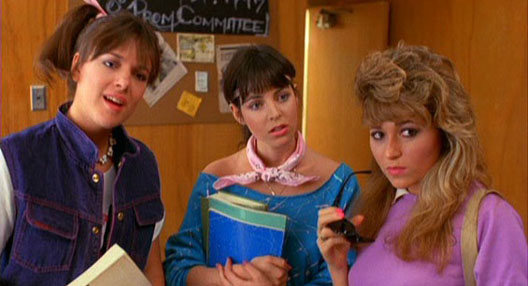 ♥ My favorite VG on the right: EG Daily! ♥
If you've hung out around in the Agent Lover lair for awhile, you may have noticed how much I love valley girls and anything related to them. So this week is….ALL ABOUT VALLEY GIRLS!  That means we will be talking about valley girl-themed movies, favorite famous VG's and other totally tubular stuff! In the meantime, why not take a trip back  to my posts on my fave movies, Valley Girl (duh) and Earth Girls Are Easy, as well as my interview with singer Josie Cotton from Valley Girl!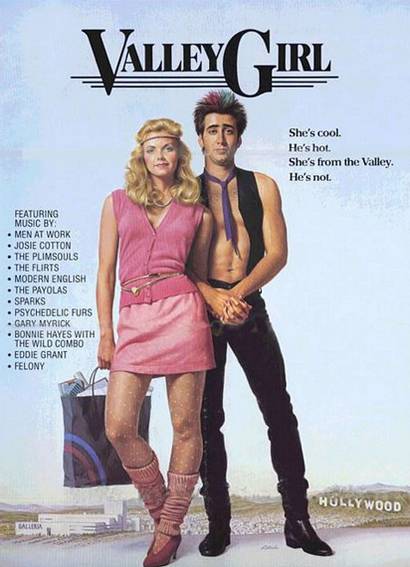 ♥ I have to say it always pissed me off that the poster for Valley Girl did NOT have the real girl Deborah Foreman on it! Who was this imposter?? ♥
But that's not all dudes and dudettes… we are kickin' this thang off with a totally awesome giveaway! The winner will receive Valley Girl on DVD (although I'm sure ALL OF YOU have it already!) and I've also paired up with We Love Colors to give away a couple of my favorite items: 2 pairs of their knee socks and 2 pairs of their Nylon/Lycra Microfiber Tights ( Styles #1053 or #1008) ! All you have to do is leave a comment below and I'll pick the winner on Friday! Gag me with a spoon you muthas!
EDIT: I ended up getting really sick this past week so we will resume VGW on Monday! I will keep comments open until Sunday night and I'll choose the winner on Monday. Sorry for the delay everyone!