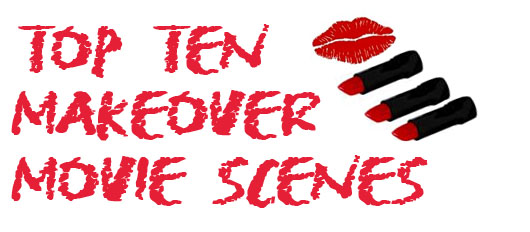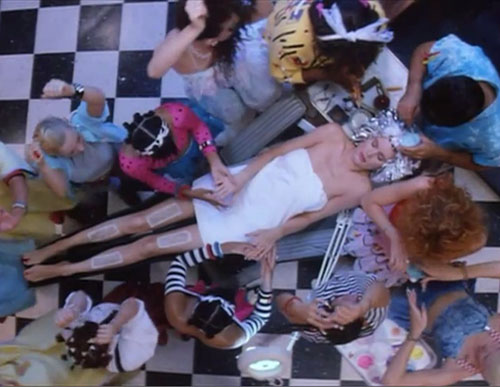 Being a girly girl (with some dude-like tendencies), the makeover montage has to be one of my favorite types of movie scenes. Usually consisting of a bespectacled bookworm turning into a hottie homecoming queen, the trick to success lies in the colorful sequence of makeup, hair and wardrobe chaos, as well as the perfect choice of song to accompany it. Now that you're probably too scared to go to sleep due to Ashe's list of scary movies, it's time to sit back, relax and ease your mind with my Top Ten Makeover Movie Scenes! I'll be right back though, gotta use the restroom. ::freezes all of your bras:::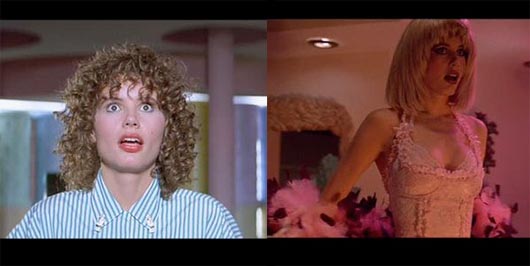 Earth Girls Are Easy – I've talked about our favorite movie before, but this has one of the best beauty salon makeover scenes ever caught on film. The nails are did, the hair is bleached and and our favorite alien-loving, Olympic archer Geena Davis goes from Top Ramen mop top to California sunshine blonde. The makeover doesn't last long, but the scene is a must watch!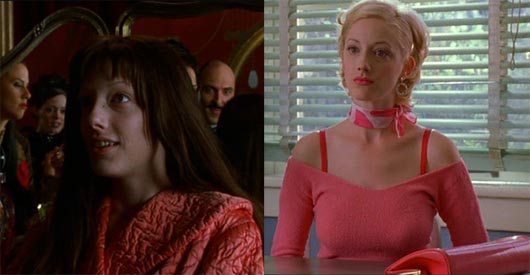 Jawbreaker –  First of all, I know some of you have wondered "Why hasn't Jawbreaker been meticulously examined on Agentlover.com yet? Was it not one of the most important 90's teen movies ever?" Sorry my dudettes, it's really only because I have a stolen bootleg Blockbuster VHS and keep forgetting to Netflix it. FYI I didn't steal this tape, I think…ANYWAY I'll have the full film up soon. But right now, let's talk about Fern Mayo aka one of the best nerd names I have ever heard. This makeover is particularly impressive because it's not a simple "get contacts and brush her hair"-type of makeover. She goes through a total transformation!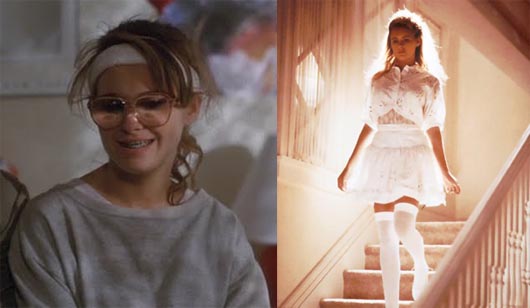 She's Out of Control – Tony Danza's geeky daughter played by Ami Dolenz, ditches her bottlecap glasses for a walk on the wild side of teenage life. Her post-makeover reveal is unforgettable. She practically floats down the stairs in slow motion to Frankie Avalon's "Venus," which basically is what happens every time yours truly walks down a flight of stairs as well. (o)(o)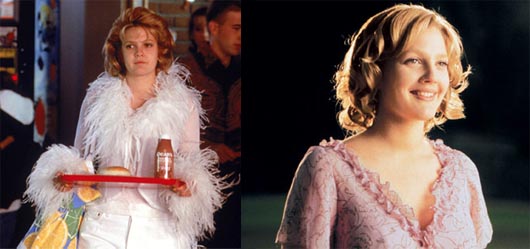 Never Been Kissed – Drew B. plays a journalist who gets a second chance at being a teenager when she goes undercover at a high school. Still tormented by her awkward adolescence, she enters a cafeteria scene wearing white feathers, white jeans and an overdone hairdo. This movie gives me total nerd chills which means Drew did a great job as a queen of dorks. She ultimately finds her confidence and ends up in the arms of MR. MICHAEL VAUGHN FROM ALIAS! That scene where he kisses her and The Beach Boys' "Don't Worry Baby" starts playing? I think we all want that moment to happen in our own lives.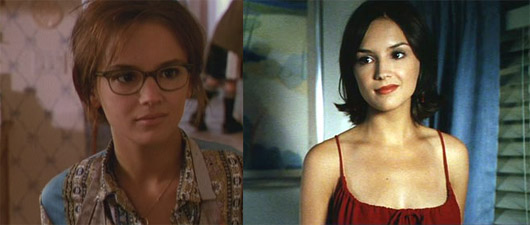 She's All That – There was a time when Rachael Leigh Cook and Freddie Prinze Jr. were the late 90's versions of Molly Ringwald and John Cusack…just kidding! THEY WISH. Whatta jerk, Marie. It's ok, because we still gots love for them and long for those days. Luckily we have movies like She's All That to remind us of Usher's roots when he was a high school DJ who leads us all into an embarrassing synchronized dance scene.  Rachael's character had one of those ~easy makeovers~ because all she did was chop her long weave into a bob and get contacts and a pushup bra. That's actually the same makeover I had in the early 00's except I got contacts, a Victoria's Secret Very Sexy pushup bra and grew my Velma bob out. Sidenote: Paul Walker is in this (yes that is my second Fast and the Furious mention this week) as well as none other than Lil' Kim!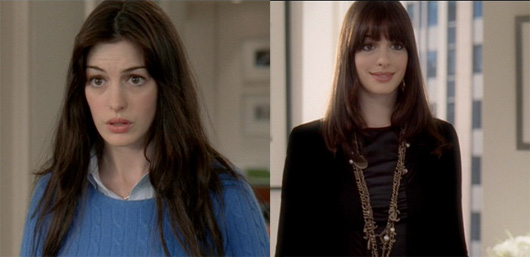 The Devil Wears Prada – At first, I was going to include The Princess Diaries in this list but instead decided Anne Hathaway's later, plain-Jane-to-pretty-lady movie was better since it's all about FASH-UN. Anne's character had an easy makeover as well. She just brushed her hair and was given a closet full of designer threads by Stanley Tucci's character. HATECHU! Hmm..didn't he essentially play the same role in Burlesque btw?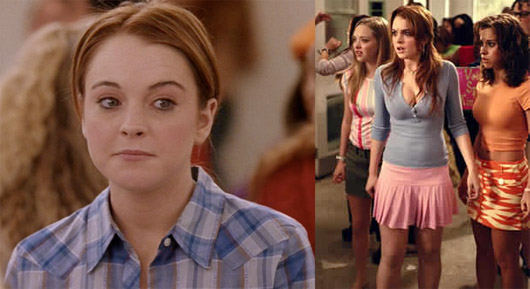 Mean Girls – Ah yes, Lohan's swan song.  Her character was home-schooled in Africa then enters…public high school! Quelle Horror! She makes friends with the popular girls known as The Plastics and adopts their dress code which includes rules such as "Wear pink on Wednesdays and colored shoes on Mondays." Imagine if people really had dress codes like that…convincing people to wear nothing but dresses, red lipstick, winged eyeliner and bangs…HOW RUDE.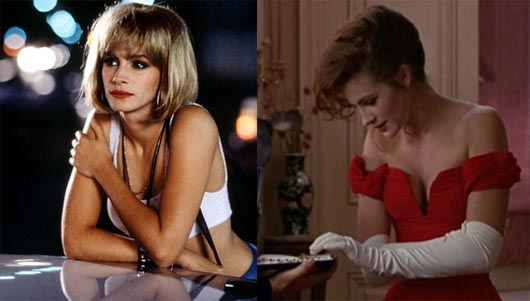 Pretty Woman – Remember when thigh-high boots were the jam a year or two ago? Even Madonna and The Real Housewives wore them, but back in the days of Pretty Woman, those shoes would have never been caught near Rodeo Drive! Vivian Ward (Julia Roberts) goes from wayward hooker to classy lady with the help of Hector Elizondo and Richard Gere's wallet. This has the best shopping revenge scene. Snobby store clerks are the worst! Don't forget…"I say who, I say when, I say HOW MUCH!"
The House Bunny – I wasn't sure if this was the right movie for me until I saw that scene where Anna Faris does that scary demon voice and said "LEMME WATCH DAT." Shelley (Faris) gets kicked out of the Playboy Mansion so she becomes a sorority den mother in order to have a place to crash. But the sorority is FILLED WITH NERDS!! To help them attract more pledges, Shelley gives all the girls in the house a Playboy bunny makeover. I especially like Rumer Willis' bedazzled body brace. Sidenote: Colin Hanks plays Shelley's love interest. Roswell! Tapatio!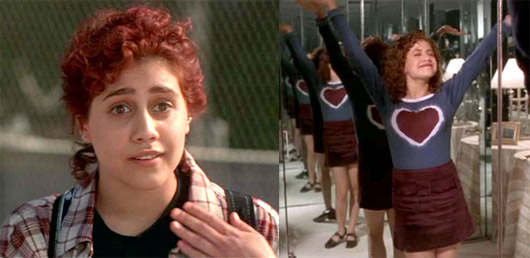 Clueless – Last but not least..we have the crème de la crème of makeover movies: CLUELESS! "Cher's main thrill in life is a makeover , it gives her a sense of control in a world full of chaos." With that manifesto, we can only expect a flawless makeover montage. Tai (RIP Brittany) goes from grunge to gorge when she is inducted into Cher and Dionne's fashion-centric teenage world. I have so much to say about this movie. After all, I was fifteen when it came out! But we will go into deep discussion at a more appropriate time, mi amigas.
If you were in your own makeover montage, what would it look like? What song would be playing?