So in the previous post I mentioned my boo Nikki's birthday. It is Tiki-themed so when I left you I spent my lunch break trying to find some sort of Tiki-style dress. (Sidebar: I feel like I am Doogie Howser writing in my diary to you right now with these "in real time" posts.) I went to ROSS because it is next to my werq and I am a babe on a budget. No time or cash flow to get some adorable Hawaiian-esque pinup dress in 24 hours. I will need to save that money and time roasting a pig and searching for pineapple-flavored vodka (half joke). Anyhoo, I found a black maxi dress with a Hawaiian-type print which will make me look like the perfect Aloha Goth Girl. My dilemma is…WHAT DA HALE SHOES WILL I WEAR?!?
DO NOT FAINT. First of all, I trust none of you would think I'd be foolish enough to do something like this these days but I have to put the warning out JUST IN CASE. I have been joking about wearing these horrors via text to my girlfriends since I went to ROSS at lunch but PLE. I'd rather go barefoot than wear Frankenflops!
GOOD LAWT. HOLD THE PHONE. WAIT ON SECOND THOUGHT CALL 911! His Royal Badness is gliding through life on these Super Chanclas!!! I just can't with this picture. I think he's just playing a practical joke on me. Just like when he announced the Internet was over.
ANYWAYS BACK TO ME AGAIN, even though I'm wearing a maxi dress and my feet won't even be visible since I'm 5'1 and will prob look like a Japanese ghost girl gliding on the floors, I want to know my hooves will look cute while I'm doing the limbo by the jacuzzi and La Bamba'ing or Lambada'ing (WINK) on the beach. First let's think about what I WISH I could be wearing if I didn't choose my outfit last minute…
If my name was Cher and I could turn back time, I'd have ordered me a pair of Lucky Lou shoesies. How PERFECT would these be for my Tiki Goth dress!?!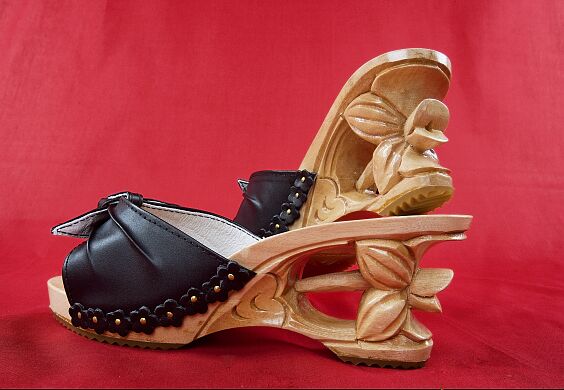 These shoes are inspired by carved wooden wedge sandals called "bakyas" that were popular in the Philippines in the 1950's-70's. I think my mom has a pair of pink ones but Lucky Lou took them to a whole new level of life. I definitely want to try a pair of these and see if they are as comfortable as my Pollys (which are known as the most comfortable wooden heel in the world.)
As for this weekend…who knows what chanclas will adorn my tootsies underneath my Aloha Goth dress. I might just get a pair of crip slips and call it a day.