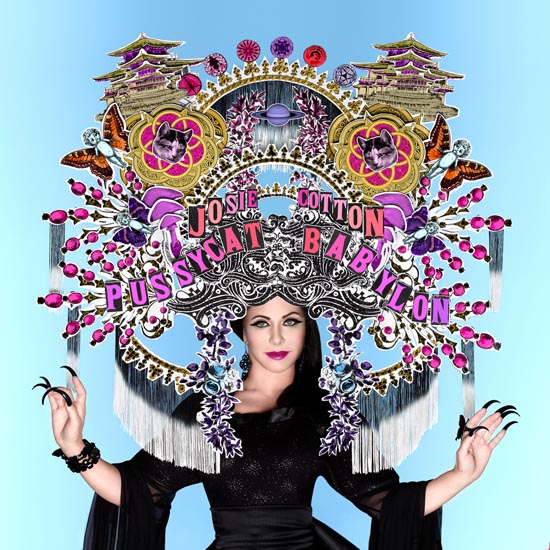 Photo credit: Albert Sanchez
As you know, Valley Girl is one of my favorite movies of all time and my obsession with the soundtrack is no joke…I've listened to it almost everyday for the past YEAR (OBSESSED! It's great driving music hello). Singer-songwriter Josie Cotton who stole the film's prom scene performing her unforgettably controversial and catchy song "Johnny Are You Queer," was the ultimate badass babe back then and is even MORE badass to this day! She's kept busy ever since the Valley Girl days, releasing several albums including one that covered theme songs from campy films of the 60's and 70's. She has a new album coming out this year called Pussycat Babylon and attention LA friends…she has a free show this Sunday at La Cita! I did a Q&A with Josie to find out more about this fascinating and fierce woman! I love her!
If a song like "Johnny Are You Queer" came out today, how do you think the reaction would be?
Well the only thing I know for sure is it wouldn't be nearly as shocking or outrageous as it was when I released it in the 80's, what with Queer Eye For The Straight Guy, The Queers and Queer Nation, it's definitely within the vernacular now. At the time it was not only banned in Amsterdam, the religious right practically went after me with pitchforks, accusing me of really being a gay man promoting homosexuality. Even the gay community had mixed reactions. The east coast faction thought it was homophobic but the west coast gay community embraced it like it was a gay anthem. It was beyond schizophrenic and affected my career tremendously. I really took a bullet for that song, actually for that one word.
What can you tell us about the new album and when can we expect it to be released?
My new record, Pussycat Babylon, is set to be released sometime this summer.  I hate to categorize it cause there are many different influences but in general it is pretty dancey…with some electro-pop and post post punk elements, even some new wave, power pop and Euro-trash disco. It was basically my co-producer Paul Roessler and myself locked inside a studio for almost a year like insane children left to their own devices. I've always been involved in the production of my records but this was the first time I had final say on every single detail. I finally feel like a real record producer and arranger. And lest I forget the dysfunctional relationship that compelled me to write the songs for this record. My friends tease me that I attract these borderline/bi-polar type boyfriends just so I can get the material I need to write. If I can get a good song out of it, my feeling is it was probably worth it but I could be wrong…haha!!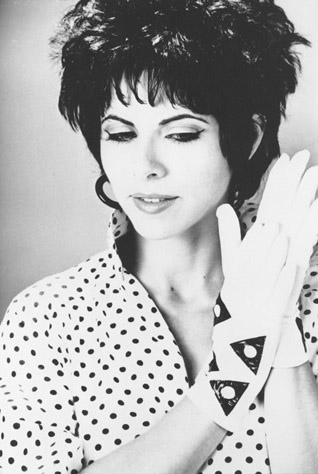 80's Josie by Larson Paine
My favorite outfit from Valley Girl was your mini-skirt with the car on it! What current trends are you a fan of and which ones would you like to see disappear?
I have to admit I love the latino teenagers take on the 80's. They are full on, these kids, with the hair and the clothes. It's huge out here in Los Angeles. But when I was in Miami at the Winter Music Conference this year I saw so many fauxhawk/ mullets I couldn't see straight. No one really looks cute with those things. Of course as soon as I say that I'm going to see the hottest guy sporting one in front of me and I will have to eat my words. To me fashion has a lot of irony in it. What was hideous becomes fabulous again.
Who are your favorite designers?
I'm a bit of a fashion nymphomaniac which I probably get from my grandmother. I rarely saw her out of her Chanel suits…cigarette in hand, very Bette Davis. My mom influenced me too but she was more Marilyn Monroe vixen meets Dolly Parton at a rodeo. OK my new favorite designers who I just discovered are Viktor & Rolf. They are over the moon!!  I happened to have loved Alexander McQueen. I adore Vivienne Westwood, Galliano of course, even Chanel right now is amazing. Miu Miu, Commes Des Garcon once in a while, Yamamoto, Marc Jacobs can still do it for me and Heatherette is so up my alley it's not even funny. I also have very fond memories of going into Patricia Fields store in New York before she really hit big. Recently I have been working very closely with Jared Gold who is designing clothes for my live shows. We are both very absurdist in the way we think. Right now we are on this 'ballet assassin' kick and just beginning our 'Shanghai hooker/cowgirl' wave.
I love how you look on the cover of the new album! (pictured above) Can you tell us more about it and who you collaborated with for the album?
I was lucky enough to get to work with Albert Sanchez who is a legendary photographer in Los Angeles. Pedro Zalba did the set design but was involved in just about every detail of this CD cover. I think I drove him a little crazy. Not that I'm a diva or anything but I am most definitely a detail person and I have a very clear vision of what I want. Jared Gold, my parasitic twin, designed that beautiful dress and the completely insane headdress I am wearing on the cover. He completely indulged my fascination with anything Asian, outer space and evil children's toys. He is just one of those Renaissance men, a concert pianist, a gourmet cook, a graphic artist, and a true intellectual who can talk with me in complete earnesty about how incredible Planet Of The Apes and Children Of The Corn were. On my last record I worked with Mike Ruiz who was quite amazing as well.
You've worked with John Waters in the past, contributing to one of his compilation albums and he provided liner notes for Invasion of The B-Girls. I think Cotton and Waters are a good pairing. Would you ever want to act in one of his films?
I have told him on many occasions I would date a gorilla to be in one of his movies. I just adore the man and I'm sure we will work together again. My music is perfect for his movies. Well him and Quentin Tarantino.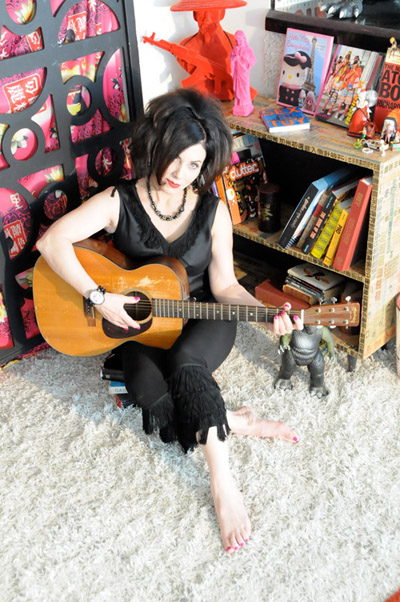 Photo credit: Kiley Amesklein
You're a big fan of B-movies and even put out an album in that theme..what are five movies I should Netflix right away?
Let me just say that most of the great b-movies were from the 1960's and 70's. They probably wont have these on Netflix though, Marie: Alice In Acidland is a classic trashy movie that looks suspiciously like a home movie. It's about a girl who drops a shit load of LSD and you go with her on her adventures as she is being seduced by her lesbian French teacher. The throbbing technicolor of the Pinky Violence series are in my top 10…  these cute little Japanese girls in boarding school form a vigilante gang and then dabble in prostitution and assassination in these long red rain coats. It's hilarious and sad and beautifully filmed. But one of my favorite all time movies is 'Tetsujin 28 Go'. Another Japanese movie from the 60's… this was the pen-ultimate 'man becomes machine' movie. It makes Iron Man look as pussified as Barney the purple dinosaur. It's extremely dark thematically, all black and white, very noir where the lead character's flesh is turning into metal in agonizing detail, becoming some kind of hideous robot creature. At one point he  grows this enormous metal penis and pretty much impales his girlfriend whom he loves and that's sad… but funny… like life really. That's why they're not really b-movies to me.
Do you collect anything?
I began collecting Mao Tse Tung memorabilia some time after I had been exposed to him through various documentaries I had seen over the years. I just couldn't wrap my mind around the tyranny of ideas he embodied. That ideas were that powerful, that people could be so brain washed, that so many millions of peoples died for an idea was astonishing to me. Then one day I came across a photo of a vintage tea set with Mao's face on it, he was waving and smiling all goofy-like. And it struck me if he was such an idealist and so vehemently opposed to capitalism and all its conspicuous consumption, why was his communist regime manufacturing these tea sets?. So I started researching it and realized in the process he was not only a shameless self promoter and a complete hypocrite, he thought he was Elvis!  And that became hilarious to me. And so my collection began. In fact I have that exact tea set, the 'red book' which was their bible, the arm band, the insignia and my piece de resistance, the original album of revolutionary marching songs he put out called The East Is Red. I also collect mid-century furniture from the 1960's so my bedroom actually looks like Mao and Cleopatra Jones had a baby. Sadly this is all in my song lyrics but no one listens to lyrics anymore so I can pass through the world undetected!!
Any advice regarding menz you can offer for the ladies?
I would say never date an actor especially an unemployed one or a really successful one. Either way you're screwed. I would say be sure you find the same things funny because humor can get you through anything. Never talk about old relationships or nag. Don't change yourself for a guy or try to fix him either. And girls, ladies, always keep an air of mystery and never never be clingy because the more you need him the less he will want you. Friends, especially girlfriends, are more important than any romantic relationship you will ever have and nothing is more sexy to a REAL man than a woman who knows who she is.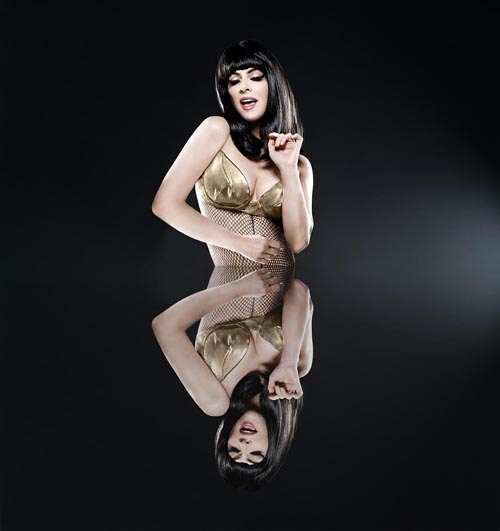 Photo credit: Mike Ruiz
What are your five recent obsessions?
I love dichotomy and whenever I find it i obsess on it. For example i found myself being drawn to Princess Pony recently for some unknown reason, probably a picture I saw. Then anything with a pony on it caught my attention. I mean what am I, 5 years old? At the same time I was becoming aware of this whole culture of people who 'date' and fall in love with horses. There was that international ring that was busted of mostly men who look like farmers who would go to this horse ranch and…well you know where I'm heading with this. Then I became intrigued and started googling it of course and came across yet another horse fetish where they dress up like horses, with hooves and bridles, and lash marks on their flanks. They get ridden and they prance around like abused show horses. So that's 3 obsessions for the price of one. That's taking up all my time now (kidding). I have to say I was a little obsessed with guys with tattoos for a while… until I became engaged to one last year. Never take the surfer home from the beach! And I'm always forever obsessed with anything science fiction…Caprica and V being my current faves in terms of tv shows.
What music are you listening to on constant rotation lately?
I have been listening to a lot of DJ's recently like Chus And Ceballos  Moto Blanco, Johnny Dynell. Eddie X, Larry T and this young up and coming DJ Josh Peace as I am in the process of doing dance re-mixes for the new record with the intent of creating a dance compilation album behind this new album. I especially love the English and Spanish DJ's. I generally have to listen to a lot of silence to keep my head clear but in general I love artists like MIA, Peaches, MGMT, Tegan and Sara, 50 Cent, Killsonic, Double Naught Spy and Elephant which is a gay twin electro-punk, hip-hop rapper duo. I am also partial to Baliwood soundtracks, Bulgarian hip hop,  Northern Soul, Japanese punk rock, Drum and Bass, Reggaeton etc.. I need a wide variety of music or I get bored fast. They say I have ADDDDDD!!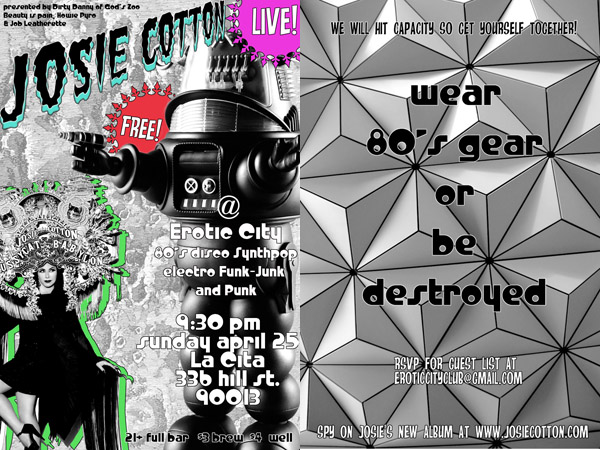 What's next in the world of Josie Cotton?
Animal rights has been a passion of mine since I was a little girl so that's something I will be doing benefits for in the coming year hopefully and I've recently become involved in Prop 8 and the same-sex marriage act because I find it pathetic that is still an issue. In terms of my career I have a lot of live performances coming up: LA, some New York appearances in June, doing Toronto Pride in July, and some European dates I'm very excited about. I'm making a new video soon and that's really the most fun of all, with total control over how I look !! It's perfect 🙂 I have a lot of new songs I've written, not necessarily for me, that I need to record. And I want to do a lot more writing . I've simply fallen in love with the process of writing articles on basically whatever topic leaks out of my demented mind. I think it's called being an essayist. I've written a few things for Magnet Magazine and Punk Globe and I know it's what I will end up doing full time. It's my crack. I like myself best when I'm writing. I have this vision of myself 80 years old living in Paris hanging out in cafes writing science fiction novels where I hit people over the head with my cane if they interrupt me.