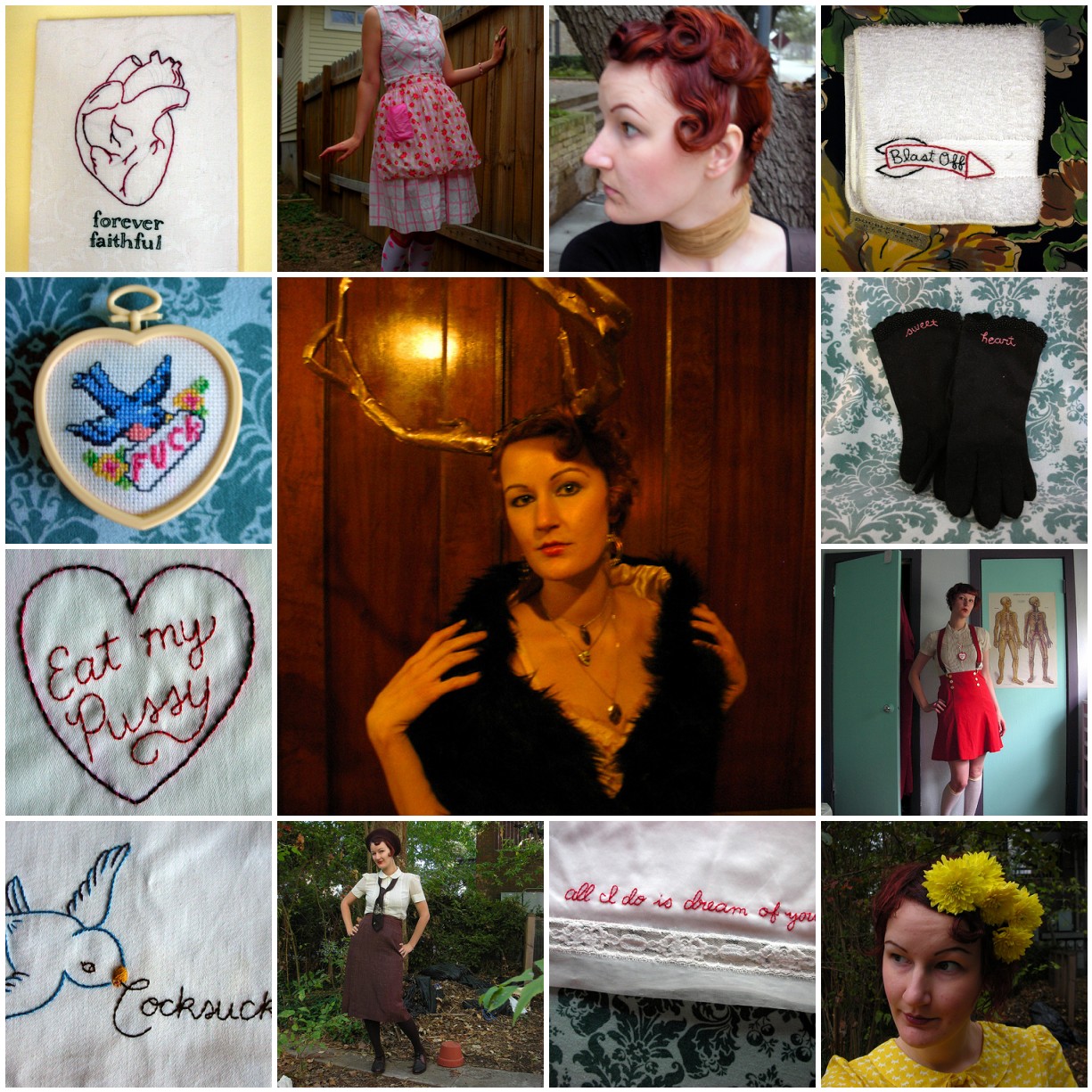 With a sense of style and poise that allow her to appear as if she had just stepped out of a vintage postcard, photographer and needlework maven Amelia Raley holds dear to her heart an era long gone yet not forgotten. Her appreciation for the past can be seen through both her art as well as her wardrobe. I also adore Amelia's coquettish embroidery, found at her etsy store Doublespeak, which is where I purchased my favorite C'mere Loverdoll slip. Listing 1930's chorus girls and vintage valentines among her favorite things are just two reasons why I found a kindred spirit in this daring dame! Ladies and gentlemen, start your crushin'!
+ I love the term you use to describe yourself, which is "Vintage Vivant." How did you come up with it and what does it mean to you?
When I was finishing my MFA thesis in 2007, I was listening to 78rpm records on podcasts, learning to fingerwave my hair from blog communities, and watching 1930s movies on Netflix. I wanted to do a project on how I used digital technology to explore the analogue past. I was wrestling with a few terms because there are SO many girls who are doing what I am doing but there is no name for it yet. The name itself was actually thought up by Locksmithy when I presented it as a question to the Livejournal vintage community. I love it! It's like Bon Vivant but Living Vintage instead!
+ I always wonder why I feel nostalgic for things I have never known. I'm sure you feel the same way. What era would you love to have lived in?
When I was younger I always thought I would be a flapper, hands down. Now that I'm a little older I really admire the years of 1929 – 1936 and most of my collecting, study and emulation comes from those years. I like the bittersweet foil of Hollywood movies as compared to the Great Depression and politics of the time.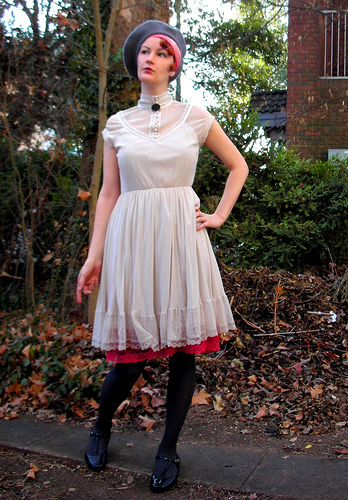 + Describe your photographic style. How did you become a photographer? Which photographers have had an impact on your work?
I have always taken photos because my mother was such an avid photographer. I started "The Bird Girl" project back in 2003 where I would pick up every dead bird I found in my neighborhood and would photograph them in different states of decay. I worked on this project for about two years and got a grant for my university to finish it. I went to graduate school for photography out in Oregon and that's where I started using really old processes like 4×5 cameras with the giant bellows. I love artists who use multiple processes and mediums in their work, so I feel very kindred to Annette Messager, Sophie Calle and Martha Colburn.

+ Are there any other certain artists that you admire?
Doris Salcedo and Tom Friedman – they are both sculptors who use domestic materials in poetic ways. My favorite Doris Salcedo pieces are when she uses clothing such as burying clothing in concrete or caging high heels behind animal skins. Tom Friedman just astounds me! I found one of his books when I was 19 and I just stared at it for hours. His sculptures are out of aspirin, detergent, his own signature, play-dough, anything really. He is what obsessive art making is all about.
+ If you could photograph anyone from history who would you choose and what would the shoot be set up like?
I'd like to photograph Napoleon as an old man.
+ You have an obvious appreciation for cinema. Which films have inspired you to create?
I watch movies in bed with my laptop on my belly and my camera in my hands. When I find a scene in a movie that I like I pause the film and snap it with my camera. I'm kind of a predator when it comes to movies and I think that's why I don't go out and see them in the theatres that often. I love every Busby Berkley movie that's come out, and I watch everything that Irene Dunn, Jean Harlow, Dick Powell, Norma Shearer, Clark Gable and Joan Crawford have been in.
+ What music do you listen to in constant rotation?
Much like movies, I rarely listen to anything contemporary or currently hip. I am a big fan of 1930s torch songs, podcasts that feature 78rpm records and anything from the 1990s. I manage a crazy toy store so I have a big emphasis on happy pop songs right now. I've got Gwen Stefani, The Pipettes, Spice Girls, Dolly Parton, MGMT, !!!, and Outhud on heavy rotation right now. When I'm at home I listen to Philip Glass when I want to read or concentrate.
+ I love the quotes you use in your embroidery. Where are they from?
Many of my quotes are bastardizations of traditional embroidery phrases, like using "Bless this Mess" on a cum rag or changing "To love and be loved is the greatest joy on earth" into "To love and be fucked…" Sometimes I use the snippets of a nursery rhyme, or phrases written in old yearbooks or just things I make up.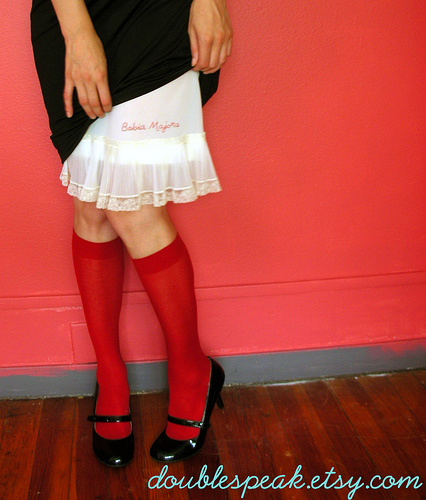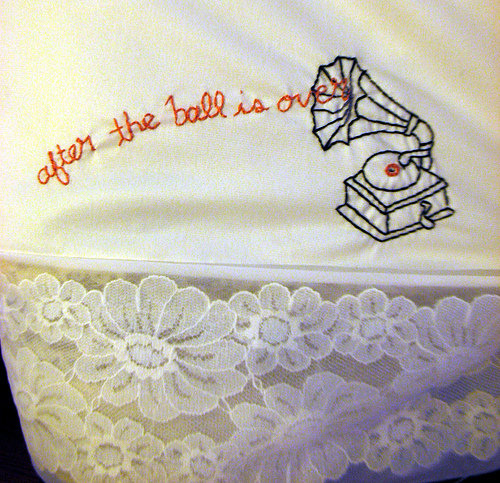 + Besides photography and embroidery what other creative outlets do you enjoy?
Right now I'm really nerding out on my Blythe dolls, Violette Crown and Odile. I've been learning how to disassemble their faces, change out their eyechips and make little clothes for them. Also, I've been doing some modeling on the side for a few painters and photographers and, while it isn't creative per se, it is exciting to be involved with another's creative process.
+ Is there anything else you wish you could learn?
I wish I could play the guitar, the accordion and sing half decently. I'm such a flub when it comes to music.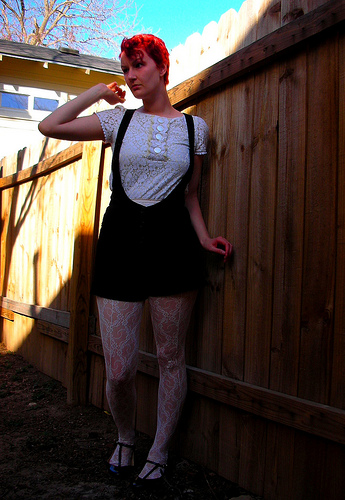 +++++++++++++++++++++++++++++++++++++++++++++++++++++++++++++++++
Amelia also has a really cute zine! The latest issue of Doublespeak just came out which you can find here. Or purchase it along with the back issues!
+ East Coasters: Amelia has an art show at Brown University next month. More information on her work can be found at her website: Only-Sleeping.com
+ Don't forget to check out her Etsy store: Doublespeak.etsy.com. SPECIAL NOTE: agentlover.com readers get 10% off from now throughout the whole month of April! Just enter "Agent Lover" in the comments section of your order!
xo,
Marie
If you missed any before, don't forget to peep these past Mad Crushin' articles: