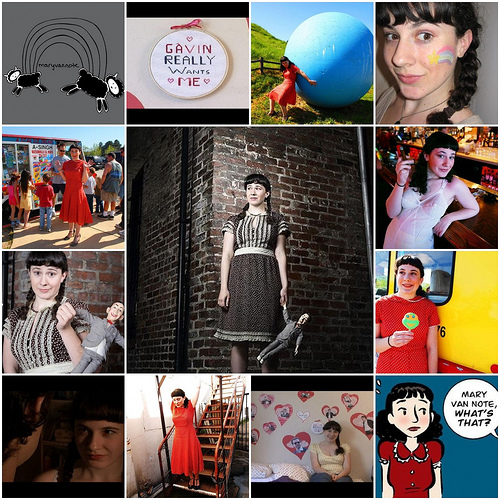 Ello putanos! It's time for another unveiling of one of my crushes…San Francisco comedian Mary Van Note. When I first found out about Miss Van Note and her bawdy standup style, my first thought was,"Who is this pervert in a polka dot dress and why isn't she my BFF!?" Her recently debuted IFC.com web series, Gavin Really Wants Me, details her hilarious journey to woo the sexy mayor of San Francisco and his 90210-esque hairdo. Today she chats with me about Pee Wee Herman, sex tapes, and her vintage style.
+ How did you get your start doing stand up?
Well, I went to college at UC Santa Cruz. I transferred there from a community college, so the first quarter I was there I wanted to take class that would be fun and would be a place to meet potential friends. I saw "Stand-Up Comedy" in the class schedule and just thought, "Sounds like fun." I didn't like stand-up comedy at that point. I hated what I saw on Comedy Central. I didn't know much about comedy. It wasn't until I started the class when I learned about comedians like Lenny Bruce, Mort Sahl, Andy Kaufman, Victoria Jackson, Judy Tenuta.
It was a great class because my teacher, Doug Holsclaw, didn't try to teach us how to write a joke. He simply said, "Do 5 minutes on your childhood," and then the next few weeks we'd be watching and critiquing our classmates. I happened to go last on the first assignment, so I was able to learn from my classmates' mistakes. I went up there with my five minutes and had the best set of my life. I was incredibly nervous, but my teacher said, "Keep it." And that's how the stage persona of Mary Van Note was born. I'm myself onstage. Maybe just a bit exaggerated.
I realized around that time that I had actually done standup before. The first, first time I did standup was in middle school. At my 7th grade talent show I did another comedian's act. I had seen this comedian on TV who sang a song about toast while wearing a toaster around his neck and banging it with a spoon and a fork. I looked this up online recently and this comedian's name is Heywood Banks. So even back then I appreciated weird, silly, conceptual comedy.
+ What was your childhood like? Was Little Mary Van Note the class clown growing up?
I was definitely somewhat weird growing up. I wasn't loud in class or anything, but amongst my friends, I was always goofy. In middle school I would fall down on purpose to get laughs. Later in high school I became real quiet and recluse. I'm still a pretty quiet person, but I'm still weird, so I guess that explains where I'm at now.
+ Who are your comedic role models?
As a kid I loved cartoons and Pee Wee Herman, of course. I loved watching Pee Wee's Playhouse. I'm also totally inspired by 80s movies like Better Off Dead. I freaking love that movie. That has been my favorite movie since I was a tween.
It wasn't until after I started stand-up when I started to learn about comedians. One of the most influential and inspiring comedians for me is Andy Kaufman.
+ Are there any funny ladies of today that inspire you and make you laugh?
Most definitely! A lot, in fact. Contemporary funny ladies I love are Maria Bamford, Kristen Schaal, Jen Kirkman, Natasha Leggero, Tig Notaro, and Sherry Sirof.
+ How do you feel about the morons that say shit like "Women comedians just aren't funny"?
It bothers me, but it bothers me more that it bothers me, so I try not to let it bother me.
+ Recently Vanity Fair did a cover shoot of today's hottest female comedians where each woman dressed up as a trashy Hollywood starlet. Which one of those tragic tabloid darlings would you have impersonated?
I was actually part of that shoot, but I decided to be Anna Nicole Smith. And I was really literal with my interpretation.
+ Your new IFC show, "Gavin Really Wants Me", is about your pursuit of SF Mayor hottie Gavin Newsom's heart. What would your dream date with Gavin be like?
It would be filled with dildos, hand-holding, rose petals, ice cream, ice skating, boning, and messing his hair up. Just messing it all up.
+ Can you give us any tips on how to get the attention of the papi chulos of our dreams?
Yes. Learn how to make a good beef roast. I season mine with salt, garlic and sage.
+ One of the things about you that caught my eye was your cute and girly style. Since I love talking fashion, I have to ask you who your style icons are.
Oooooo! I love clothes and shoes and pretty old things! I'm a huge fan of vintage dresses. I guess early on, it had to have been Drew Barrymore, who back in the day wore vintage clothes and sported daisies in her short bleached hair. I guess Betty Page too, though you'd think I'd look rockabilly or suicide girl-ish except I don't have tattoos and I hardly wear makeup. She inspired my bangs and my collection of old vintage lingerie and stockings.
I'm definitely pretty classic. I'm not into a specific style, either. I dig 60s looks as much as the 40s and 50s. I like to dress up when I perform, like I'm some kind of indie songwriter rockstar. Lately I've been attracted to really girly dresses with flowers on them, ruffles and lace. I'm on the lookout for a nice GunneSax sleeveless sun-dress in my size.
+ And lastly, what would the Mary Van Note sex tape be called?
I LIKE DICK.
Simple. To the point.
++++++++++++++++++++++++++++++++++++++++++++++++++++++
In addition to standup, Mary also displays her comedic talents through hilarious zines, YouTube videos and one of my favorite things, dirty cross-stitch! She made the "Cochina Puta" cross-stitch I gave Reyna for her birthday [making her responsible for Mexican mothers everywhere to now be wary of my friendships with their daughters]. Don't forget to check out her new series Gavin Really Wants Me on IFC.com! New episodes are up every weekday for the next couple of weeks. And for even more Mary Van Note, check out maryvannote.com and her myspace.