During a recent insomnia-fueled night, I watched The Girl Can't Help It and as usual fawned over Jayne Mansfield's memorable outfits, the sparkly red evening gown, the tight brown sweater accented with gold jewelry and topped off with a beret, and the sheer white button blouse with a white bustier underneath. Swooning over these are pretty much a given, but there was also a minor character who caught my attention: the cigarette girl. You know, the one who took off her cigarette tray and danced a jig with Tom Ewell's character.
When I was younger, I loved seeing pillbox hat-wearing cigarette ladies on the silver screen. I wanted to be one, second to my choice of being a maestro, which was apparent when I used to mock the church choir conductor and pretend I was waving around a baton all throughout mass. Oh snap! Mr. Holland's Opus up in there.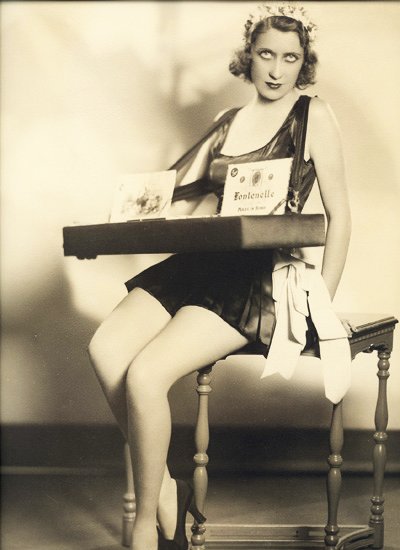 Anyway, Miu Miu's Spring 2008 designs came to mind when I watched that scene, perhaps because of the puffy short skirt.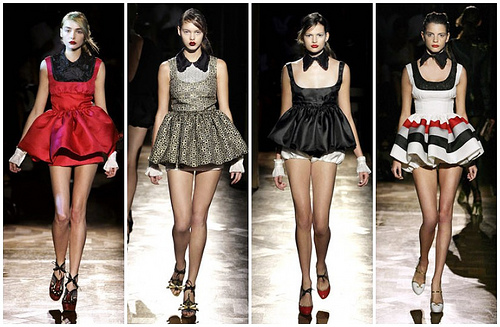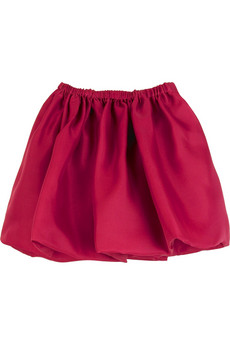 I realized I need to get me a cigarette lady-inspired outfit to match my beautiful new, high heels from the wonderland known as Target. Hello mommas….
Mmm, I love those shoes. Now the problem with getting a Miu Miu skirt is that it's four hundred bones! I think it is time to sound the dressmaker alarm again. I am so [sew] jealous all of you people who can make their own clothes. When I was in Girl Scouts, I was way more into choreographing a dance routine paroding NKOTB's "The Right Stuff" than learning how to sew. You should see the "dish purse" I made once. Not exactly top of the line.
I am also digging that red flower tied around her ankle. I did the same sort of thing once, but with a red bow of course. Adds a cute little detail. I'm so fucking costume-y. What if one of these days I start wearing Big Dog shirts and khaki pants? Or maybe it's making up for later on in life when I open my Happy Panda Nude Colony for Senior Citizens..
Here's a present for you!
Little Richard- "The Girl Can't Help It"