Small Business Advertising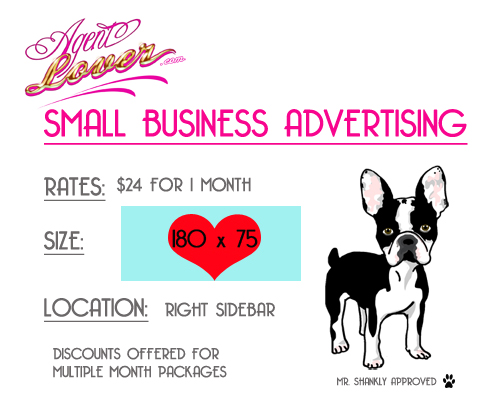 Lately I've been getting more and more inquiries about ad sponsorship from people who run their own independent shops, so I decided to set up a Small Business Ad Program here on AL! I wanted to figure out some sort of way for my sistaboos and brothaboos who have a clothing shop, a jewelry company, or a brand new blog to get more people to know about it!
Ads can be a great way to gain exposure and traffic and my rates are very cheap! Only $24 a month (which breaks down to only $6 dollars a week!) for a 180 x 75 ad located on the right sidebar.
And if you are interested in purchasing more than a month at a time, I offer huge discounts! And if you purchase at least a 3-month package, I will feature your shop or business on its very own post!

If you are interested in participating and want more information, email me at marie[at]agentlover.com!