Images courtesy of Base Color Bar.
For the past few years, I've kept my hair one color (goth black). While I do have a goal of going blonde at some point in my life, I enjoy having a low-maintenance hair color routine. I'll re-dye my raven locks every few months as I do have a couple of grays in my bangs, but for the most part I'm pretty lucky. I do however, have a bad habit of using the dreaded BOX DYE. The past couple of times I've had my hair dyed professionally, as I know it's better for your hair in the long run—plus, I can get a blowout, which is something I have YET to master.
Anyhoo, there's a new concept salon here in Los Angeles that specializes in coloring. It's called Base Color Bar and owned by renowned colorist, Haleh Lekkos. BCB's service menu includes base color, glossing toners and blow outs.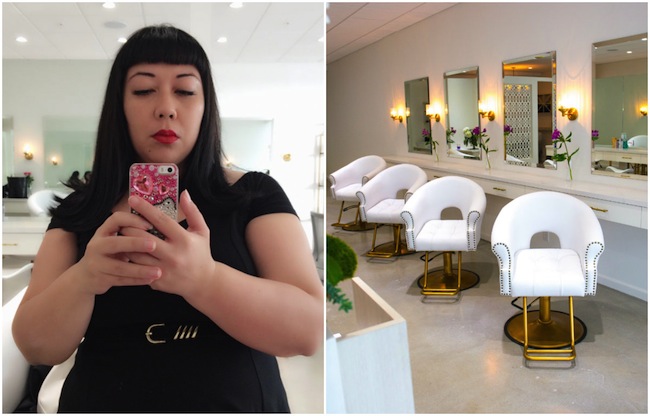 They offered me to come by their Brentwood location, so me and my luscious locks went to try thangs out.  I'd have to say, I loved it! The salon is super cute and my hair looked shiny and black as a vampire's cape. So if you're in L.A. and looking for a place to get your hair color refreshed that's quick and hassle free, I highly recommend!