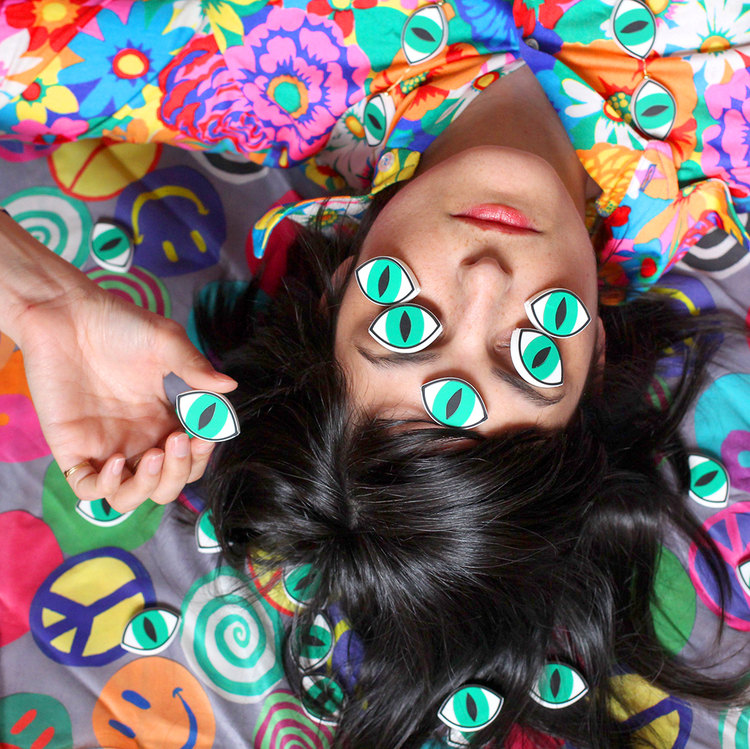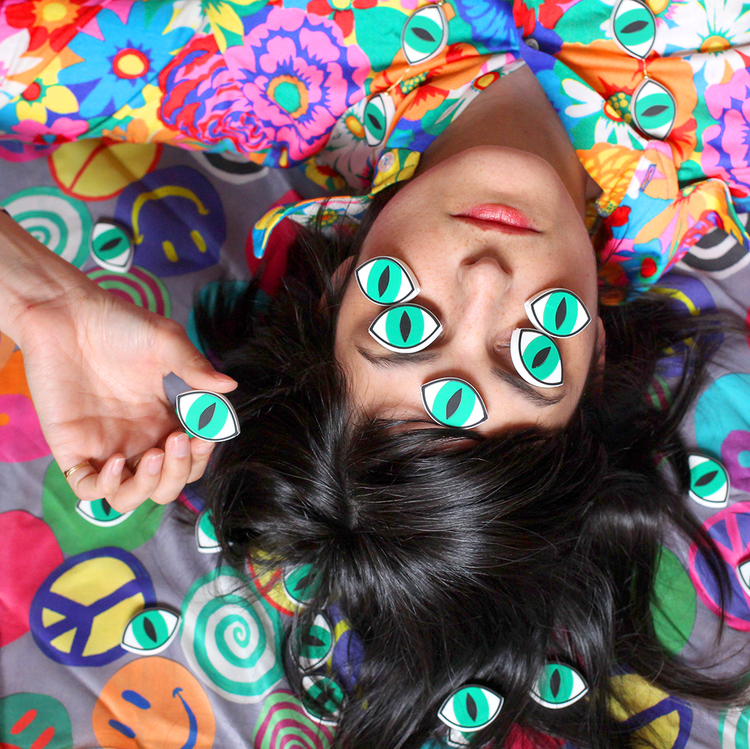 You've probably seen Buried Diamond's one-of-a-kind charms all over Instagram and Tumblr. These colorful collectibles featuring three-eyed kitties, green witch fingers and little pink mouths studded with braces are in such high-demand, every single time Buried Diamond's H.B.I.C. Martha Moore Porter makes an announcement about a shop update, they sell out in a matter of minutes. No joke, I've literally set an alarm on my phone so I don't miss out on grabbing the pieces I've got my eyes on.
It's no mystery why Martha's creations spark this gleeful mania. Yes, they're cute as hell, but when you're wearing one of her designs, your mood automatically lifts. My BOOS, I am so excited to share this fun edition of Mad Crushin' featuring an exclusive interview and GIVEAWAY with Buried Diamond. Learn all about this CHARM-ing lady and then make sure to enter the giveaway at the end. Details and prizes below!
What inspires your art?
I love small things, miniatures of any kind, teenagers in New York, girls on Tumblr, folk art, vintage toys, dollar store party favors, candy & kandi!
How did you get the idea to make your famous charms?
When I made my first charms, I was craving big, bold, chunky jewelry, but most chunky jewelry is either rhinestones or silver & natural stones. I wanted something colorful and also sort of goofy. I wanted to make physical objects that looked and felt like my drawings and paintings. I was working in corporate fashion at the time, and it was important to me to be myself and dress professionally, meaning walking the line between being expressive with my outfits and looking appropriate in big meetings…jewelry was a great place to be crazy. I made a magic eye necklace first, and I loved wearing it. The charms came next. I have a gold charm bracelet that means so much to me, and I think looking at that kind of charm got my mind going. And I have a plastic charm necklace from the 80s. I call them "jingle jems" but I don't know why, maybe that's what we called them where I grew up (suburbs of Kansas City)? No one else seems to call them that. Anyway, those are a huge inspiration. They contain such potent magic.
Do you have any favorites?
My favorite is always changing! I love the hands, but they are the hardest to make. I really love my earlier necklaces, because they are more wonky and less refined than the jewelry I make now. I love my first attempts/samples of new designs for the same reason. Once in a while, I make myself a charm and that's it – it's one of a kind. Obviously, those are really special to me.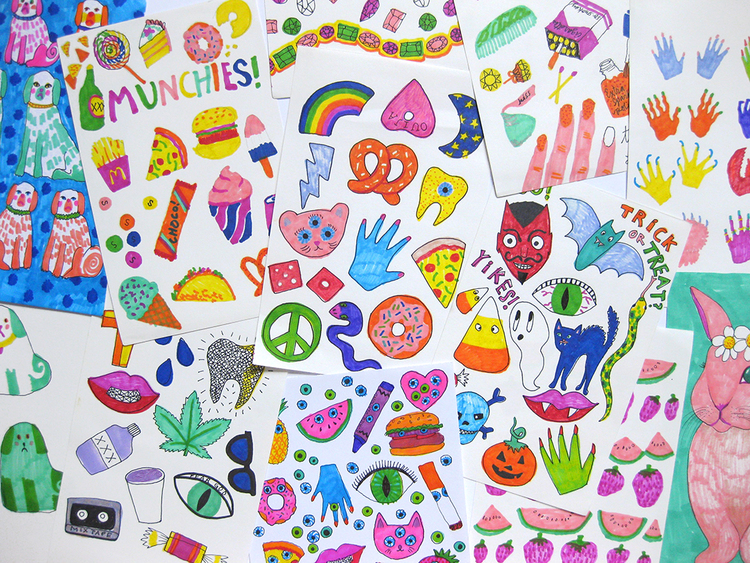 Five things you are currently obsessed with:
San Pellegrino sparkling water in the big bottle. I'm usually dehydrated but I like to drink this water!! Just a little bit of fizzzz!
Gilmore Girls on Netflix. I find it so comforting. I went to boarding school and in college I would often visit my very formal grandmother in Connecticut, so the character Rory Gilmore really resonates with me. I'm almost done with my binge and I don't know what to do next.
Huf International socks. I love how they look but also they are perfect socks for wearing under your winter boots or for around the house at night when you don't want your feet to get cold.
Iron-on patches. I started buying them for my jean jacket, and I got addicted! They are a fun way to get a small piece from a lot of designers. Some current favorites are from my pals Killer Acid & Chris Uphues, and of course my own Buried Diamond 3 eyed cat.
My eyeball pants & cigarette pants from my collaboration with Print All Over Me. I don't like to wear pants, but these were so ridiculous I could imagine myself wearing them, and in the end, they really work for me. I wear them all the time as my more casual outfits.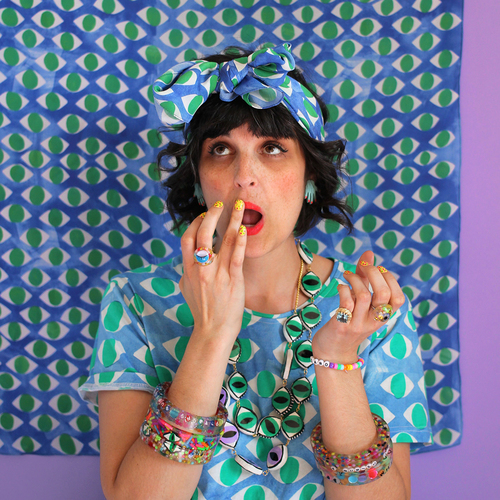 How would you describe your personal style?
I always think I dress "normal" until I arrive somewhere and I'm the only one in like, a neon outfit. I like to play with texture and novelty, and I am not afraid of color. The brighter, the better. For the most part, I wear a steady uniform of fit & flare, and then I add accessories. I don't leave the house without a charm necklace and hand earrings, and maybe an eyeball ring, and no matter what time of year, I have a candy colored cardigan in my purse. I'm usually only wearing a couple accessories, but they are high impact.
What are some of your wardrobe staples?
Skater dresses in bright white, black, and leopard print.
Mesh shirts for layering in the winter. They are great under a sleeveless or strapless dress. I have a spiderweb one that adds something special to any outfit.
My Toga Pulla boots. Never have I loved a shoe like this. I feel they were designed specifically for me.
Green cashmere cardigans. I can't get enough! I have at least eight. J. Crew is my drug of choice, and I always run them through the washer & dryer once to get my ideal fit.
Do you collect anything?
I am a charm keeper, a magnet for small objects. People I have only met once or twice always find a way to pass me some little trinkets for safe keeping. My collection grows all the time, and it inspires & delights me. I'm always trying to fight my natural hoarding instinct, but I think collecting small items is not too dangerous (jk I have a LOT of small items).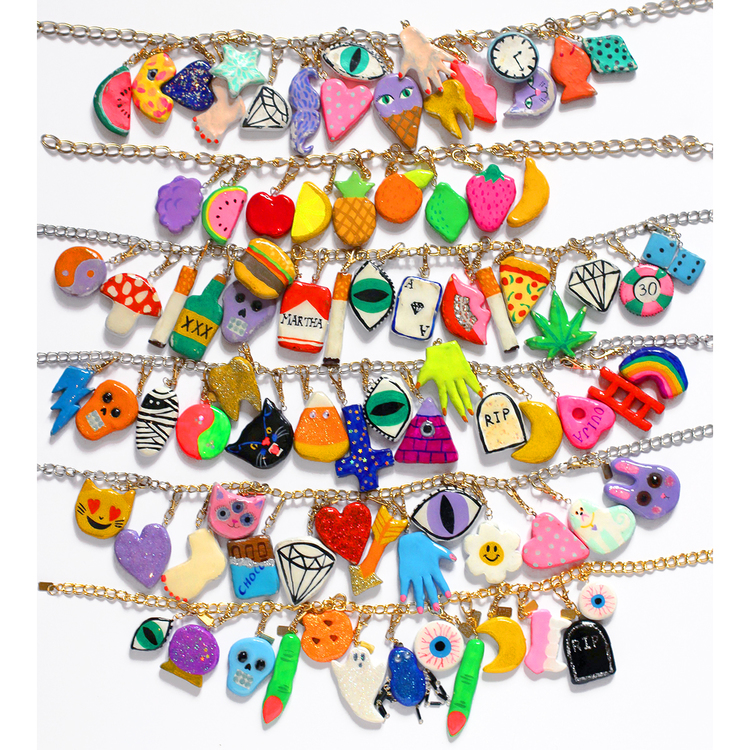 Who are some female artists, designers and otherwise that you admire?
There are so many! Tumblr and Instagram are always opening my eyes & exposing me to amazing women! A very short list of women who inspire BD are: my mom (she quit being a lawyer to raise cashmere goats and knit crazy textiles), Liza Lou (specifically Backyard and Kitchen—I saw them when I was in middle school and I was captivated), Lisa Frank, Mrs. Grossman's & Patricia Field.
While working in fashion for 8 years, I was fortunate to work for companies that were started by strong female entrepreneurs, and their stories inspire me. In chronological order, I worked at Diane von Furstenberg, tibi (Amy Smilovic), DKNY (Donna!), and Kate Spade Saturday.
Can you tell us about the transition from working at a day job to doing Buried Diamond full time?
Transitioning from a full time 9-6 job in the fashion industry to working on BD full time was a seriously big deal and it was carefully plotted! It was a tricky balancing act. After working in the industry for a few years, I started to realize that in my career as a textile designer, I didn't see how I could grow past a certain point. I didn't see anyone with a super senior textile design job anywhere in the fashion industry, and that bummed me out. I also needed a greater outlet for my creativity (though my "office jobs" were always creative). I remember telling one of my BFFs that I was going to start socializing less and making more. I also started saving money pretty aggressively. Early on, I didn't have a specific plan, but I knew I needed to make one.
I opened my Etsy shop in 2011 with a variety of products including charms, and I want to be really clear: No one bought the charms! But I kept making them. I just wanted to, and I knew that someone would catch on at some point! Eventually I got some traction. I can't pinpoint when people started actually purchasing charms. I started selling in Pygmy Hippo Shoppe in LA. Emi, the shop owner, was really encouraging, and she spread the word about BD out there. I learned to take better photos and create better images. Lena Dunham bought some pieces and posted about them on Instagram. At that point, I started feeling awkward about balancing work and BD, but I was not ready to do BD full time yet.
Eventually, sales were good, and I realized I could do my own thing full time and squeak by financially. I sat down for some real talk with my accountant and we set a timeline. I looked at my deadlines and responsibilities at the office, and I made sure the date would work. When it was time, I gave a month notice. A lot of people were not surprised I was doing it, but I got some resistance, too. Don't listen to the haters! It is amazing what is possible when you make yourself available to opportunity. Once I started doing BD full time, a lot of amazing things came my way, and for the first time, I could say YES with no reservations.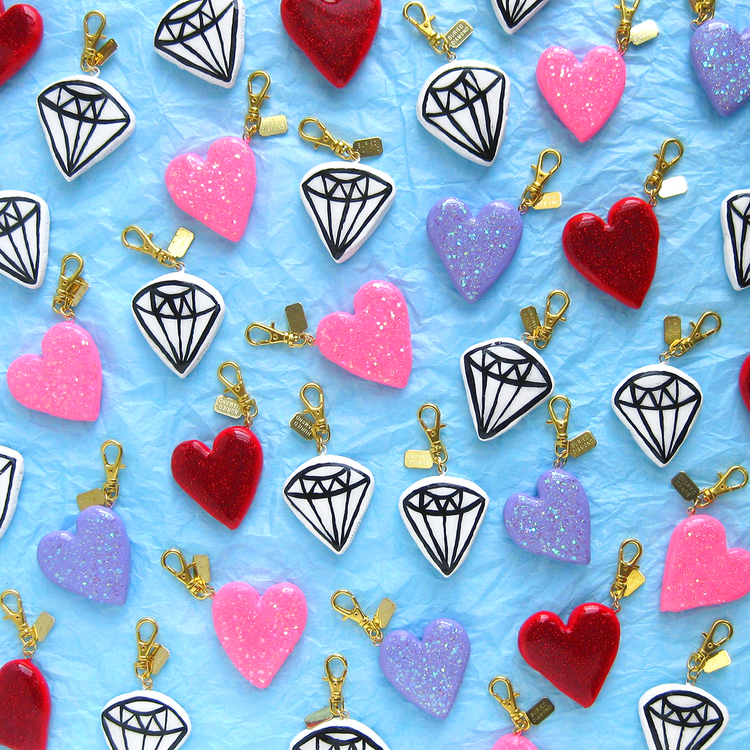 Do you have any advice for women who would want to make the same kind of shift?
Saving money before you do it is an absolute must!! My accountant really holds my hand – I don't think I could figure a lot of the financial stuff out without her help. So line those things up first so you can concentrate on creativity. For artistic people, getting paperwork organized is not fun, but it will allow you to focus on the parts of running a business that you enjoy.
What's next for Buried Diamond?
I'm meeting with an artist friend this week to discuss an upcoming collaboration. I can't say who it is yet, but it's going to be a great combination of imagery! I just got a huge batch of custom beads that I had produced, so I'm starting to create new products with those, which is thrilling, because I wouldn't be able to meet demand if the beads were all hand made. I'm also learning how to file my quarterly sales taxes. Doesn't that sound exciting!? ♥♥♥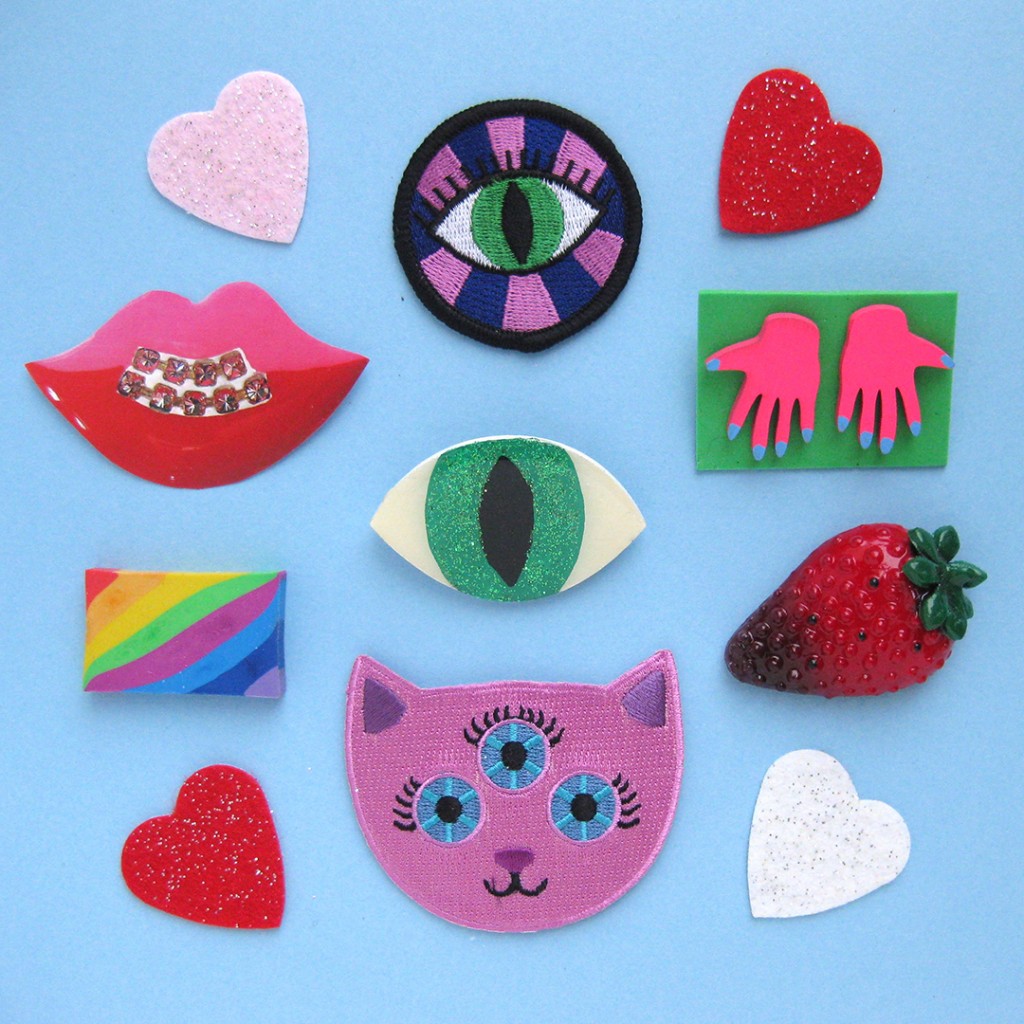 *******AND NOW FOR THE GIVEAWAY!!!*******
Martha is gifting AL readers with the following Buried Diamond goodies, which you can see beautifully displayed in the photo above:
pink hand earrings
green eye brooch
rainbow eraser
strawberry magnet
lips sticker
iron-on eye patch
iron-on 3 eyed kitty patch
All you have to do to enter is follow Buried Diamond on Instagram and leave a comment below (or on my Instagram post) and I will choose the winner via random.org, this Thursday, February 12th. To get an extra entry, repost the contest on Instagram using the hashtag #ALlovesBuriedDiamond. This giveaway is to US readers only. Good luck!
***UPDATE*** The winner is @lisabronwyn!! Thank you all who entered!