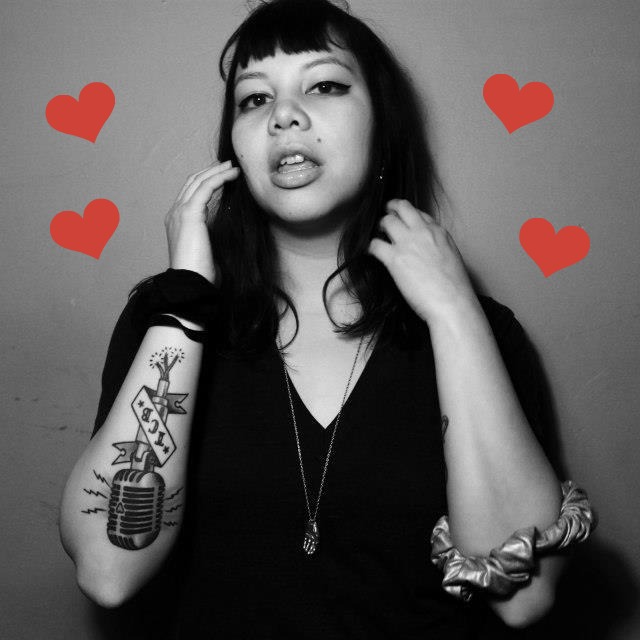 Claire Beaudreault aka Clara Biznass is my favorite type of ladycrush. As a professional nail artist, rapper in the band Hand Job Academy, and writer at XO Vain, Claire is no doubt one of the most badass babes there is! SHE DOIN' TINGS. ALL KINDS OF TINGS. Obviously I wanted to stalk/get to know her better, and especially, talk to her about… NAILS! Take a lurk at the interview below!
What are your top five mani essentials?
1. Duri Rejuvacote basecoat. Scandalous choice because it totally contains formaldehyde, but nothing else repairs my nails! I guess if it can keep a dead body preserved…
2. CND Solar Oil, it smells like almonds and cherries, keeps your mani fresh, and (shhh) hides imperfections in Instagram photos!
3. Butter London Nail Foundation, it dries really fast, does *not* contain formaldehyde, and looks good by itself.
4. Everyone probably says Seche Vite topcoat, right?
5. I love reppin' polish lines that I have a personal relationship with! The Floss Gloss ladies are the baddest broads and I love their business approach, plus their colors are so hot. I keyed a show at NYFW SS14 for Maki Oh and worked with Londontown; the coverage and richness of the formula is on point. And I'm working with MINE, a lacquer made with REAL PRECIOUS METALS. You can have real silver and gold on your nails! It comes in an Austrian crystal bottle and is redefining luxury.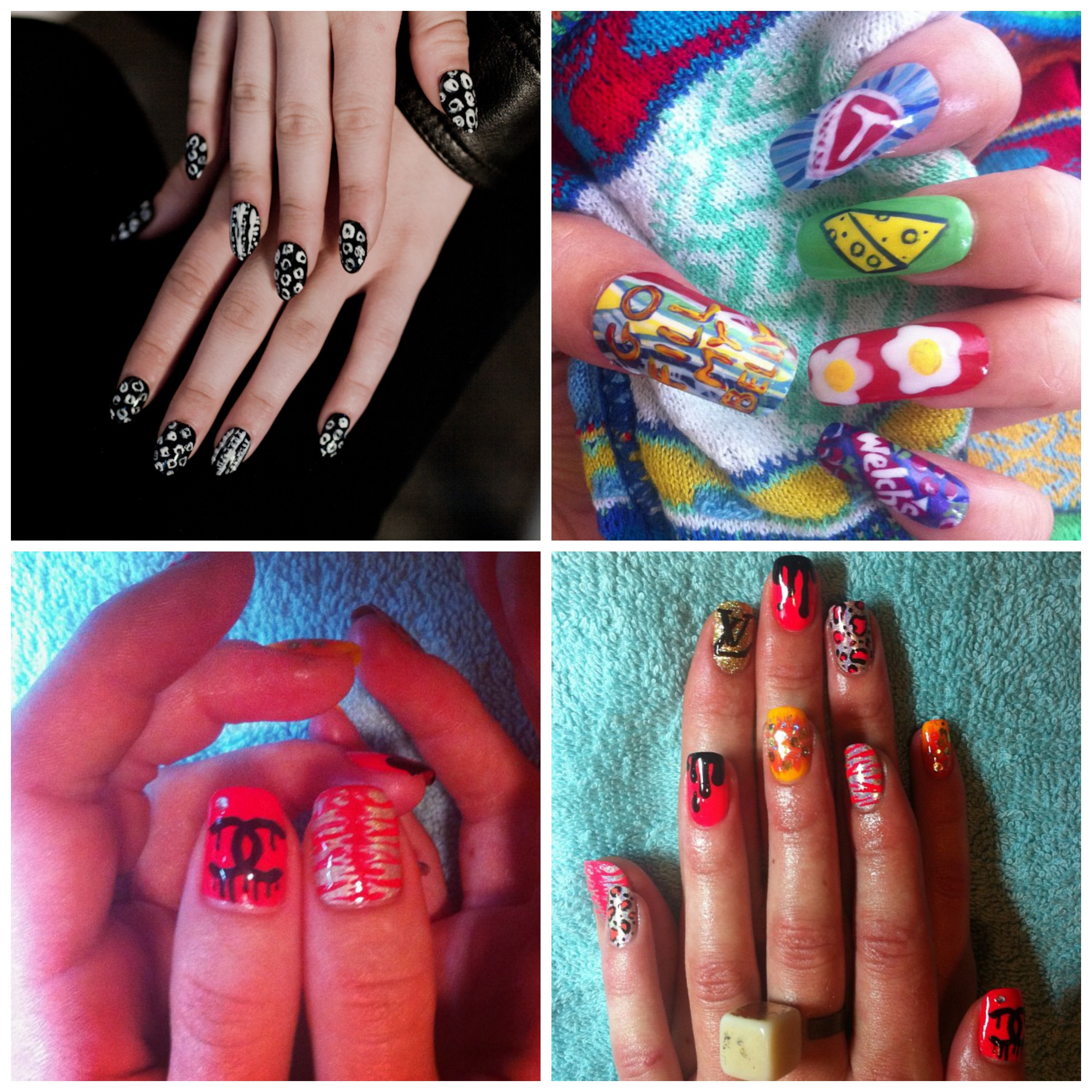 What's your pick for a good holiday nail?
I don't really do holiday nails unless it's Halloween! I did a lump of coal manicure when I first started doing nails that was pretty funny. Bah humbug, lolz.
What would be on your Mani Mixtape?
The first song that comes to mind is "Hands" by The Raconteurs. Weird, I'm not really crazy about that song. Oh, "No Hands" by Waka Flocka Flame because when you have your nails done, everything is no hands! And because Waka is the greatest. Kid Sister "Pro Nails" of course, and Gangsta Boo because she has a color with Floss Gloss now, "Nasty Trick" is so perfect. My friends Ratchet by Nature have a song called "Candy Nails and Glitter" that actually shouts me out, hella flattered.  Katy Perry did an amazing discontinued color with OPI named after the song "Teenage Dream" so that song because there is no such thing as a guilty pleasure. And NIN "Closer" because, Nine Inch NAILS. I am really showing my goth side in this interview.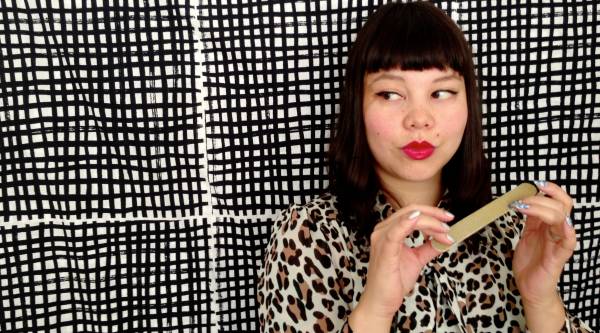 Favorite nail trend right now? Any you hate?
Kinda basic but all of a sudden the moonicure/half moon/reverse French/1930s/Dita Von Teese/Imelda Marcos manicure looks really fresh to me. And I LOVE that cool girls are now doing a full on, possibly ironic, porny pink & white acrylic French manicure. I don't think I hate any nail trend! Y'all do y'all. Wait–water marbling is a pain in the ass and I don't think it looks that cool.
What are your wardrobe staples?
Most of my clothes are from Uniqlo. They know how to make half-Asian butts look big! And Heattech has made my winters so much more bearable. Black skinny jeans, ankle boots, black leather jacket, Vera Meat hand necklace and vampire teeth ring. Gold earrings because I mix gold and silver, screw the rules! Or Timbs and jeans and this grey sweater of my boyfriend's that has a million holes in it and looks like it was expensive once.
Who are some females that you admire?
Oh gosh. My bandmates for always inspiring me and being so damn good at what they do. My mom for being an artist, encouraging me to be an artist, and being really expressive in her dress. My sister because she passed the bar exam and runs marathons like ringing a bell. Gina Edwards and the other amazing celebrity manicurists I've had the opportunity to work with who have taken me under their wing and taught me the tricks of the trade. Anaïs Nin, Frida Kahlo, Marina Abramovic, my Tommy Boy "labelmate" Queen Latifah, Margaret Cho, Loretta-fuckin-Lynn. I just saw "The Punk Singer" about Kathleen Hanna and she is super inspiring and admirable.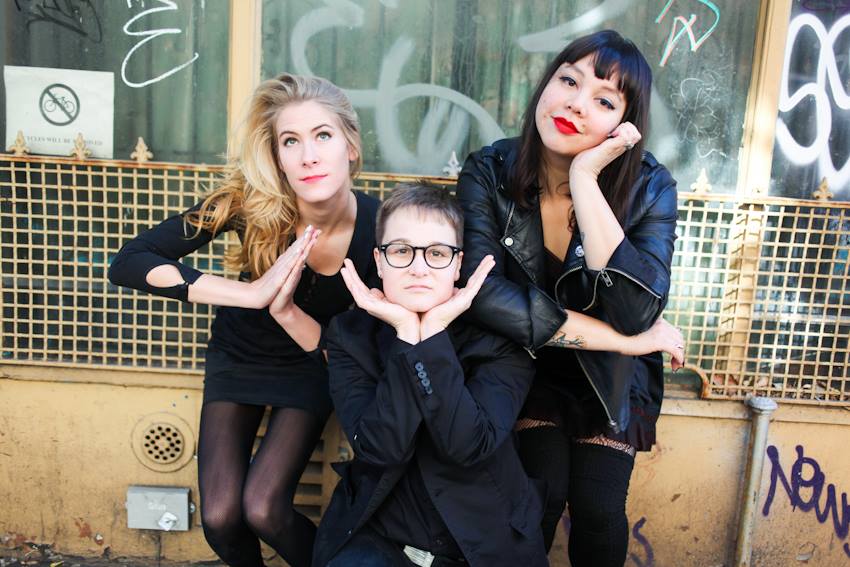 photo credit: Laura June Kirsch
How would you describe your personal style?
I try to dress like a French woman who long ago ran out of fucks to give. Like, I don't do anything to my hair, I don't wear a ton of makeup on regular days, I actually wear pretty boring clothes. If you have tattoos and good jewelry and accessories, you don't have to wear flashy clothes. I can't find the exact quote but I think Tina Knowles said something along the lines of "If you have a good bag and good shoes, the rest of your outfit doesn't matter as much."? Probably saying that totally wrong. Then again, I think hot pink, gold, and leopard print are neutrals. When I'm performing or making a video it's like dorky hip-hop Rockabilly. Our mutual friend Matthew once told me I looked like the lovechild of Patty Hearst and Sacajawea and that was an awesome compliment.
If you weren't doing nails and Hand Job Academy, what would you be doing instead?
Probably acting and writing. Which I do anyway, just less often because I'm busy with the band and the nail game. Playing the drums in a garage band. Flirting with the idea of getting a Master's in performance art or creative writing.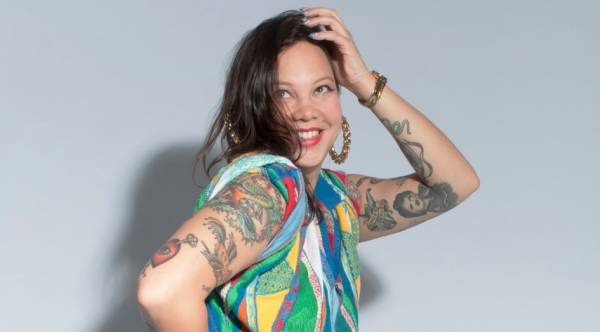 photo credit: Gabrielle Meit.
Any upcoming projects or anything you can tell us about?
Hand Job Academy is working on an EP for early Spring. More videos, more shows. We definitely want to tour in 2014. Travel is huge for me, I'd love to travel for nail jobs too! Maybe with my unofficial business partner Shirley aka Scotch Tape and Rhinestones, together we are "1.5 Asians."
Follow me on Twitter @ClaraBiznass and Instagram @fngrblstr!
♥ ♥