HEY YOU GUYS!! (Sloth from Goonies voice) Did you know it's SMALL BUSINESS SATURDAY?!? Celebrate and support your indie businesses today! Take a look at all the special goodies (and DISCOUNTS!) that my Agent Lover sponsors are offering today! SHOP SMALL POR VIDA!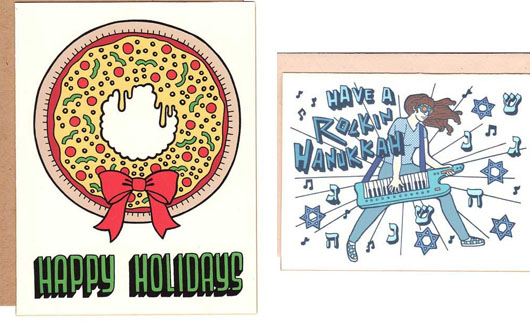 ♥ Christmas Pizza Wreath Card and Rockin' Hanukkah Card ♥
From the most hilarious holiday cards (SOMEONE PLEASE SEND ME THIS PIZZA WREATH AHH!) to the coolest and cutest book clocks, Pygmy Hippo Shoppe is still the best (and tiniest) place in LA to get all of your special gifts! To celebrate Small Business Saturday, PH is offering 20% off so come in and say hello to Miss Emi! But don't worry if you're on the other side of the country (or world) you can join in on the fun by using the code SHOPSMALL when you shop online!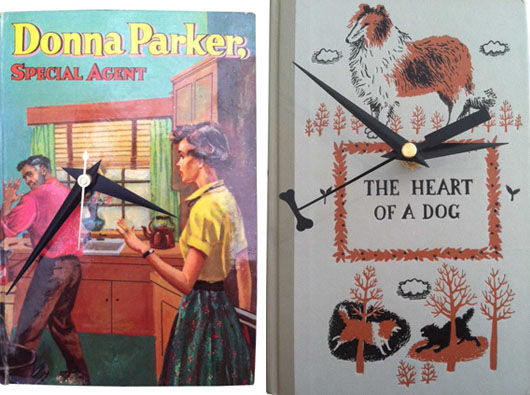 ♥ Donna Parker Book Clock and The Heart Of a Dog Book Clock ♥
Shop! Pygmy Hippo
Blog: PygmyHippoShoppe.com
Facebook: http://www.facebook.com/PygmyHippoShoppe
Twitter:@pygmyhipposhop
Instagram: @pygmyhipposhoppe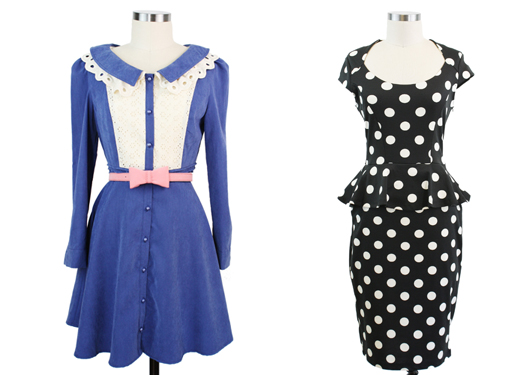 ♥ Tweedledorable Dress and Darling Dita Dress  ♥
The babes at Hello Holiday are giving a special discount just for Agent Lover readers! Use code HelloLover for 20% off  this weekend until Tuesday! They are also offering free shipping on all orders over $50, free gifts for orders over $100, and 50% off all of our denim, plus there's tons of new cute items to lurk at!
Shop!: http://hello-holiday.com/
Blog: http://blog.hello-holiday.com/ 
Facebook
Twitter: @helloholiday
Instagram: @helloholiday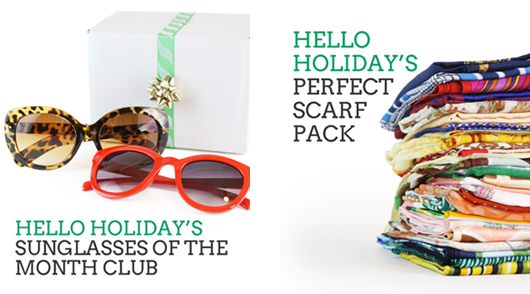 ♥ Hello Holiday's Sunglasses Of The Month Club and Perfect Scarf Pack ♥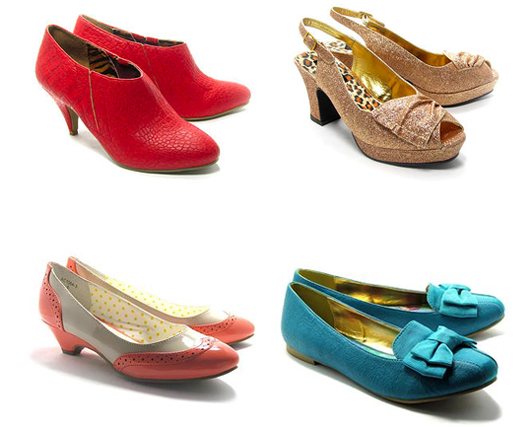 ♥ From clockwise left: Hilda in Red, Brook in Gold,  Ida in Coral and Sophie in Teal  ♥
Bait Footwear is having the BIGGEST SALE right now! 40% off everything in the shop! Find your perfect pair of sparkly shoes for the season and stock up on the sweetest flats and sandals while you're at it!
Shop!  http://www.baitfootwear.com/
Facebook 
Twitter: @BaitFootwear
Instagram: @baitfootwear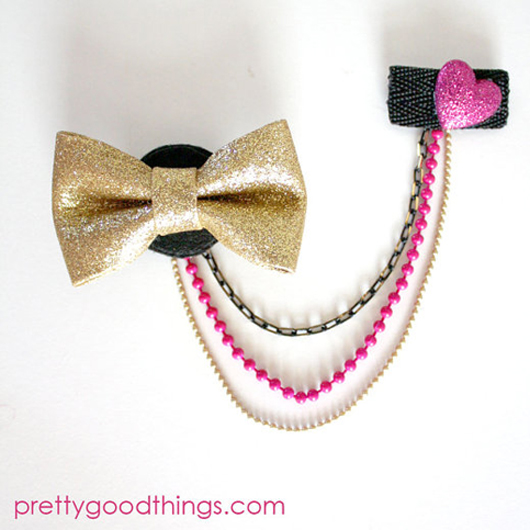 Pretty Good Things has the perfect accessories for the upcoming holiday: sparkly sweater brooches and fascinators galore! Their Oh Deer fascinator comes with a free mini santa hat from now until Xmas! CUTEST THING EVER!
Shop!
Blog: http://www.prettygoodthings.com/
Facebook
Twitter: @marypgt
Instagram: @prettygoodthings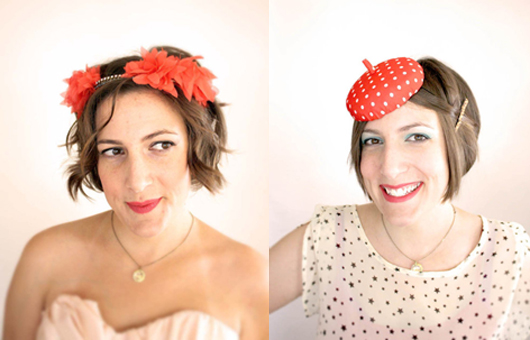 ♥ Golden Wedding Halo Floral Crown and Red and White Polkadot Mini Cocktail Hat  ♥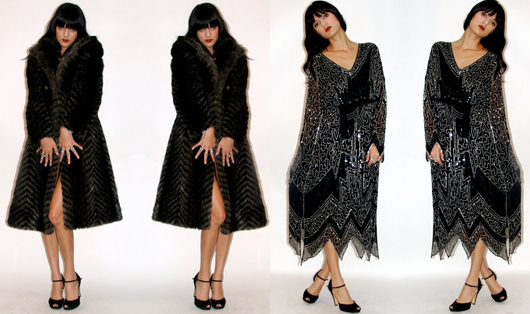 ♥  Chevron Fur coat and Silk Beaded Lightning dress  ♥
I'm absolutely obsessed with these two items from Bluesville USA: the Chevron Fur coat and the Silk Beaded Lightning dress! SO GORGEOUS and perfect for New Years!
Shop!: Bluesville USA
Facebook
Instagram: @bluesvilleusa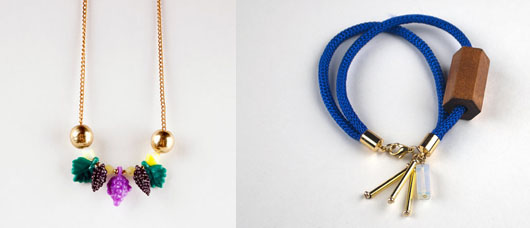 ♥ Barrel Necklace and Orsa Bracelet ♥
I seriously go bananas over everything Motherland puts out and this Barrel Necklace is no exception! I can't wait to see what they have in store for their new collection out in 2013! Use code REUP1 to get 15% off your order!
Shop!: Motherland Jewels
Twitter: @MOTHERLANDshop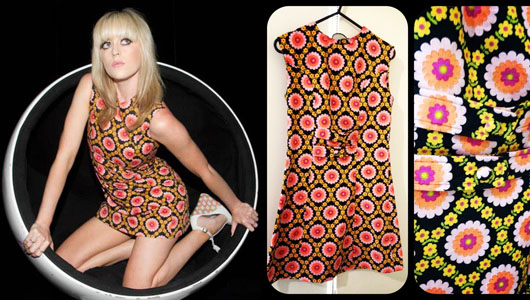 Our favorite Aussie mod maven Kee Kee at Laurel and Hector Vintage is now stocking handmade items using vintage fabrics & patterns! First launched with great success is the Japanese Designer dress. This fabric was sourced in Osaka, Japan where it has been screenprinted by hand. Using a classic mod cut, this exciting fabric is now available in 3 different colorways. I'm so excited to hear that L&H will be expanding their handmade range!
Shop!: Laurel and Hector Vintage
Facebook
Blog: http://laurelandhectorvintage.tumblr.com/
Instagram: @keekeeflamingo

 ♥ Mermaid Sparkles Cateye and Pearls Galore Cateye  ♥
Cutie Dynamite is celebrating with 30% everything today through Cyber Monday! Use code: CUTEMONDAY. I know so many girls (me included) who would kill for a pair of Cutie Dynamite sunnies! DYING over this Mermaid Sparkles pair as well as this Pearls Galore Cateye!
Shop! Cutie Dynamite
Facebook: http://www.facebook.com/CutieDynamite
Twitter: @cutiedynamite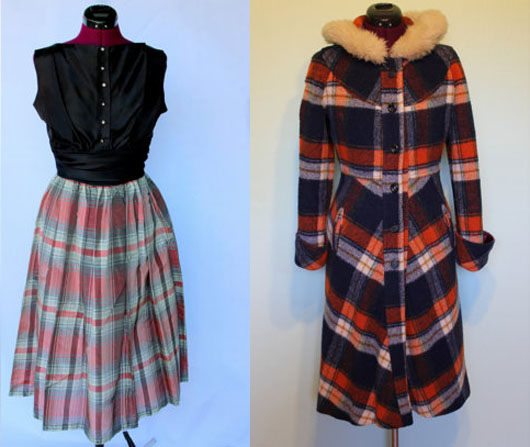 ♥ Red Plaid Cocktail Dress and Orange and Blue Plaid Wool Coat  ♥
Vintage clothing goddess Mary Van Note has the perfect holiday dress and coat in stock right now! Take advantage of the code MONDAY15 which will give you 15% off now through Cyber Monday!
Shop!: Mary Van Note
Blog: Mary Van Note 
Facebook
Twitter:@maryvannotes