Ayla L. Montgomery, aka BRASS, is one of the coolest chicks on the internet. I know that is a bold statement to make, but HALLO…she's not only a total babe with fly ass nails, but also one of those badasses who I always like to refer to as somebody who be: "Doin' thangs." If you ask Brass what her life passion is, she'll describe it as 'the storytelling of various subcultures using the mediums of photography and documentary films" and quote some Ayn Rand while she's at it: "A culture is made, or destroyed, by its articulate voices." A SoCal girl born and raised, Brass' photography has been published in both VIBE and The Source. She then filmed the documentary series Art Goon'in as well as The Internet [Documentary] which focused on some of Odd Future's less infamous members. Brass is now working on a documentary called NAILgasm, which is all about the worldwide phenomenon known as Nail Art, featuring some of the women at the top of the current nail game. Can you FEEL how excited I am about this??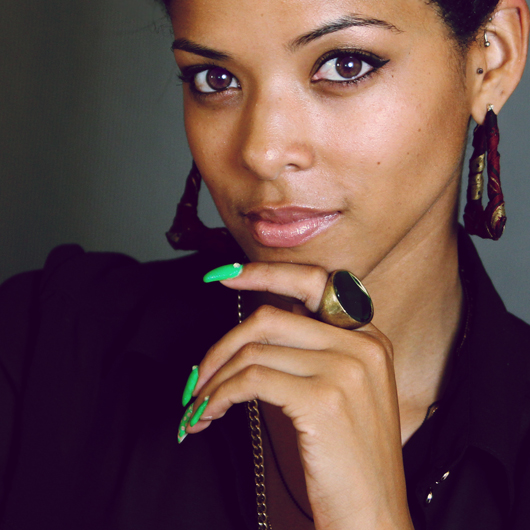 Brass gives us the lowdown on her nail faves and the most anticipated film of the year.
How She Became Obsessed With Nails: Having ones nails done and Nail Art have always been apart of Black/Hip Hop culture, but I was a tomboy who always played sports and couldn't get my nails done. So as I got older and products got better and the designs got cooler I became more and more obsessed with it. Especially when I saw Melody Ehsani rock cut up dollar bills on her nails. I thought that was the coolest thing ever. I've been hooked ever since!
Who Are Some Of The People Featured In The Documentary? Sophy Robson, DiscoNail, Britney Tokyo, Madeline Poole, AstroWifey, Spifster, the Giogo Show girls, Fleury Rose, Naomi Yasuda, Rita Pinto, Andrea Lewis, Hey Nice Nails and more!
When Is It Coming Out?  I'm hoping to wrap editing within the next month or so, so that I can enter it at a few film festivals. SXSW I'm coming for you! As for an actual release date I'm not sure yet, but I promise there will be a big announcement when it's ready for the world to check out!
Current Favorite Polishes? I am OBSESSED with glitter. La Chat makes an amazing glitter, Milani, Floss Gloss, OPI's Burlesque collection all have some amazing glitters. My favorite non glitter color this summer was Flip Flop Fantasy by China Glaze, and neon of course!
+Even though the Kickstarter campaign is over, you can always donate via PayPal at the bottom of the Nailgasm Doc page and she will still honor rewards! Make sure you follow Nailgasm on Facebook, Twitter, Instagram (NAILgasmdoc), Pinterest and Tumblr. And Brass' own website, Twitter, Instagram (@WhoIsBrass) and Facebook.