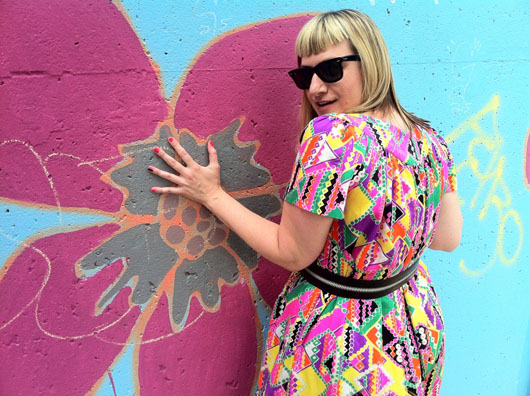 There are so many reasons why I heart Moxie Jane, but two that standout are how she was practically born with the cherished gift I like to call "thrifter's luck" and is one of the biggest Prince fans I know! I chatted with this fun little lady about her style idols, obsessions and of course, Thee Purple One. Moxie is also giving away a $50 credit to her fabulous vintage shop! There are tons of cute dresses I've been eyeing in there so make sure to enter. Leave a comment at the end of this post and don't forget to like her Facebook page and follow her on Bloglovin'! You can also get updates by signing up for the mailing list on her site. The giveaway is open to my international readers as well! Come back here on Friday to see if you've won! Good luck and enjoy my interrogation of Moxie below!
Moxie, you are one of the best thrifters I have ever seen! What are some of your favorite things you have ever thrifted?
Aww shux, Agent Lover, thanx girl! Some faves that come to mind are my powder pink 50s kitchen clock, and a few amazing powder puff jars, definitely my "Coffee Slut" mug and a vintage Miss Piggy one, the sealed box set of AbFab (yes! every episode!), some AMAZING white leather studded stiletto booties (that are in my Etsy shop now, actually-wish they fit ME, wahhhh)  And I also like to say that my Baby Blue, my pitbull, was the best thing I ever thrifted…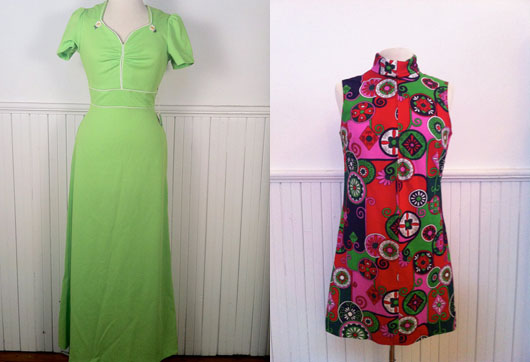 How did you start Moxie Jane Boutique?
My current brand, Moxie Jane, started as Star Gazer Jewels in 2006 in my Philadelphia, PA studio. I started making necklaces, re-mixing found, vintage, and upcycled elements into new pieces. It burst into bloom rather spontaneously after my pitbull Jaymz passed away from illness that summer. He lived a long and robust life after I fused him with years of love beams and homemade organic dog food. I had rescued him as a mangey street puppy eleven years earlier. I started making accessories to self soothe after his loss, and it started to become clear I was shifting into my purpose. I was guided to design! I started selling necklaces to friends and fams and neighbors and co-workers. They all stoked me up big time… telling me to sell my stuff, so I started doing trunk shows and the outdoor crafty market thing. I met some lovelies doing that, mostly ladies with amazing taste and connections who saw the Vision in my designs and loved looking hot in them! I also attended networking happy hours and went to as many business/arsty/creative-preneur parties around Philly wearing my pieces to self promote. In 2009, I  was invited to open a boutique in Northern Liberties (neighborhood in Philly) by a team of curators. A developer was building a re-appropriation of the Piazza in Rome. It all was built very fast…the condos and shoppes there are beautiful, industrial and modern, and some truly amaze members of the Philly art scene were stalked down and selected to lease the shoppes and gallery space there. I felt so honored to be included and it came exactly at a moment when I was manifesting what's next for Moxie Jane?  When I opened, I was primarily making and selling my jewelry, but buying trips for vintage jewelry were expanding…I mean flea markets are a hotbed for wild hearts like mine to ramble among porcelain unicorns and bizarre old clown toys. Pretty soon I was getting back to the shoppe with 60s cowgirl boots, old perfume jars, 80s disco handbags and mint green jello molds! My thrifting addiction came into full effect. I was also realizing that vintage not only promotes personalized self-expression and major fashion appreciation from decades past, but also sustainability! Amazing threads and inspiring peoples, check. Higher purpose, check.  It has been a roller coaster since then, lots of ups and dips and swirls, but when you follow your Dreams it is truly amazing where they will take you. Last year I opened my Etsy shop and have continued blogging as well.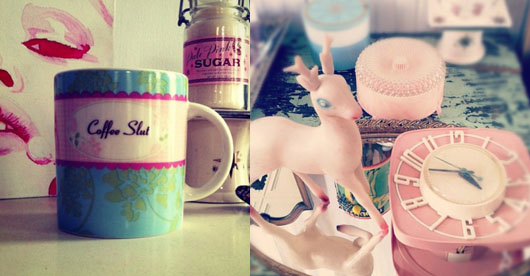 Let's talk about our mangod, Prince. When did you start falling in love with Thee Purple One? 
It actually wasnt until the late 90s that I really woke up to how truly amazing Thee Purple One is. Virtuoso! Yes I liked Purple Rain and sang Raspberry Beret unusually often, but my deep, mad, true Love of Prince came in some sort of time release. I saw him live at the 930 Club in Washington DC one night in 1998  just jamming after hours. He was playing with Maceo Parker a lot at the time. Funk is a favorite music genre for me, and lets just say I truly felt the Prince funk like never before that night! Whoa. Then there is his range as an artist: he sings, AND is a guitar god AND plays keys, AND writes tons of Billboard-topping songs for lots of artists, AND dances, AND crosses musical genres like it's nothing, AND plays violin and shit. How can you not be in awe? Some of his songs have romance in them that pierce my heart everytime like "17 Days," "Pink Cashmere," "She's Always In My Hair," and "Pop Life." And to top it off is his intense Spirituality and fashion! Wow! He brought/brings Love and God into all of it.  Trailblazer, personal hero, superhuman.
If you could describe your style as the love child of any two people/things, who or what would they be?
Peter Max and Jayne Mansfield. 60s Psychedelic Op art by a Jewish guy whose Grandma probably was all, "My Grandson the artist," fused with retro glamour and untamed sexuality. Lets mix in Cyndi Lauper in her prime for the occasional three-way too.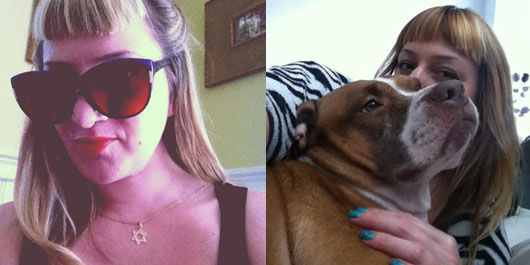 Who are some female artists, designers and otherwise that you admire?
Betsey Johnson! Wowza.She was a gateway for me. Tarina Tarantino too, I can't tell you how many times I have read her story on her pretty website about how she started out and over some magical time, skyrocketed to what she is today. Those mamas sort of blew the walls and ceilings out for me! My mother, Karen, was a fashion designer, so I def  sponged style and design wisdom from conception, *lols.* I was always exposed to what was happening in Vogue or Bazaar magazines, even at a young age. My Mom was very mod and she had a subtle, smart style. She also made me and my brothers the cutest handmade kiddie clothes. We would 'oooh and ahhh' and appreciate couture and the artistry on the runways for sure. But when Cyndi Lauper and Madonna's styles hit in the early 80s we were fascinated!  Mainstream fashion was very hot for not mainstream styles. And Vivienne Westwood dropped the New Wave bomb on fashion too. I really developed the Vision that Fashion is all encompassing, whether it's avant garde, chanel, streetwear or recycled.  Lately I have been really appreciating Marijke Koger too.
What tunes are on repeat for you lately?
"Make that Move" – Shalimar
"Antolian Anagrams" – Turk Jerk (Tandy Love)
"Tommorrow Never Comes" – Elvis
"Like a Virgin" – Madonna
"Aquarius" – Boards Of Canada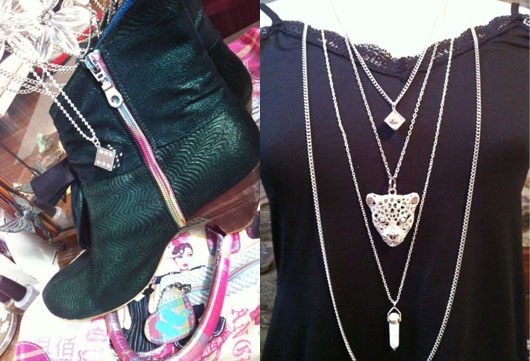 Is there anything you collect specifically?
YES! Vintage Dice and Bakelite. Crystals, especially giant celestite clusters, lepiodlite, and other stones that align with indigo and purple chakras. Ceramic masks. Perfume. Postage stamps (geek!), 1950s boudoir and vanity decor, vintage dresses.
Your five current obsessions:
1. I'm going through a 70s gypsy phase…just Etsy-splurged on a wing-armed fortune teller vibin' dress, some classic wooden clogs and an art nouveau pendant necklace. I also have my eye on a sweet crocheted frock!
2. Working the fall boots into the end of summer.
3. Jogging. I run really slow, but it's freaking fantastic, it makes me feel so strong.
4. My lipstick lamp from Tarjay
5. "Here Comes Honey Boo Boo!" Omg. not sure if I should promote or admit that, but can't stop won't stop.
What's next in the world of Moxie Jane?
1. NEW Moxie Jane Jewelry!!!! I had been on hiatus…but finally am back in the studio, and they will start to debut in the Etsy shop in the next few weeks! I am so excited!  2. My first book! I KNOW! Crazy amazing! Stay Tuned…all updates go up on le blog and to my mailing list. 3. 1000 more vintage items in my Etsy shop.
♥
UPDATE: THE WINNER HAS BEEN CHOSEN! Congrats to #9 Andi Rockz! Contact me at marie[at]agentlover.com to claim your prize!!