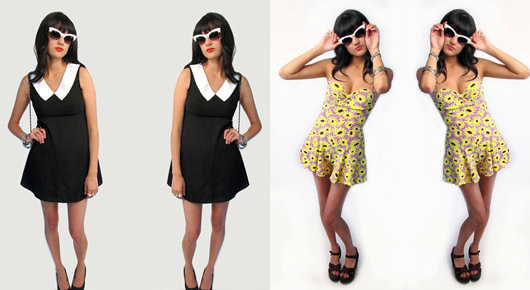 Wednesday dress  and Super 90s Sunflower Romper
Shop! Bluesville USA
Facebook: https://www.facebook.com/bluesvilleusa
Instagram: @bluesvilleusa
Bluesville USA features super affordable vintage pieces handpicked from right here in So Cal! The Wednesday dress is great for these summer days then throw on a pair of tights with it when it starts to cool in the fall (I can't believe we are almost at September!!) I am also adoring this totally Donna Martin Sunflower romper! If you are in the LA area this weekend check out Bluesville's booths at Mega Merch and LA Lemon Back To School Sale on Saturday and at Space 15 Twenty on Sunday from 11am-4pm!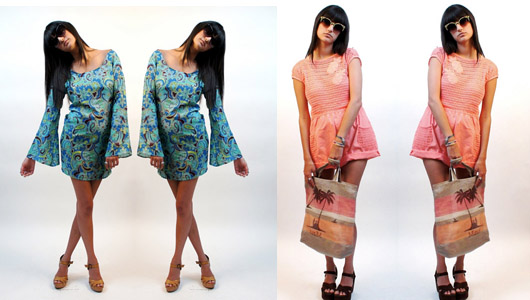 Paisley GoGo dress and Coral Pineapple Romper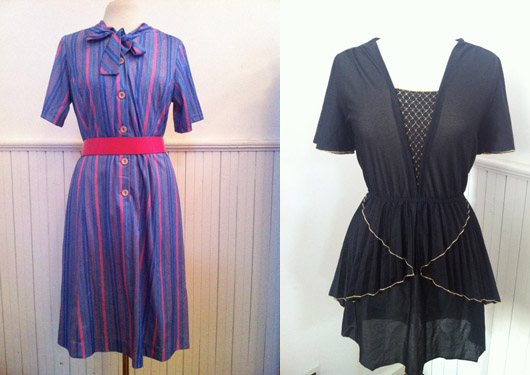 Lollipop Swirl Dress and 80s Dance Uniform Dress
I am loving these two dresses from Moxie Jane Vintage. Look at the colors on that striped secretary dress and HALLOW, can't you just see me and my jazz hands doing a kickline in the 80s Dance Uniform Dress? Stay tuned for my interview with Moxie herself next week!
Shop!: Moxie Jane Vintage
Blog: Moxie Jane
Facebook: http://www.facebook.com/themoxiejane
Twitter: @MoxieJane Moxie Jane Vintage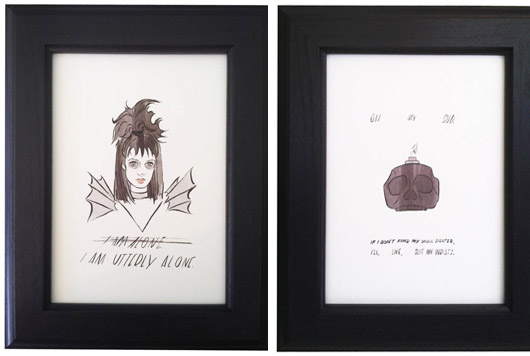 Lydia Deetz Framed Print and Doom Generation Framed Print
Los Angeles Magazine recently put Pygmy Hippo Shoppe on their "Best of L.A." list and it's no surprise especially since I can't keep up with all the cool items they've been getting in lately. These two prints from Super Secret Pow Wow are OUTTA CONTROL. Lydia Deetz from Beetlejuice? Doom Generation? ALL THE FAVES BOO! And check out these super cute candy-colored kitty cases for your iPhone. They sell out fast so get one quick!
Shop! Pygmy Hippo
Blog: PygmyHippoShoppe.com
Facebook: http://www.facebook.com/PygmyHippoShoppe
Twitter:@pygmyhipposhop
Instagram: @pygmyhipposhoppe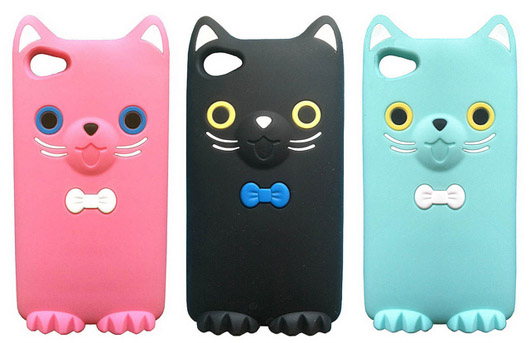 Strawberry Kitty , Black Kitty , Minty Kitty 

Painters Muse Blouse and Banana Smoothie embroidered top
You've already met Kee Kee during our interview and giveaway for her shop Laurel and Hector Vintage, but have you seen these cute tops yet? I am digging the sleeves on that Painters Muse Blouse!  Since she's out of the country on another magical vintage buying trip, anything you order will be shipped in mid-September. Kee Kee will still be updating the store during her travels so keep your eye on all her new finds!
Shop!: Laurel and Hector Vintage
Facebook: https://www.facebook.com/laurelandhectorvintage
Blog: http://laurelandhectorvintage.tumblr.com/
Instagram: @keekeeflamingo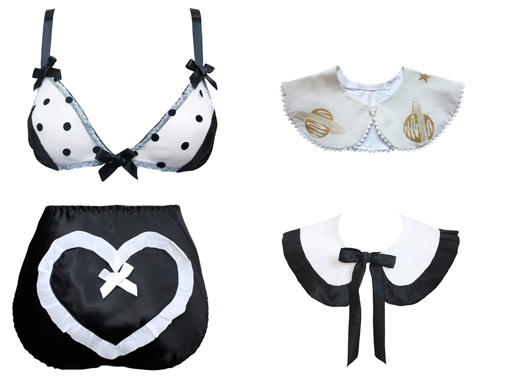 Clockwise left to right: Lydia bra, Louniverse collar, Lola Heart knickers and Lola collar
Shop! Louloulovesyou.com
Blog: Loulou Loves You Tumblr
Facebook: https://www.facebook.com/loulouandrolia
Twitter: @louloulovesyou
Big News//Sad News: After five years, Loulou Loves You will be ending sales on all lingerie and accessories (aside from her gorgeous flower headbands) after this month to make way for exciting new projects! Loulou is giving 30% off for her farewell sale so make sure to grab one of her beautiful collars, bras and knickers before they are gone forever! Hand me a Kleenex or five hundred!

90s Clueless / Drew Daisies Dress , 60s Sheer Negligee, 1940s Striped Playsuit
Shop!: Mary Van Note
Blog: Mary Van Note 
Facebook: http://www.facebook.com/maryvannotes 
Twitter:@maryvannotes
My favorite vintage maven + funny lady Mary Van Note is at it again with her great finds! Pretty much dying over everything that's in her shop right now, especially this 90s Daisy Dress, 60s negligee, and striped playsuit. Take a peek to see what else she has for you!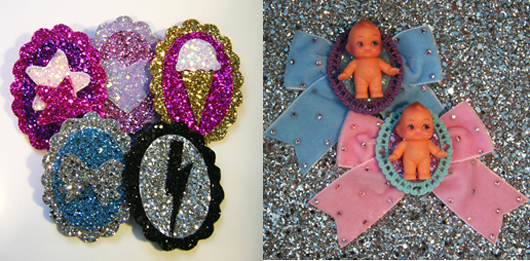 Sparkle Team Glitter Badges and Velvet Kewpie Hair Bow Clip 
It's always exciting to see what's going on at Cutie Dynamite! Check out these Sparkle Team Glitter Badges and these KEWPIE CLIPS! Dying over here!!
Shop! Cutie Dynamite
Facebook: http://www.facebook.com/CutieDynamite
Twitter: @cutiedynamite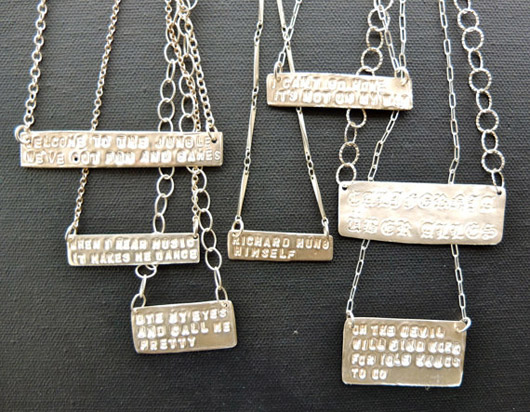 Custom Lyric Nameplate Necklace
I'm still loving these lyric necklaces over at Gabriel Hounds! The Smiths' "There Is A Light That Never Goes Out" just came on my internet radio station…is it a sign?
Shop!: Gabriel Hounds Jewelry
Facebook: http://www.facebook.com/gabrielhounds
Twitter: @xoGabrielHounds