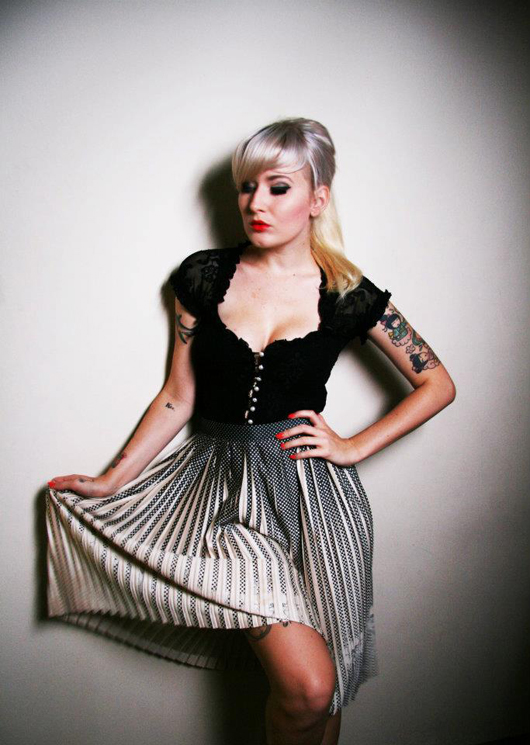 BE WARNED…you might fall in love with this bodacious Australian babe, Kee Kee ! She is a serious vintage collector who even travels the world to find extra special pieces for her vintage shop, Laurel and Hector Vintage! Find out all about this mod goddess and enter the giveaway at the end to win some L&H goodies!
How did you start Laurel and Hector?
Being completely obsessed with clothing and having it take over the whole wardrobe (my poor boyfriend has 2 draws in our 3m wide wadrobe) I thought it was about time I made this into my job: sourcing fantastic clothing for hot babes all around the world! Gee wizz what a job! And when I say hot babes I mean it…seriously I wanted to make out with you when I saw you in the Orange Psychedelic dress!
Can you tell us more about how you source your items in different countries?
Australian vintage is so blerg! It's very 80's and it's pretty crud, so I first thought why don't I bring back some quality vintage from my travels for my friends. Then my friends network grew into followers of 60's & 70's fashion so now where ever I go in the world I am constantly scanning stores and snarling at other girls like a dog with a bone when I haven't finished going through a rack (haha what a meanie). I mostly source from Japan because I'm O.B.S.E.S.S.E.D. with their clothing! They have an array of great quality vintage plus it gives me a chance to hang out with my Japanese friends for a month at a time. This year I will also be throwing Spain into my buying trip as I heard they're like an untapped gold mine of incredible 60's &  70's vintage. Also a great excuse to lounge on a Spanish beach during European summer.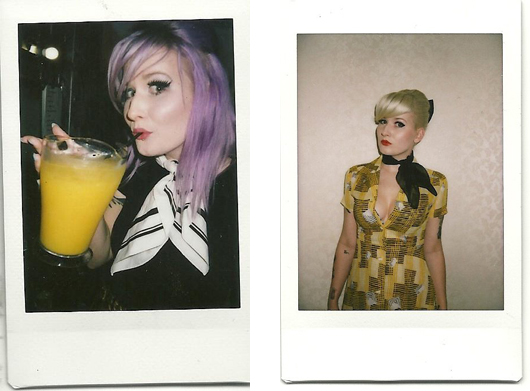 Since you are also a big lover of Tokyo like I am (WAH I WANNA GO BACK), what are some of your favorite spots/things to do there?
Oh my lord, Tokyo! What isn't there to do!! Every time we go I drag my boyfriend to my FAVOURITE restaurant, it's called Alcatraz ER where you get handcuffed in the lobby by a mad scientist who leads you to your jail cell and order delicious cocktails & dinner from a sexy nurse. They have a half time show that scares the crap out of me, it changes every time and it's so dramatic.  Last visit I was stabbed with an oversized foam syringe by a masked mad man! I also love going to live gigs in Tokyo, they have the best rock 'n' roll scene! I've had the pleasure of hanging out with the 5.6.7.8's during their Australian Tour earlier this year who have extended an invite for some karaoke & cocktails during my upcoming trip! I am so excited, our friends at Club Heavy Sick in Hatagaya will be setting that up for us.
 If you could describe your style as the love child of any two people/things, who or what would they be?
French designer Pierre Cardin (when he was in the 60's) & guitarist Poison Ivy (when she was in the 80's) from The Cramps. They would have to do some serious time travel to bone but they would make one heck of a baby. I adore the 60's look and often try to pull it off however because I am quite chaotic and untidy there's a little bit of punk rock in the way I dress, plus I think I'd totally get all my sass from the queen of attitude, Poison Ivy.
You're also a lingerie designer! Can you tell us more about that?
For the past two years I have designed for Elegantly Scant, an Australian boutique label, but sadly I am saying goodbye to take on L&H full time. I've had so much fun learning about the construction of delicate lingerie and the types of fabrics that make up a perfect bra. We would spend a whole week fussing over what bow to use, it's that involved!!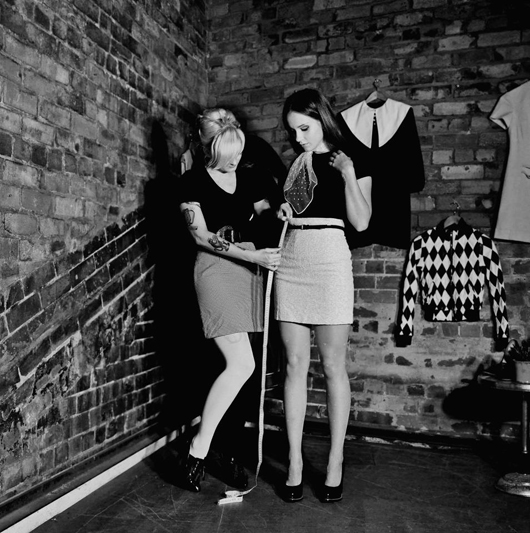 Who are some female artists, designers and otherwise that you admire?
I look towards Vivienne Westwood's earlier years in her "Let It Rock" shop, which later changed to "SEX." I like how she evolved the punk look into a fashion statement providing iconic 80's bands with outfits. Her contribution to the community helped form their identity. Also Jean Shrimpton as a style and fashion icon, her face is immaculate and was definitely made for the 60's. How can you not love her!
Is there a particular decade in history you feel a connection with?
I am a 60's lover, as you can see in the collection on L&H. I adore mod dresses, the colours used during this iconic period and the fabrics sourced for their simple a-line dresses. They were so adventurous in the 60's and did it with immaculate style. I often imitate mod makeup & little beehive 'dos; the higher the hair the closer to god as Dolly Parton says!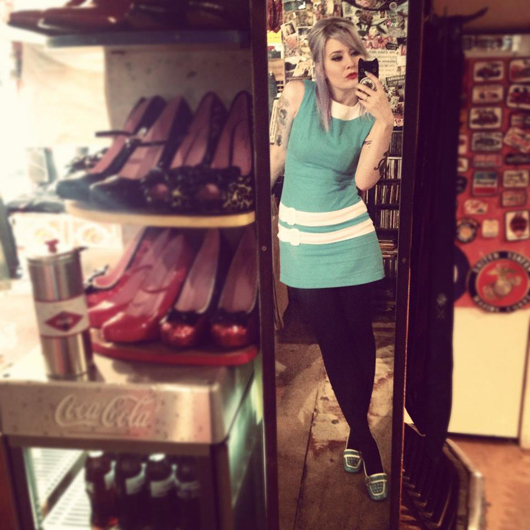 Tell us about your pug Booga!
Naw! Even saying his name gives me heart eyes! He's a fat little pug who turns 5 this year, party time! Full name; Booga Eggy Pop, I really wanted to name him Egg but he wouldn't come to it, so Booga it is…and my love for my dream husband, Iggy Pop, shows! He's getting quite a big name in the Australian fashion world, starring in music film clips for Sparkadia, he's modeled for Miss Shop, an Australian women's fashion label, and this week he'll be photographed for an Australian music festival called Field Day where he'll be dressed up as a unicorn!!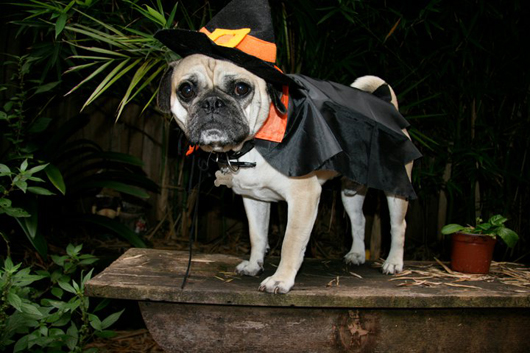 Is there anything you collect?
Mod dresses!! I have a large collection of quality original 1960's mod dresses. One is a Pierre Cardin in lime green (my honey that I never wear in fear of staining it!) I am also in love with an original late 60's floor length, purple maxi dress with a see-through lace top. The latter is a little extreme so I'm waiting for the perfect opportunity to wear it out without looking like I am over-the-top obsessed with the 60's…those kind of people scare me. Quality crystal specially in vases, liquor bottles & ashtrays are also a weakness of mine.
Your five current obsessions:
1. Best Friends Breakfast Club.  I made this up due to my love for hungover weekend breakfast. Here's the rules: anyone is invited, the cafe is chosen by quality of coffee & eggs, first person to wake up texts the whole gang, then we meet at about 2pm once we're dressed & ready to go.
2. Bikram Yoga.  I haaaaaaated this sweaty stink pit the first time I went. Also I can't event straighten my legs when I touch my toes so even more reason to hate the place. Then I found myself going back everyday! So now it's my nightly ritual and I've dragged along friends who are now just as addicted! (I still can't straighten my legs but I can do a killer backwards bend.)
3. Menji Mushroom Japanese treats. These delicious little suckers can only be bought in Asian grocers over here but are in abundance in Japan. I get these whenever I pass a grocer that stocks them, they are so god damn delicious.
4. Instagram…I know, I know…..such an obvious one but it's my little bedtime story every night. I was never one for the text in children's books, give me the images any day! At me baby @keekeeflamingo, haha!
 5. Silk knickers. Once you go silk you never go back.They are so amazing they feel like you're wearing nothing at all!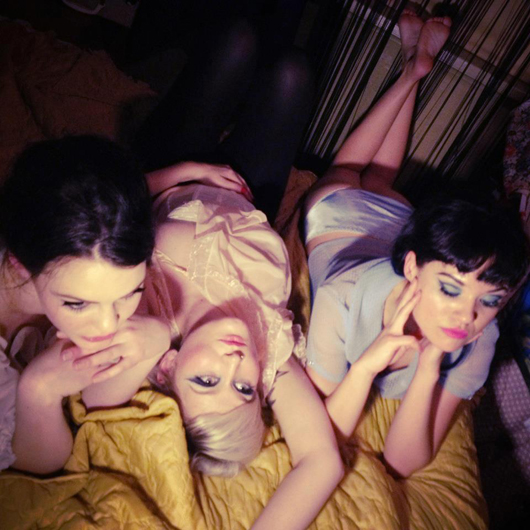 What's next for Laurel and Hector Vintage?
HUGE buying trip in Spain & Japan, which I think I've narrowed down the taste & style that my fans are loving. I'm also shooting with some very talented Australian photographers in the next few weeks, can't say anything until the shots are out. Also collaborating on a few live photography exhibitions, live music & fashion markets. It's all happening baby.
♥♥♥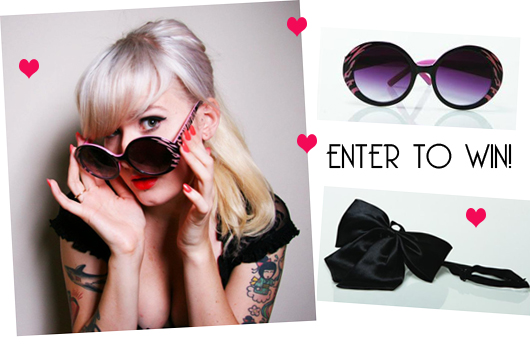 GIVEAWAY TIME! Laurel and Hector Vintage is giving away a super cute Noir Satin Bow Tie and a pair of pink "Can't Find My Mind" sunglasses! Just leave a comment below describing how you would wear the prizes below! I will pick a winner on Friday! GOOD LUCK HOT BABEZ. And make sure to keep up to date with all the L&H gossip and to see Booga dressed as a unicorn by following them on Facebook, Tumblr, and of course Instagram (@keekeeflamingo)! And of course…go shopping here!  All dresses are currently 20% off! Use DRESSDISCOUNT at checkout!
EDIT: I HAVE CHOSEN A WINNER! (via random.org) It is…. #16: SOCIALITE DREAMS! Email me at marie[at]agentlover.com to claim your prize!!