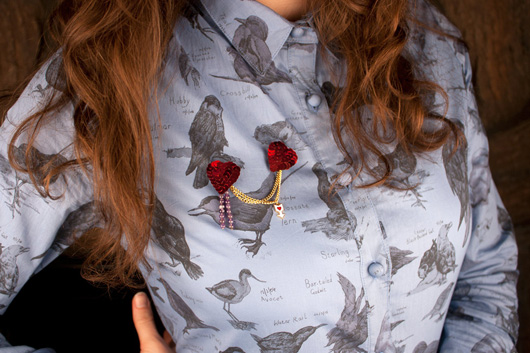 Claudette Double Heart brooch by Motherland
So lately I've been super obsessed with wearing all things Motherland (as seen in this recent outfit post) and then found out that Melissa Aquino, the creator of Motherland, is obsessed with Jayne Mansfield just like yours truly. We are currently in the middle of a lengthy-email exchange about the secret and spooky places in LA (which coincidentally goes with the timing of this Hollywood Mysteries piece I wrote for Rookie) and I fear (hope) this email is never going to end and/or culminate in some sort of epic Hollywood Thelma and Louise-style adventure. Basically there's a whole lotta obsession going on around these parts (what's new.) Anyway, this is OBV a real down ass chica with AMAZING TASTE so of course I wanted to interrogate her and learn more about her jewelry! Don't forget to enter the giveaway at the end so you can win this super cute sequin double heart "Claudette" brooch!
What inspires your jewelry?
Los Angeles, kitschy/creepy artifacts hoarded in your grandparents' basement since 1962, bright neons and tropical colors, and being a kid in the late 80s/early 90s. For example, I went on this recent mental tangent/inspiration bender remembering my hometown's awesome drugstore: Hello Kitty and wax lips abound! Such a good place to spend your allowance.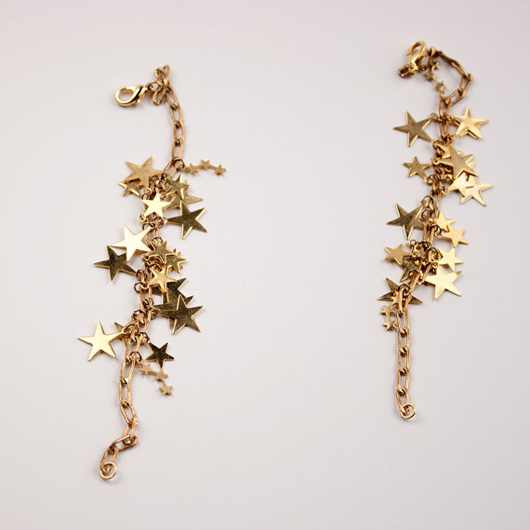 Constellation bracelet by Motherland
Can you tell us about some of your favorite pieces?
The Constellation Bracelet is whimsical, when I wear it I feel like I'm 7 and playing dress-up/princess/wizard (what? some kids have weird imaginations). The Wendy Necklace is a permanent fave of mine because I am a cherry FANATIC. I'm also stoked about the Claudette Double Brooch coming to the shop, it's my most complex design yet and really feels like my own. Plus, my first foray away from bracelets and necklaces! All in all I love to wear everything – usually each creation comes to fruition because I wanted a piece for myself.
If you could describe your style as the love child of any two people/things, who or what would they be?
I'd say my style of jewelry is a nice mix between Little Orphan Annie and Barbarella. In terms of my own personal style, I like to wear clothes that make me look like the love child of Divine and Ms. Frizzle from The Magic School Bus.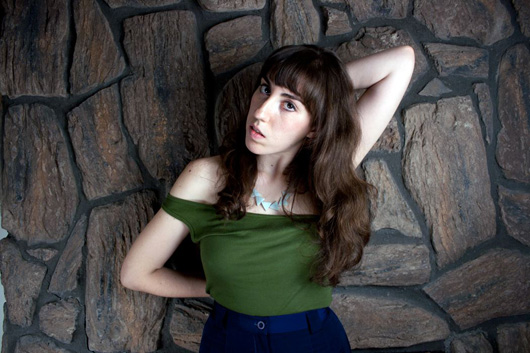 The talented lady behind Motherland, Melissa Aquino wearing the Wilma Necklace.

Who are some female artists, designers and otherwise that you admire?
It sounds silly, but I'm really into the female blog community that's sort of shaped itself over 10+ years. It's crazy to think that I've been watching the same faces for that long! I love that we all hang out on the internet and Instagram like freaks on glitter-coated PCP. There's so much creativity out there and I love following and supporting that scene. Some recent favorites for jewelry are The Vamoose (Kathryn is OG and her pieces are incredibly timeless), Cities in Dust, and Boo + Boo Factory (how wild is her stuff?!) Other general favorites are The Loved One (duh), and SWANclothing – so unique. Also, in terms of visual artists, I am OBSESSED with everything Celia Rowlson-Hall touches. She is genius.
Is there a particular decade in history you feel a connection with?
All of them, really. Sometimes I have SPOOKY life feelings and swear I lived through the 50s/60s because I've spent entirely too much time pretending I did. Also, I'm really into the 90s, mostly because of the nostalgia factor. Life just seemed so much better then..and neon.
What music are you currently listening to?
After years of burning myself out on My Bloody Valentine, I'm having a much-needed revival. Also, Leonard Cohen's first album, Ty Segall, and Beat Happening because I'm ALWAYS listening to them.
What are your wardrobe staples?
I love interesting shoes because they can put together an otherwise-simple outfit (same goes for jewelry, my first and one true love of course). Also, I kind of hate jeans and typically wear grandma slacks or skirts.
Is there anything you collect?
I have a pretty intense stuffed animal collection that will soon take over my boyfriend's half of the room, probably. I really like stuffed animals and talk to them and stuff – I know it's weird as hell but I have no intention of stopping. Also, I am one of those psychopaths who collects vintage poodle ephemera. I also want to start collecting vintage engraved/monogrammed jewelry with other people's names on it, like "Merle" rings and "Betty Lou" lockets.
Your five current obsessions:
Eatpastry vegan cookie dough because you can make as little or as many cookies as you want, and eat the rest later! Plus, no eggs so I won't die if I eat out of the container (it happens). Souvenir graphic tees from the 80s/90s with puffy screenprinting. Bolo ties. PINK. The golden pekingese I see walking in my neighborhood every day.
What's next in the world of Motherland?
I have a permanent case of star fever, so there will be lots more star items to come. Also, I'll be branching out and trying my hand at making rings and a few bolo ties because they're awesome. Lastly, I've been trying to create the ultimate-and-not-boring/cliche fruit charm bracelet for about 6 months now…one day it will be perfect!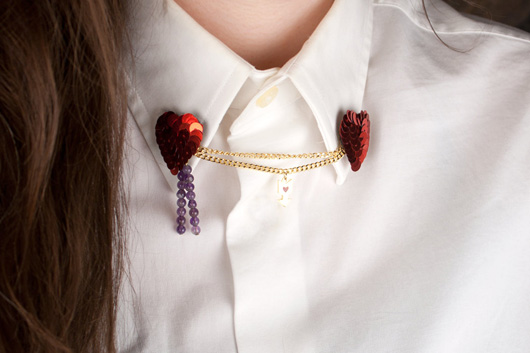 And now for the giveaway! Motherland is giving away a Claudette Double Brooch to one lucky AL reader! Just leave a comment and if you want tell us about your favorite old Hollyweird tale and you will be entered to win! The contest is open to US readers only. I will choose the lucky winner on Friday! Good luck muchachas and muchachos!
UPDATE!! I have chosen a winner via random.org! The Claudette brooch goes to LUCKY NUMBA 6- ASHLEY!! WOO HOOO! U GO GLEN COCO. Email me at marie[at]agentlover.com to claim your prize!