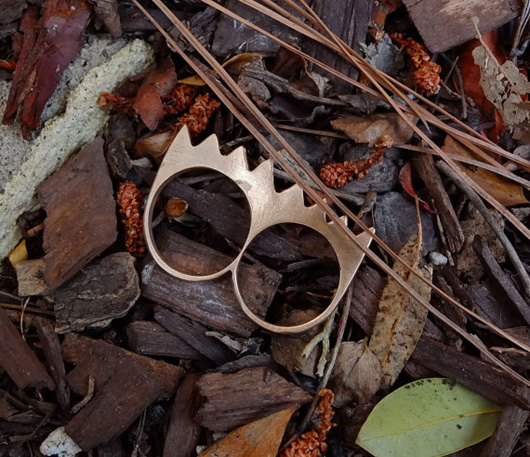 ♥ Where The Wild Things Are ring by Gabriel Hounds ♥
Today are doing a VERY ESPECIAL' Small Business Sponsor Spotlight and giveaway with  Gabriel Hounds, an LA-based jewelry shop that specializes in Victorian, Art Deco and Punk-inspired jewelz and accessories. Brooke MacBeth, who is the goddess behind Gabriel Hounds, is also a former entomologist, a former goth AND a fan of Mi Vida Loca. See why I love her?
What inspired you to start creating jewelry?
I wanted a hobby so I taught myself how to bead and wire-wrap.  I started beading when I was a teenager then took it up again in my 20s.  It was an off/on thing for me until about two years ago; I saw a pair of earrings I thought were cute and decided to make my own version of them, and after that I couldn't stop.  My head was filled with ideas.  After a few months I wanted to go beyond the techniques I knew so I enrolled in some classes– precious metal clay, lost-wax casting, metal fabrication– and I got a degree from the Gemological Institute.  Now I have a pretty amazing setup at home.  I love it.
If you could describe your style as the love child of any two people/things, who or what would they be?
Coco Chanel and Charles Darwin.
Who are some females- artists, designers and otherwise that you admire?
I've always been obsessed with Coco, ever since I was tiny; My mom, who is really stylish and an interior designer and taught me a LOT about color; my sister Elizabeth, who is one of the most fashion-psychic people ever; Jessica Joslin, who makes these brass-and-bone sculptures that are incredibly intricate and beautiful; Anna Wintour, because it's pretty awesome to be so legendarily terrifying, but also Grace Coddington, for making everything she touches so beautiful and interesting; my amazing friends, for their support and wisdom and just being rad.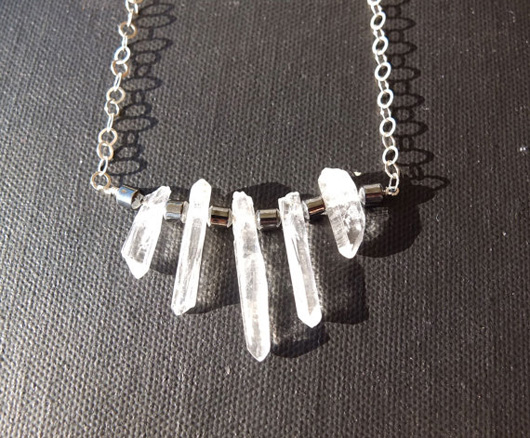 ♥ Crystal Hematite and Sterling Silver necklace by Gabriel Hounds ♥
Is there a particular decade in history you feel a connection with?
Probably the 1920s because they seemed like so much fun and I *love* that period in jewelry and design.  Other than that it's not so much decades but time/place things, like 80s New York (I just watched Desperately Seeking Susan and it's still SO GOOD and reminded me of how much I wished I could have gone to Danceteria).  I love the Victorian era's sentimental and superstitious thing– everything was just loaded with symbolism, from the gardens to the jewelry to the clothing, and I find that amazing.  So much coded behavior.
What music are you currently listening to?
For a few days I was listening to that Florence and the Machine song "Seven Devils" because of Revenge, haha.  But I think my summer jam is "I Love It" by Icona Pop.  My husband also found this hilarious song and video called Stupeflipe Vite by a French band called Stupeflipe.  I love that Grimes album.  I've also been listening to a lot of dubby stuff.  Bass is good for working.  And early 90s techno.
What are your wardrobe staples?
I've been really into dresses lately.  But I'm a big believer in always carrying a great bag and having great sunglasses– right now I'm carrying a black Alexander Wang Kirsten bag and giant blue Alexander McQueen sunglasses (both gifts from my awesome husband).  I got this amazing silver dragon brooch at the Pasadena City College flea market a little over a month ago that I pinned to the bag.  One day I was out and realized later it was gone– I was heartbroken, because I'm a dragon and this is my year!  I called all the places I'd been and no one had found it.  I knew it was gone.  But a couple of hours later, I got a phone call from a girl at one of the stores I'd been in– she found it!  So I went and picked it up and soldered it in place, and it's going to stay there as long as I want it to.  Jewelry is important!  I feel like that dragon is a lucky talisman and I want to give that feeling to people with my jewelry.

♥ The lovely Brooke wearing her own creations; the Hematite and Sterling Silver Bib Necklace ♥
Is there anything you collect?
Tons of things.  I love collecting and collections.  Jewelry, obviously; I have a small collection of Victorian mourning jewelry.  I have some great watches (one thing I don't make).  I have a LOT of books.  I also collect antique poison bottles, Catholic art and statues, and natural history type stuff– mounted insects, bones, antlers, taxidermy.
Your five current obsessions:
Upholstery.  I'm teaching myself how.  Photography.  Teaching myself about that too, but also enlisting my husband and friends.  My new kiln!  Haha, I can only think of three, because I've been REALLY obsessed with the upholstery thing.  I'm giving my office/workspace a makeover.
Do you have any advice for aspiring jewelry designers?
Just go for it.  I had only made two things in four years when my sister told me to open an Etsy shop.  So I did, and it turns out I really love it.  Keep learning, keep going, and just keep making stuff– it doesn't always have to be jewelry.  Be creative and have fun.  Some people are going to hate your stuff, but some people will love it, and that's a great feeling.
What's next in the world of Gabriel Hounds?
More– I'm just going to spend more time with it and see where it goes.  I have a lot of exciting new tools and equipment to use, so I'm hoping I can go a little more nuts than I have before.  I'm looking forward to it!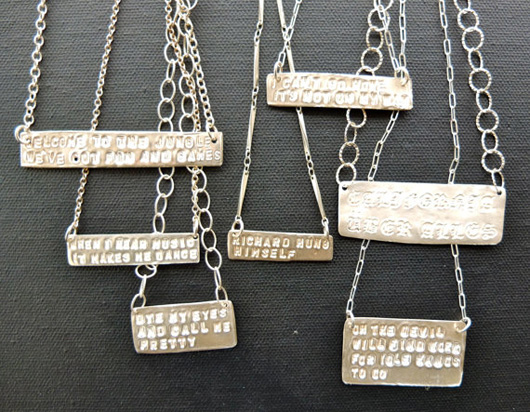 ♥ Custom lyric nameplate necklace by Gabriel Hounds ♥
And now for the giveaway! Brooke is giving away a personalized lyric nameplate necklace to one lucky Agent Lover reader!!! What lyric would you want on it? Will it be one of Thee Purple One's? Morrissey? Justin Biebz? PAWLA ABDUL?! Just leave a comment with your favorite lyric below and you'll be entered to win! The winner will be chosen on Friday! Good luck MY BEWZ. And don't forget to *like* Gabriel Hounds on FB here!
UPDATE 6/15: The winner has been chosen! #16 LINDSAY GIBSON YOU ARREEEEE THE LUCKY WINNA!!! Email me at marie[at]agentlover.com to get your necklace!!!!!