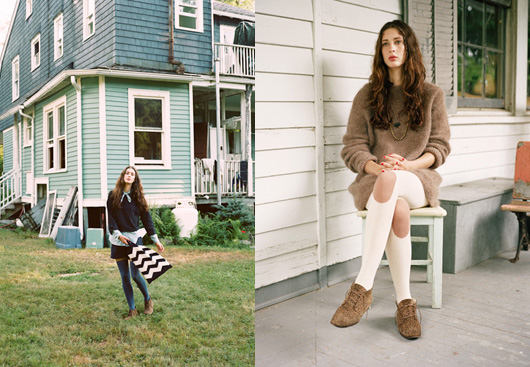 You've probably seen their kneepad stockings if you don't have them in your tights drawer already (you do have a tights drawer, don't you?) But if for some reason you haven't heard about Hansel From Basel, don't fret, because today we are Mad Crushin' On Hannah Byun, the lovely lady holding the reins at this Los Angeles-based hosiery company that got its start in 2007. Hannah, who studied art history and studio art at UCLA, is both Hansel From Basel's founder as well as the talent behind their whimsical designs. Not only will we get to learn about her inspirations and obsessions, but we are also giving away one of Hansel From Basel's adorable accessories! Make sure you read about that at the end of the post!
What inspired you to start Hansel From Basel?
I always wanted to design, and knew how to make socks because I came from a family of sock makers and was the most immediate thing I could create and design. I came up with the name Hansel from Basel as a nickname for myself, kind of like my alter ego.  It was Hansel, and I was obsessed with all things Swiss when I was little and Basel, being in Switzerland, was a perfect fit.
What other artists, clothing designers or otherwise, do you admire?
Artists: Cy Twombly, Egon Schiele, Carravaggio.
Clothing designers: Miuccia Prada, Dries van Noten, Rachel Comey.
If you could describe your personal style as the love child of two people, who would they be?
If Annie Hall was a man and married Jane Birkin, that's the love child of personal style I would be.
What are your wardrobe staples for the summer?
Rachel Comey dresses. I just got their lovely carrot pants that are perfect for the summer!  And my linen overalls.
If you could jump into a time-traveling DeLorean a la Back to the Future, what era would you go back to and why?
I would go back to 1920's in Paris! A super inspiring and timeless city.  I think one of the most artistic periods of the 20th century.
What are some of your favorite movies?
I always loved Amélie, Orlando, L'Avventura.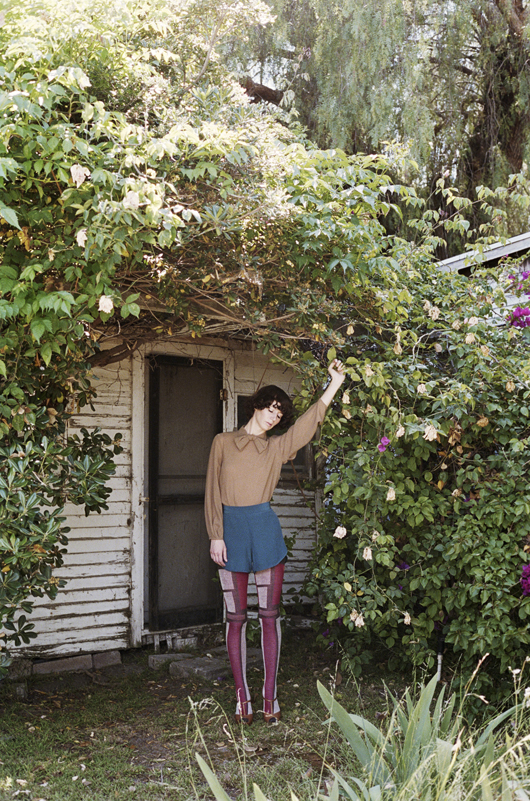 Have any of them inspired the Hansel From Basel aesthetic?
All the movies are so tasteful and we try to make the line just as tasteful and artistically a bit odd to standout.
Can you give us your five current obsessions?
The smell of geraniums, my Saveur bread magazine that I read very slowly, home decor, Penny (the HFB office dog), Klaus (friend's red lion-haired bunny.)
Do you collect anything?
When I can find them, Danish wooden shoe polishers (not an easy random find) and lipstick. Shu Uemura is my favorite.
What's next for Hansel From Basel?
We are launching our first kids line!  Hansel From Basel Kids.  We are so excited!  There will be cute little socks and tights for the little ones and it's coming out for Fall/Winter 2012!
And now for the giveaway! One lucky PAL OF AL will win this cute polka dot envelope clutch!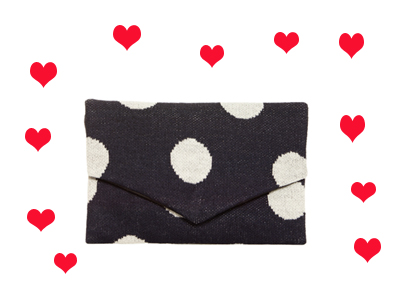 Just leave a comment and if you'd like, mention your favorite Hansel From Basel item! Comments will be closed on Thursday at midnight and I will choose a winner randomly on Friday! Good luck!
EDIT: THE WINNER HAS BEEN CHOSEN! LUCKY NUMBA SEVEN: CRISSY!!! Congratulations on your Hansel From Basel polkadot clutch! Email me at marie [at] agentlover.com!