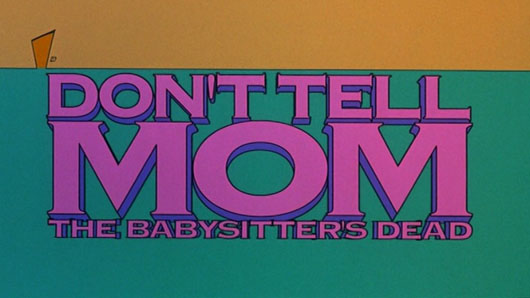 ALRIGHT. Watch yourself. I don't want anyone to fart from the excitement that I am FINALLY offering my magical commentary and thoughtful analysis on one of the best movies from my youth…Don't Tell Mom The Babysitter's Dead starring Kelly Bundy aka the Christina Applegate of our eye!!!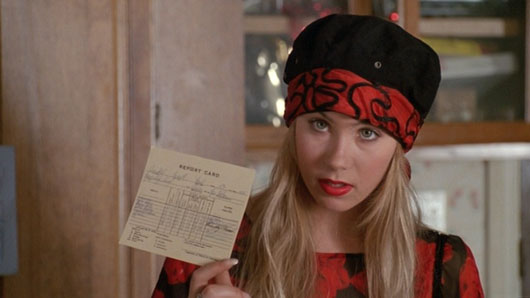 We first meet Sue Ellen and her familia. Yes, "Sue Ellen" is a very Little House On The Prairie-sounding name but she is a COOL TEEN who likes to hang out with her friends, go shopping and dabble in a bit of the ol' fashion design.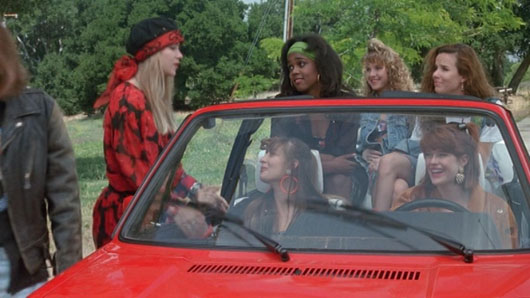 Ok, why didn't any of my friends have convertibles when I was in high school? They've always looked so glamorous and fun, and so ~California~. I always seem to get cars with sunroofs. Perhaps that was my subconscious giving me a low-budget alternative. I'm sure the reality of a convertible probably isn't as exciting. Bugs in your teeth, hair forever tangled, jacked up sunburns. Sigh.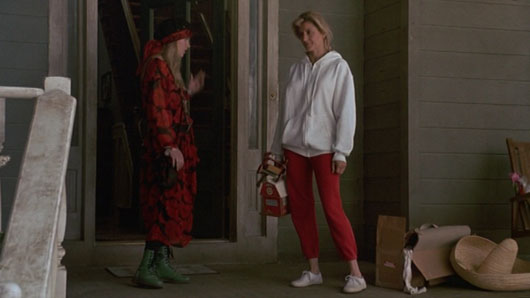 Sue Ell's mom is going to Australia for two months, leaving her five children behind. Excuse me, but WHAT? Do people do this IRL? I obviously ain't nobody's momma yet, but I am still about to call child protection services on dis B! She leavin' her kids for that long so she can what, get some Cockadong Dundee in the wetlands of Australia??? What's going on here. Okay, let me calm down. Back to the story at hand. So, mom hires a STRANGER to watch her house and chillunz while she is away. This old lady: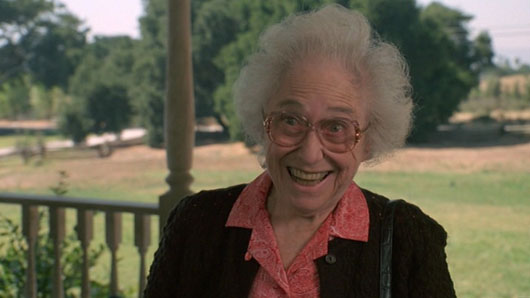 Sorry, but if I saw this chupacabra at my door, I would jump right into my velcro Pro-wings and RUN LIKE HELL. Haven't you seen Poltergeist?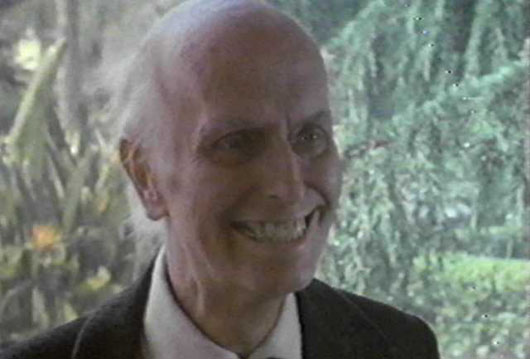 GET THAT CADAVER OUTTA MY FACE!!!!!!!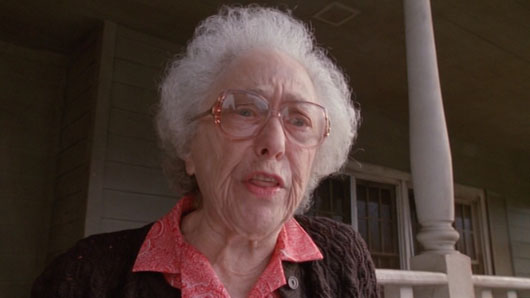 As we all expected, the babysitter turns out to be a demon woman! Then she dies….(from a heart attack, nobody killed her FYI)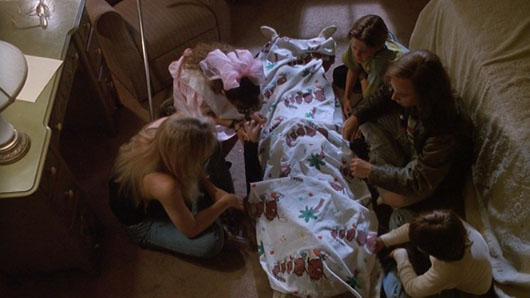 After covering her with my old raver pants, aka a California Raisins bedsheet, the kids take the cryptkeeper's body to the morgue. Problem? These muthas forgot to check the old hag for the CASH MONEYS their mom had left for them before (anonymously) dropping off the body..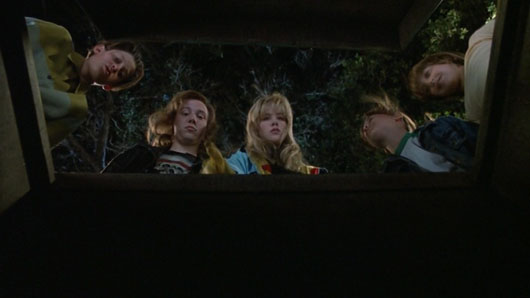 WHAT ARE WE GON' DO?!?!?!?
Sidenote: my #1 favorite character in the film is their pet corgi, Elvis. In this scene he says "huh?" in dog talk. I rewinded it three times.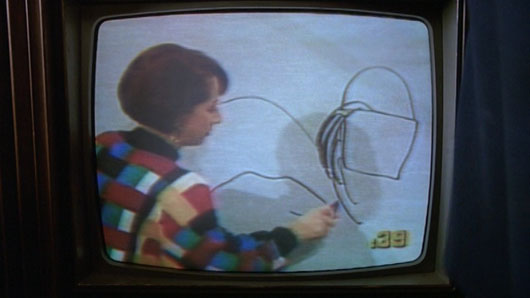 They were watching the vintage version of Draw Something. I know you are all wondering if a girl like me has ever engaged in some Draw Something and I did, for two whole days. For me, that was impressive. Of course not as impressive as the unnamed friend of mine whose highest amount of active games was with 42 people.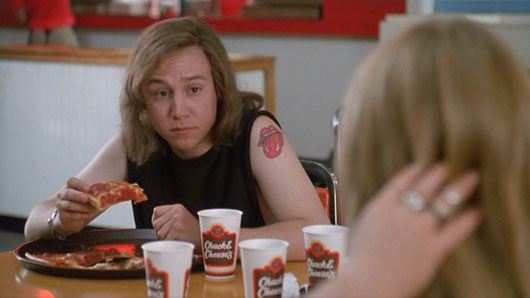 I also love Keith Coogan as the metalhead-turned-gourmet chef brother.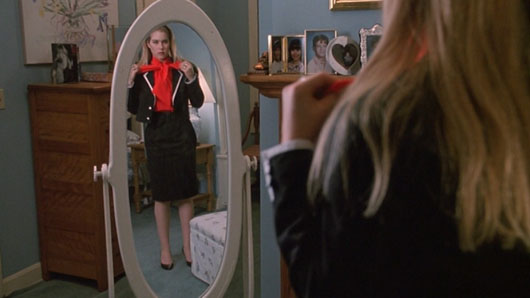 Meanwhile..Sue Ellen has to make some cash to put food on the table! So after a failed stint at a chili dog joint (where she meets a HUNKY HUNK) she focuses her efforts on something of more interest to her personally…..FASHION.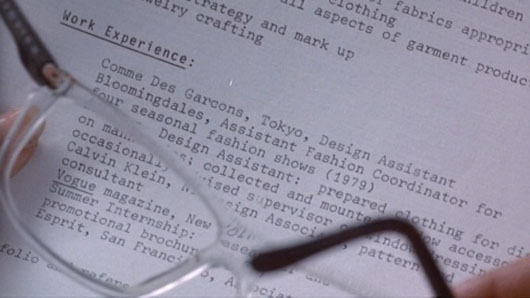 I had to screencap the résumé Sue Ellen cooked up. Fake it 'til ya make it, girl!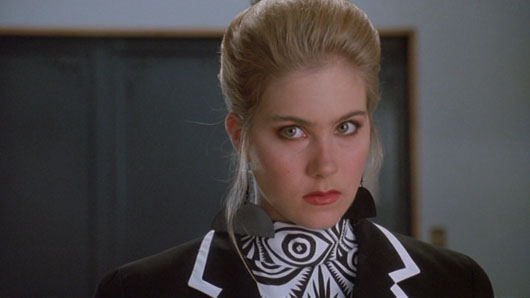 She isn't greeted very warmly by the Devil Wears Prada-esque receptionist.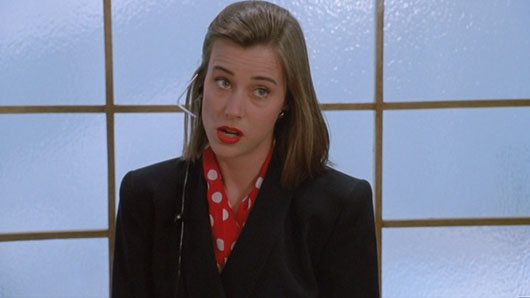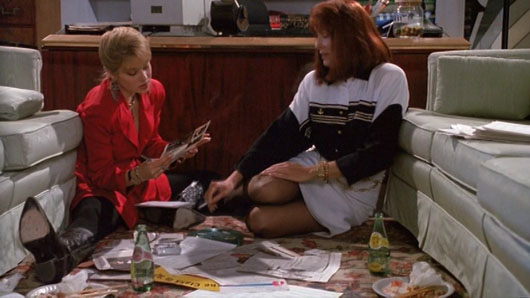 Especially since Sue Ellen gets the job as Executive Assistant! I love her boss…I'm right on top of that, Rose!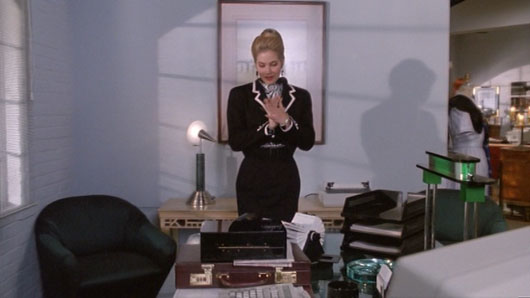 OOH SHE A WORKIN' GIRL NOW!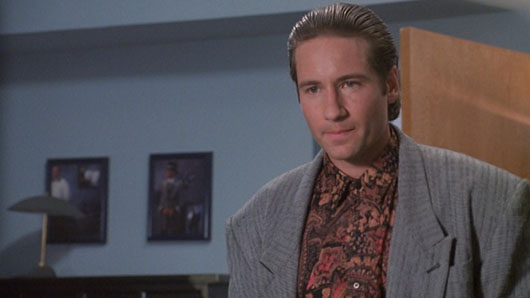 I still have major bang pangs for Agent Mulder. He plays a chismoso here.
Eventually the world's greatest fashion show happened: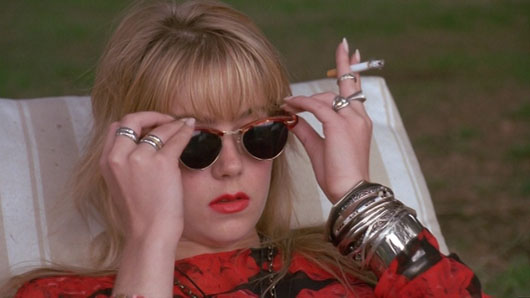 And NOW let us discuss how stylish Sue Ellen is throughout the film. Look at them silver stax!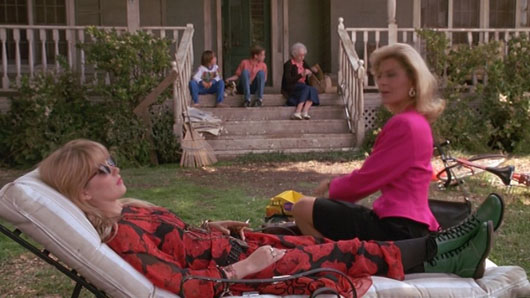 I am really into this red floral jumpsuit (?) and green Docs situation. A couple years after this movie came out I really wanted a pair of Docs but my shoes were always 'Payless special.' How stoked was I to find imitation maroon docs at Kmart!? (I also got imitation Birkenstocks that I wore with socks FYI.) In high school I finally got legit Doc Martens. But fuck they made my feet look huge. I swear they look ok on everyone else but they look like dude Lugz on my feet. WHY? Is it ME? Is it my EYES? Anyway.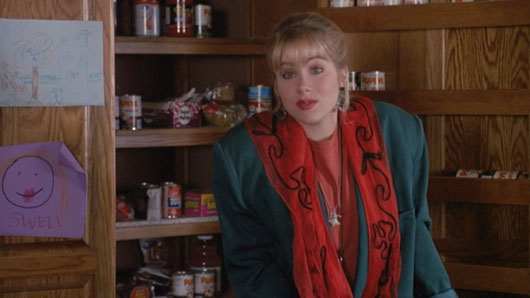 Man, I still have to finish watching Friday Night Lights! Someday I'll come back to it. Also, Jules datchu?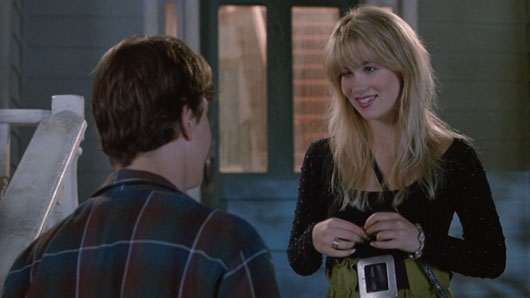 Why am I really obsessed with this GIANT WITCH'S SHOE BELT BUCKLE? I think it would have went great with my Flygirl/Selenas costume, don't you?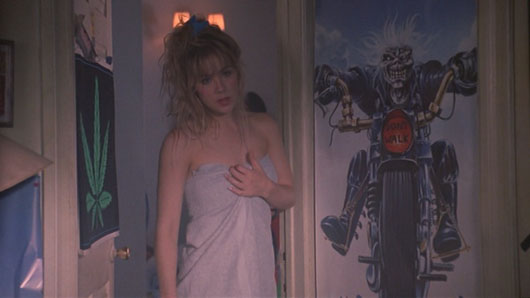 I pretty much want to screencap all of her brother's bedroom.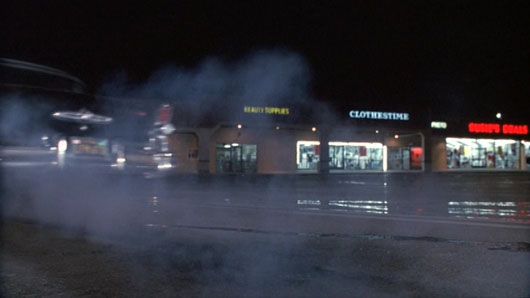 CLOTHESTIME!!!!!!!!!!
You are correct. This shot of her Docs and a Mama Celeste pizza is the most inspiring photo of my 2012 so far.