A few months ago,  I got a sweet email from a gal named Irene, asking if I'd like a set of Russian nesting dolls made in my likeness.  SAY WHAAAAT!?  I lurked her blog immediately and freaked out over these matryoshkas of Bjork, Santa Sangre, Small Wonder, The Addams Family and even Ab Fab! Bo Bo Babushka is the brainchild of Irene, an incredibly talented artist living in Australia. She makes these wooden nesting dolls in every theme/movie/TV show you can imagine so make sure you spend some time lurking it all too. She can do custom ones as well so if you want dolls of you, your family or even one of…Full House! OMG STAYMOIST HAVE MERRRRCY!!!!! Shoot Irene a note!
NOW…Let's take a closer look at the dolls she made of ME!!!!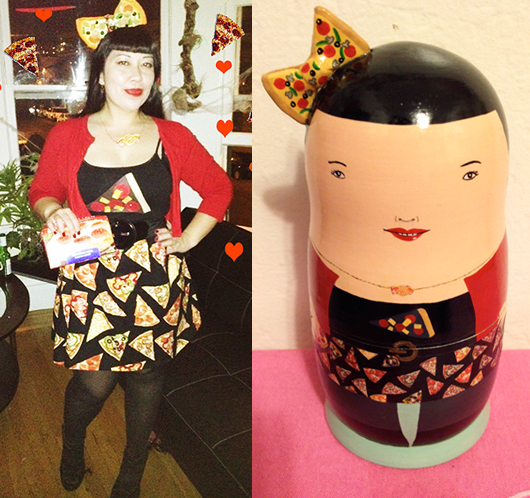 This was my Halloween costume from last year when I went as PIZZA! I love how she made PIZZA the main doll and included every detail, from my mini Totino's necklace to the little DiGiorno clutch purse I carried around.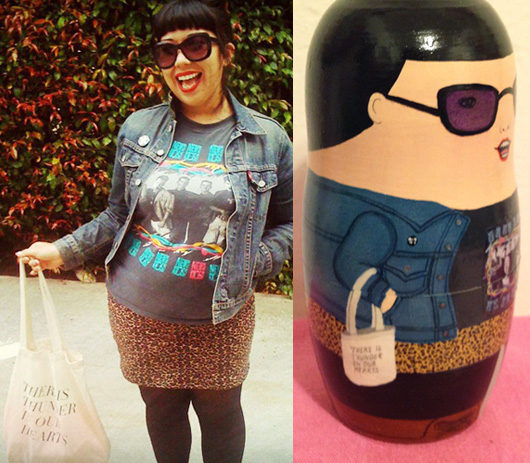 This doll was based on one of my favorite ~casual outfits~: Emi's childhood NKOTB concert tee that she handed down to me, my trusty Levi's jacket and this miniskirt from Target I likes to throw on. I'm telling you, Irene's attention to detail is so MUTHA FUCKIN' SLICK. She even painted the Wu-Tang badge I wear on my jacket, along with the Kate Bush-themed tote from Fieldguided that my friend Melissa got for me.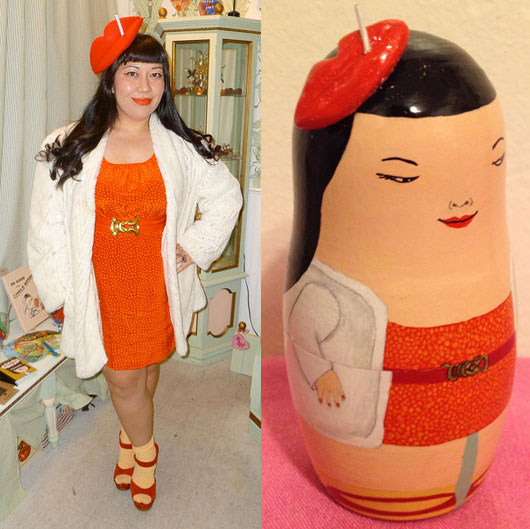 I wore this outfit to see John Waters do his standup for his amazing book Role Models last year. You might remember Emi made this hat for me a couple of Christmases ago. I can't believe how great of a job Irene did replicating it as a miniature version!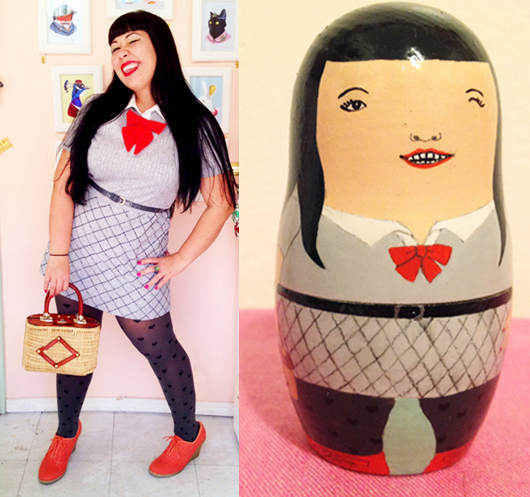 I love how she had the dolls mimicking some of my facial expressions like this picture! This was the outfit I wore when I went to the American Horror Story house for the first time (I've been twice since..)
Had to do one of my classics- a red and blue schoolgirl look with a thrifted dress, Rococo Nouveau collarette and a Cutie Dynamite hair clip!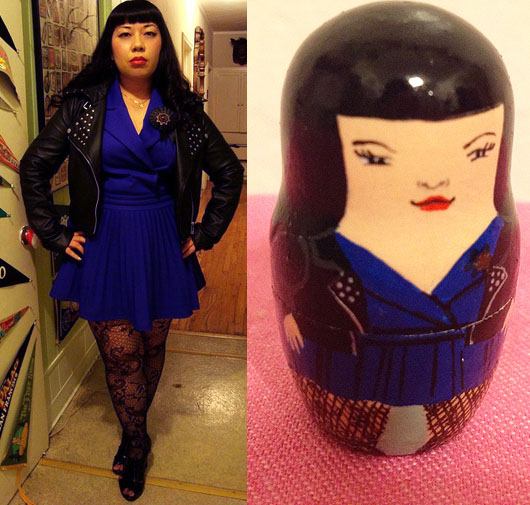 This outfit is OLD SCHOOL. I still love that vintage dress but those Rodarte for Target tights are all busted by now! Ha!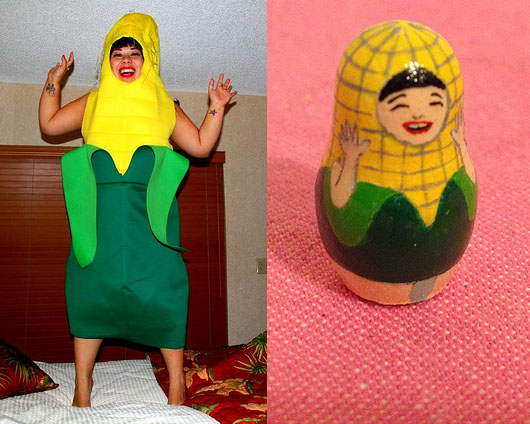 Irene saved the best for last. DAS RIGHT IT'S CORN!!!!!!!! When I opened the last doll and saw CORN looking at me I couldn't stop giggling. Love you Irene! Thank you SO MUCH!