1. Berry Sweet bra 2. Kandi Land bra
Shop! HouseofKandies.com
Twitter:@houseofkandies
Facebook: House of Kandies
Instagram: @houseofkandies
House of Kandies makes the CUTEST intimates and accessories. They also specialize in custom creations like the adorable bow below. I am especially in love with their strawberry bra. SO SWEET! Check out their shop for more and don't be shy to shoot them a message if you have an idea for a custom piece in mind!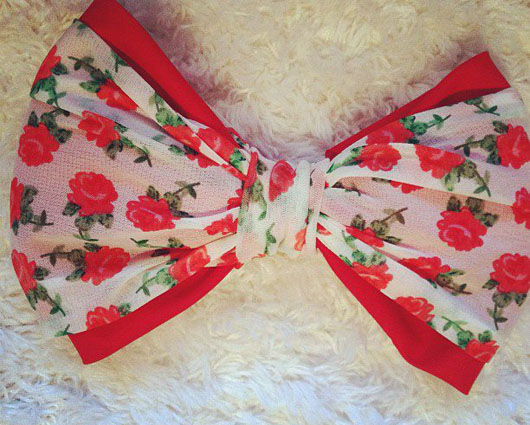 Custom made bow by House of Kandies
1. Sweethearts Candy necklace "Sassy",  Bow Charm necklace bubblegum pink 2. Duro Decal Diner Madness 2
Shop! Buckaroo Bear
Discount code: enter SPRINGCLEAN2012 at checkout for 10% off
Buckaroo Bear has tons of charming handmade items and unique vintage finds! My favorites are her handmade conversation heart necklaces and these fun vintage decals that would look great on a kitchen wall! I am also a huge handkerchief junkie so I can do a lot of damage in this shop. So many to choose from!

3. Vintage 1940s Ivory Daisy earrings 4.1950s Girl Raking Leaves Handkerchief
1. Debbie Deb necklace 2. Where The Wild Things Are ring
Shop!: Gabriel Hounds Jewelry
Facebook: http://www.facebook.com/gabrielhounds
Twitter: @xoGabrielHounds
Um, YES that nameplate necklace has a Debbie Deb reference and that is just one of the many reasons why I love Gabriel Hounds! There are tons of pretty new pieces in the shop like this vintage gold bracelet and these art-nouveau crystal earrings. Take a peek and spoil yourself for once!
3. Stretchy Vintage Gold Tone bracelet 4. Art Nouveau-Style Crystal earrings
1. Vintage Spring Clover dress 2. 70s Fruit Punch Floral dress
Shop!: Moxie Jane Vintage
Blog: Moxie Jane
Facebook: http://www.facebook.com/themoxiejane
Twitter: @MoxieJane
Moxie Jane Vintage, you seriously never cease to amaze me with your vintage goodies! THE CLOVER DRESS!! THE PSYCHEDELIC FRUIT PUNCH DRESS!! AND THE CRAZY RAINBOW ZIGZAG SWEATER!!!!! I'm in heaven!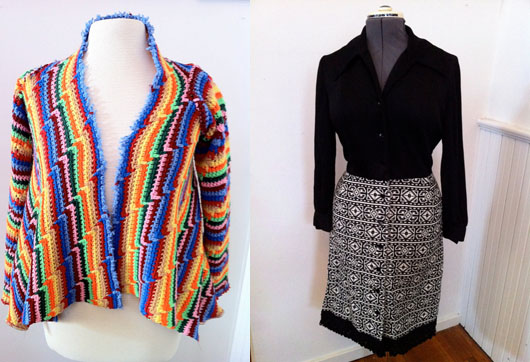 3. Rainbow Zigzag Poncho sweater 4. Vintage Southwest Tribal Pattern dress
1. Golden Pizza necklace 2. Golden Button necklace 3. Golden Birthday Cake necklace
Shop! Pygmy Hippo
Blog: PygmyHippoShoppe.com
Facebook: http://www.facebook.com/PygmyHippoShoppe
Twitter: @pygmyhipposhop
Do I even have to say anything about Pygmy Hippo Shoppe's new  GOLD PIZZA NECKLACE?! Please just buy one so we can be twins already. AND THEN we can plan to both eat a slice while wearing our necklaces at the same time. All I want is to be CLOSE2U…
1. Cutie Cat Eye Sparkling Black glasses 2. Cavegirl Baby Bone Glitter Clip

Shop! Cutie Dynamite
Facebook: http://www.facebook.com/CutieDynamite
Twitter: @cutiedynamite
I love Cutie Dynamite's bedazzled cateye sunnies so much and I have been WAITING for this glitter bone barrette to come out ever since I saw it on Instagram. I'm totally going to have to work a Pebbles look soon with one of these! What color to get??
1. Phantom Peter Pan collar 2. Jazzi Shirt collar
Shop! Louloulovesyou.com
Blog: Loulou Loves You Tumblr
Facebook: https://www.facebook.com/loulouandrolia
Twitter: @louloulovesyou
The lovely Loulou Loves You has two cute new collars in her shop! I can't decide which one I love more…. naturally my goth tendencies have me reaching for the Phantom Peter Pan Collar, but The Ol' Razzle Dazzle in me wants the gold Jazzi Shirt Collar. I'm going to have to get both!
1. Vintage 60s Mod Psychedelic dress 2.  Vintage 60s Polkadot Pinup dress
Shop! Alameda Vintage
Blog: The Alameda Vintage Blog
Facebook: http://www.facebook.com/pages/Alameda-Vintage/232220638632
Twitter: @alamedavintage
Alameda Vintage is once again blowing me away with their new stock of dresses! It was hard to choose my favorites, but this 60s mod dress is KILLIN' ME! And I've been low on polkadots dresses lately, so this baby blue number is definitely calling my name! They have tons of gorgeous clothing up right now, so look for some things to add to your Spring wardrobe!
1. 1940s Cropped Letterman Sweater 2. 1950s/60s Light Blue Daisies dress
Shop!: Mary Van Note
Blog: Mary Van Note
Facebook: http://www.facebook.com/maryvannotes
Twitter: @maryvannotes
Mary Van Note has so many cute new things in her vintage shop! OBVIOUSLY I adore the 1940s "M" Letterman Sweater, so any of you Michelles, Moniques and Margots better get it before I do! My 90s Drew daisy obsesh is turned up to ten right now so the detail on this dress quickly caught my eye. Mary really has the best taste ever, so don't forget to check out her shop for more!