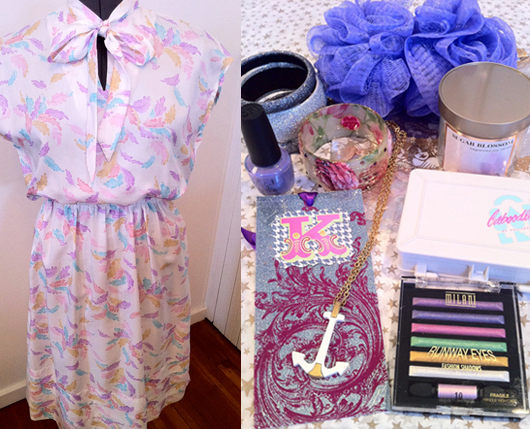 1. Vintage Pastel Leaf Print Dress on Sale!  2. Enter To Win Moxie Jane's February Giveaway!
Shop!: Moxie Jane Vintage
Blog: Moxie Jane
Facebook: http://www.facebook.com/themoxiejane
Twitter: @MoxieJane
Moxie Jane always finds the best stuff to please my vintage-loving eyes! A few of her goodies are even on sale for Valentine's Day! Make sure to check those out in her shop and enter the cute giveaway on her blog!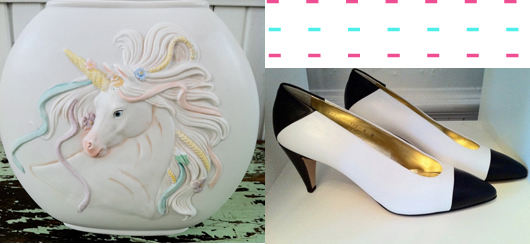 3. Vintage 80's Unicorn Vase On Sale!  4. Vintage Black and White Walter Steiger Heels On Sale!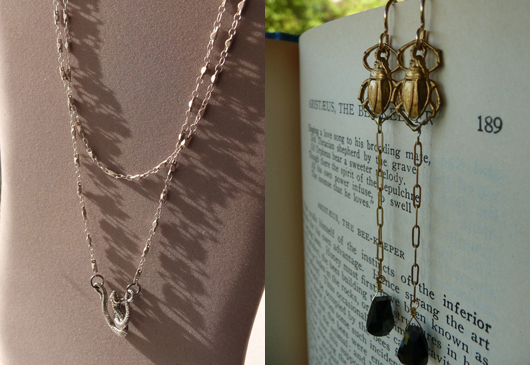 1. Extra-Long Silver Snake Necklace  2. Goldbug Earrings
Shop!: Gabriel Hounds Jewelry
Facebook: http://www.facebook.com/gabrielhounds
Twitter: @xoGabrielHounds
Brooke has SO MUCH cute new jewelry out in the Gabriel Hounds shop! Spoil your sweetie, BFF or YOURSELF for Valentine's Day with a sexy serpent necklace or goldbug earrings! I also want the braided  black leather bracelet!


3. Red Leather Bib Necklace  4. Braided Leather Wrap Bracelet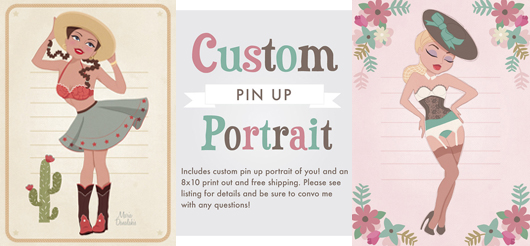 1. Cowgirl Cutie  2. Custom Pin Up Portrait  3. Sassy Hat Pinup
Shop!: Maria Danalakis Art and Design
Blog: Maria Danalakis
Facebook: http://www.facebook.com/mdanalakisart
Twitter: @mdanalakis
Along with Maria Danalakis' super sweet pinup art prints, you can now get custom work done by her! OMG!! Get your very own own custom pin up portrait or a header for your blog, like the one she made for my boo Vanessa's site, Verbal Switchblade!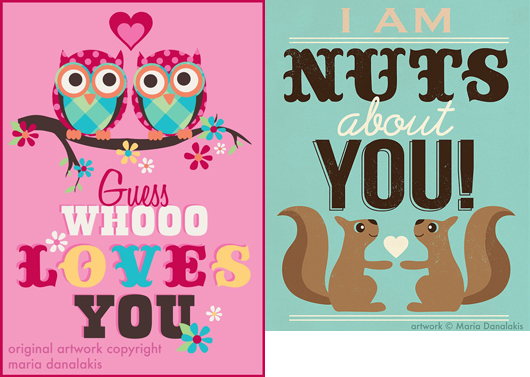 3. Guess Whooo Loves You 4. Nuts About You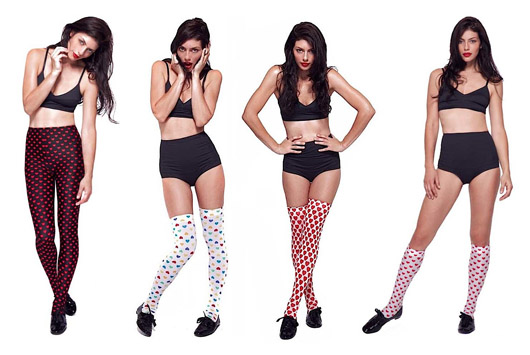 1. Love Beatrice Black and Red Heart Tights, Rainbow Heart Thigh Highs, Red Heart Thigh Highs, and Red Heart Knee Highs
Shop! Pygmy Hippo
Blog: PygmyHippoShoppe.com
Facebook: http://www.facebook.com/PygmyHippoShoppe
Twitter: @pygmyhipposhop
As always, Pygmy Hippo Shoppe has the coolest and cutest items in stock, including new hosiery from LA-based designer Love, Beatrice! LOOK AT ALL DEM HEARTS! I also LOVE the Enamored Pencil Kit and have some of the yummy glitter heart soap at home!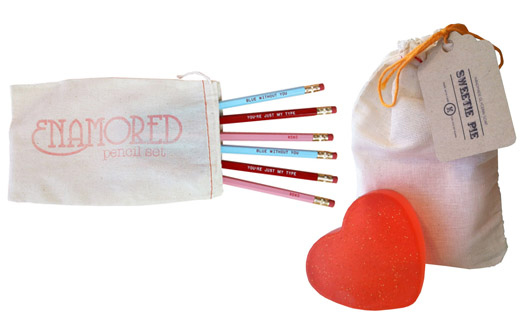 2. Enamored Pencil Set 3. Handmade Glitter Heart Soap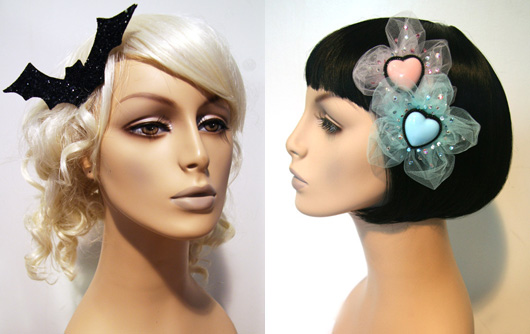 1.Bat Attack Glitter Hair Clip  2. Fabulous Tulle Heart Sparkle Hair Flower Clip
Shop!: Cutie Dynamite
Facebook: http://www.facebook.com/CutieDynamite
Twitter: @cutiedynamite
It seems like Cutie Dynamite never runs out of amazing new items for us girls who love a lil', I mean, a LOT of sparkle when it comes to accessories! I need to get me that strawberry one ASAP!

3. Glitter Hearts Hair Clip  4. Sweet Strawberry Glitter Hair Clip
Shop! Louloulovesyou.com
Blog: Loulou Loves You Tumblr
Facebook: https://www.facebook.com/loulouandrolia
Twitter: @louloulovesyou
My lovely friend Loulou has a new lingerie collection out called Lydia that she started making while watching 101 Dalmatians, naturally. All of her beautiful pieces are handmade by Loulou herself in London.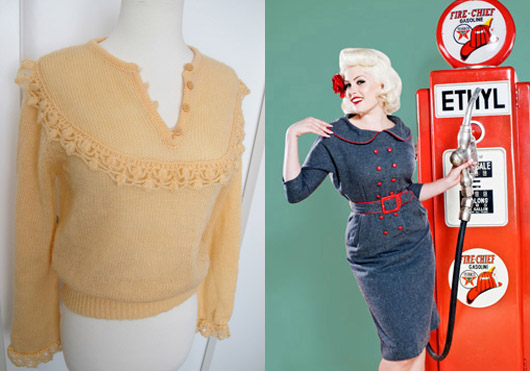 1. Vintage Peach Sheridan Ruffle Sweater  2. In The Parade dress
Shop!: Dolly Dahl
Blog: Dolly Dahl
Facebook: http://www.facebook.com/thedollydahl
Twitter: @dollydahl
Looking for something TANTALIZING to wear for your LUVAH?? Dolly Dahl has gorgeous retro dresses that would be great for Valentine's, or any day of the year!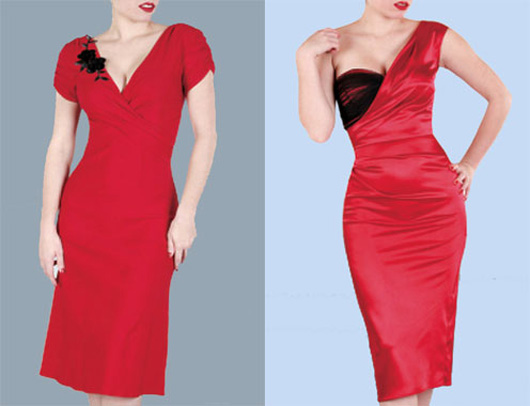 3. Lovely Lana dress 4. Under A Lovespell dress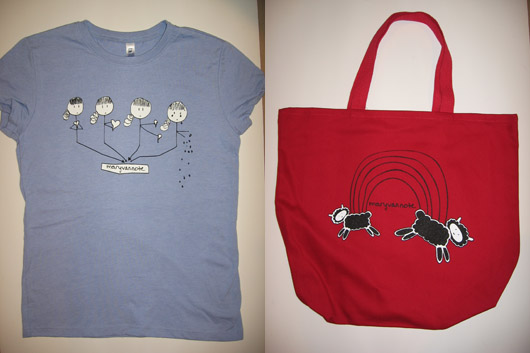 1. Women's Heartbreak Tee and Black Sheep Tote
Shop!: Mary Van Note
Blog: Mary Van Note
Facebook: http://www.facebook.com/maryvannotes
Twitter: @maryvannotes
Aside from her vintage clothing shop, Mary Van Note also has her very own merchandise! Get a cute tote bag or t-shirt featuring Mary's funny drawings! I also recommend her 'zines, particularly Mary Van Note's Guide To Dating Mary Van Note. I have had it for a few years now and for some reason it is always in hand's reach. (Clearly I need to have Mary's dating tips near me AT ALL TIMES!) It still makes me laugh every time I read it!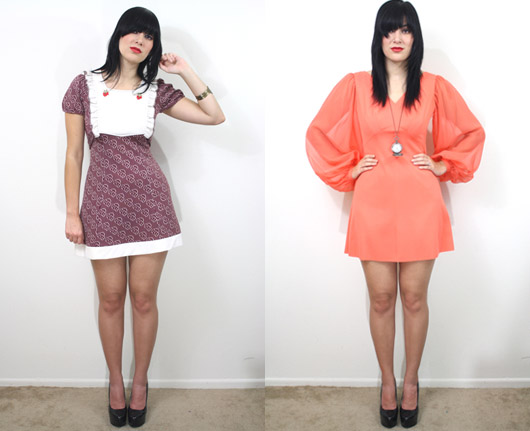 1. Vintage 60's Cherry Babydoll Dress  2. Vintage 60's Coral Bell-Sleeve Dress
Shop! Alameda Vintage
Blog: The Alameda Vintage Blog
Facebook: http://www.facebook.com/pages/Alameda-Vintage/232220638632
Twitter: @alamedavintage
Alameda Vintage is definitely one of the best shops I have ever seen! Sabrina London has a SUPERB eye for finding the most gorgeous vintage items. AV is also where I found one of my current favorites, the dress I wore on my first visit to the American Horror Story house.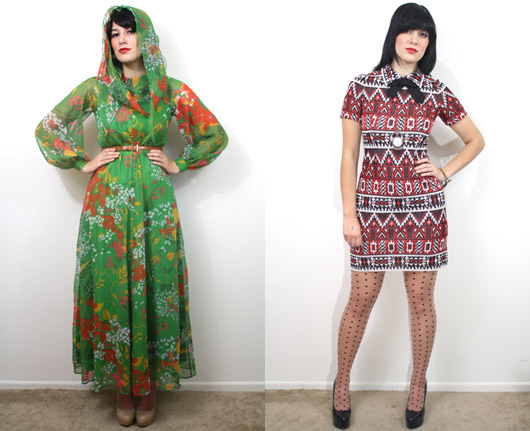 3. Vintage 70's Albert Capraro Psychedelic Goddess Dress 4. Vintage 60's Southwestern Navajo Print Dress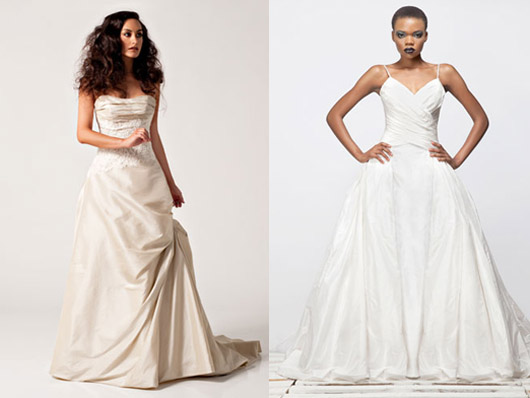 1. The "Ave" dress 2. The "Bryn" dress
Shop! Sui Numeris Bride
Pinterest: http://pinterest.com/suinumeris/
Facebook: http://www.facebook.com/suinumerisbride
Twitter: @suinumerisbride
For those of you getting ready to get hitched, Sui Numeris Bride offers stylish and elegant bridalwear for every kind of budget. They also have one-of-a-kind vintage pieces as well as lovely LBDs for any occasion!



The Wanderlust Workbook and Smart + Sassy + Solo: Adventures in Lady Travel
Shop!: Get her E-books here!
Blog: Yes and Yes
Facebook: http://www.facebook.com/pages/Yes-and-Yes/391071455025
Twitter: @yesandyes
Sarah Von has been to 28 countries and even lived in a few of them, no doubt making her an expert on travel! Luckily for those of us who have also been bit by the wanderlust bug, she offers sage advice in the form of E-books! Check them out here!
*If you are interested in the Agent Lover Small Business Advertising program, you can find more information here or you can contact me at marie[at]agentlover.com!*