1. Poison Ivy  Pin Up print 2. Catwoman Pin Up print 3. Harley Quinn Pin Up print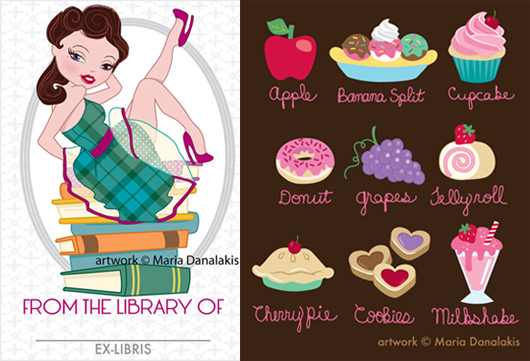 4. Library Pin Up print 5. Sweet Treats print
Shop!: Maria Danalakis Art and Design
Discount Code: BLACKFRIDAY (25% off) Shop by Dec 19th to receive domestic priority shipping by X-mas.
Blog: Maria Danalakis
Facebook: http://www.facebook.com/mdanalakisart
Twitter: @mdanalakis
Maria Danalakis makes the cutest art in the world! AND she's a fellow American Horror Story fan and comic book nerd so naturally we've been bonding over our mutual obsessions. If you and your boos have a kinship with the Gotham City ladyvillains, are mistresses of the biblioteca or Muggle-lovers, or you're just looking for a sweet X-mas card for your BFF, you can find it all at Maria's shop!
1. Fancy Fanny Circle skirt 2. Honey I'm Home dress
Shop!: Dolly Dahl
Discount Code:  AGENTLOVERLUV (20% off) Also Free shipping in the US (Priority Mail) for orders that are at least $75.00 EXP: 12/20/11
Blog: Dolly Dahl
Facebook: http://www.facebook.com/thedollydahl
Twitter: @dollydahl
Dolly Dahl is a classy gal with a penchant for sparkles and all things kitsch. Her shop carries the prettiest pinup dresses perfect for your X-mas and New Years Eve looks. You can even get a shirt for your mang! She also offers giftwrap services so we can concentrate more on downing holiday cocktails and less on wrapping.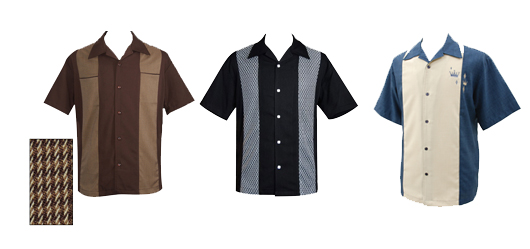 3. The Hound 4. District 5. The King
1. Cherry Blossom Earrings 2. Black, Silver, and Gunmetal Spike Earrings
Shop!: Gabriel Hounds Jewelry
Discount Code: LOVERS11 (15% off!)
Facebook: http://www.facebook.com/gabrielhounds
Twitter: @xoGabrielHounds
Gabriel Hounds is the brainchild of native California girl and former entomologist Brooke MacBeth. A mom of one kid and one cat, she's also a recovering goth whose style is influenced by Mi Vida Loca, (are we related???) because, as she says, "Catholic school is something I will never be able to scrub out of my psyche."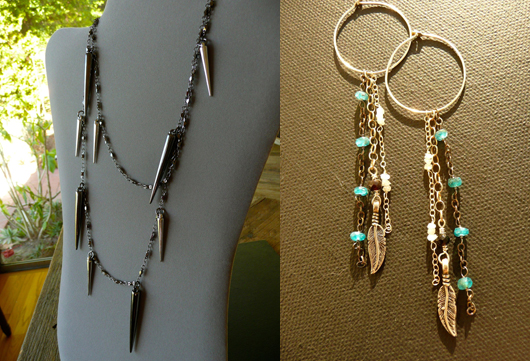 3. Extra-Long Spike Necklace 4. Sterling silver, Diamond, Apatite, Feather Earrings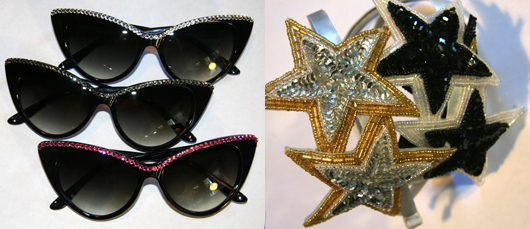 1. Cutie Cat Eye Sparkling Black Sunglasses Accessory 2. Shining Star Metallic Gold Headband Hair Accessory
Shop!: Cutie Dynamite
Discount Code: CUTIELOVER  (Free Domestic Shipping!) Shop by this Monday 12/12 to get domestic delivery by X-mas!
Facebook: http://www.facebook.com/CutieDynamite
Twitter: @cutiedynamite
Cutie Dynamite is an appropriate name for this longtime AL favorite, because these accessories are an EXPLOSION of color and sparkles! You can find hand-finished hats, fascinators, headbands, and bows made from vintage fabrics and a smorgasbord of Swarovski crystals. Her sunglasses are KILLER! (Read my Mad Crushin' interview with CD's boss lady Andrea here!)

4. Magical Seahorse Velvet Hair Bow 5. Sweetheart Yellow Sunglasses
1. Vintage 1960's Elegant Hippie Dress 2. Vintage Mod Maxi Dress
Shop!: Moxie Jane Vintage
Discount Code: 20PERCENTOFF  through December 23rd. Shop by Dec 13 to insure domestic shipping by Christmakkuh!
Blog: Moxie Jane
Facebook: http://www.facebook.com/themoxiejane
Twitter: @MoxieJane
Moxie Jane is a Philly blogger who makes badass jewelry with a vintage shop specializing in boudoir, 50's and 80's and IT factor items. Her passion for clothes and jewels has a purpose: to spark self expression and lovin' your self and your body by taking your style to the next level. You can also win FREE Moxie Jane items by entering her current giveaway! Make sure to mention me in your comment, since Agent Lover readers get a second entry!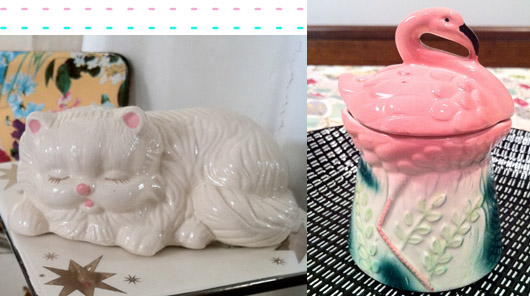 3. Vintage Ceramic Kitty Cat 4. Vintage Pink Flamingo Jar
1. 1950's -60's Mad Men Pastel dress 2. "80's does 50's" day dress
Shop!: Mary Van Note
Discount Code: AGENTLOVER30 (30% off!)
Blog: Mary Van Note
Facebook: http://www.facebook.com/maryvannotes
Twitter: @maryvannotes
Comedienne Mary Van Note is not only one of the funniest people I know, she's also a VINTAGE QUEEN. Her outfits never cease to amaze me, and lucky for us, she shares her finds in her Etsy shop! Check out these AMAZING Margaret Jerrold dalmatian shoes! If only these beauties would fit my platypus foot!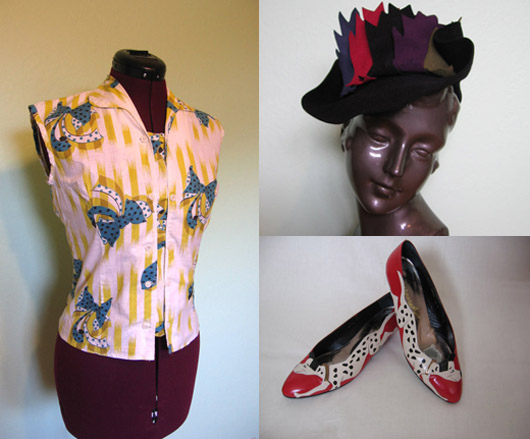 3. 1950's Novelty Print Bow blouse 4. 1940's wool felt tilt hat 5. Margaret Jerrold Dalmatian dog shoes
Shop!: Buy Calendar here!
Blog: Yes and Yes
Facebook: http://www.facebook.com/pages/Yes-and-Yes/391071455025
Twitter: @yesandyes
Sarah of Yes and Yes makes a cool calendar every year! 12 months of sweet ideas, great quotes, weird-but-real holidays. When you finish a month, flip it over and use the templates on the back to make postcards, gift tags, book marks and greeting cards! Buy the Yes and Yes 2012 Calendar here!