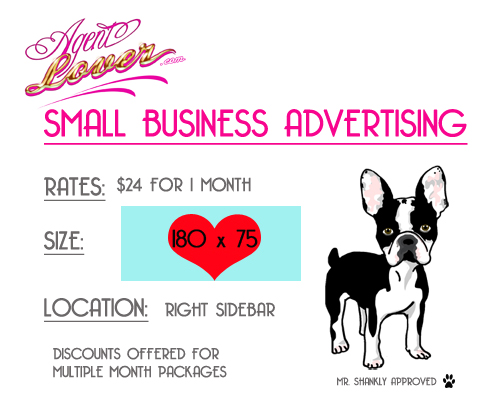 Lately I've been getting more and more inquiries about ad sponsorship from people who run their own independent shops, so I decided to set up a Small Business Ad Program here on AL! I wanted to figure out some sort of way for my sistaboos and brothaboos who have a clothing shop, a jewelry company, or a brand new blog to get more people to know about it!
Ads can be a great way to gain exposure and traffic and my rates are very cheap! Only $24 a month (which breaks down to only $6 doll hairs a week!) for a 180 x 75 ad located on the right sidebar. I will also promote your business on Twitter and Facebook, and do a monthly roundup of my SBAPs on their very own post!
And if you are interested in purchasing more than a month at a time, I offer discounts!

With the craziness of the holidays here, we should all try our best to buy from independent businesses, and since Small Business Saturday is tomorrow, November 26th, I figured I should get the ball rolling today! I also think it's great to shop small businesses not only during the holiday season, but as often as we can! For example, instead of going to the Olive Garden (I know you loves dem breadsticks, okayyy) grab dinner at your local mom and pop Italian restaurant! Even a simple gesture like that can make a big difference.
If you are interested in participating and want more information, email me at marie[at]agentlover.com!
CURRENT STATS
30,000 + PAGE VIEWS PER MONTH
FEMALE-BASED READERSHIP
TWITTER FOLLOWERS: 1700 +
FACEBOOK FANS: 700 +
TUMBLR FOLLOWERS 400 +
RSS SUBSCRIBERS: 800 +