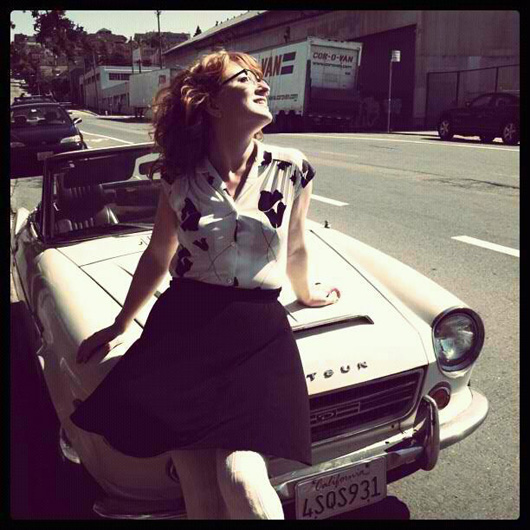 If you're looking for a reason to admire the lovely lady known as Kristen Adam, you better enjoy writing lists. If it's her background in design to her expert pie-baking, or making lion head hats to making music with her band, This Can't End Well, Kristen has an artillery of talent that seems endless. When I found out she was going to start making and selling accessories, I was more than excited to see what she had in store. Her love of vintage fashion was the basis for Rococonouveau, a shop where you can find beautiful detachable collars that Kristen calls "Collarettes." You might remember this outfit post when I wore one of her gorgeous "Madeline" pieces.
Read more about Kristen's inspirations and style icons and don't forget to enter the giveaway at the end!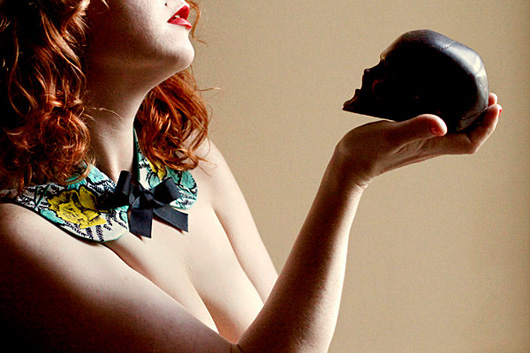 How did you come up with the idea to start making your Collarettes?
I've had a lot of free time on my hands this year since I was given the gift of funemployment, so I've been trying to make the most of it by filling up my life with various art projects. Sewing has been one of my favorite hobbies for as long as I can remember, and when I looked around my house I realized I had tons of fabric remnants from altering vintage dresses over the years. So! I set out to find a way to use it all up. I started out making ascots, which I wore all over the place and everyone seemed to love. Feeling utterly fabulous from all the compliments motivated me to keep on creating new pieces. I started digging through my collected sewing treasure and found a leopard skin collar taken from a vintage coat that a friend had gifted me some time ago. I had put it away waiting to have that stroke of genius on the perfect use for it. As soon as I saw it again I had the idea of simply sewing a ribbon on it and just wearing it on its own. Then I realized, hey! I could draw up a pattern like this and make these out of anything. So I did! Thus the Collarette was born.
Where do you draw inspiration from?
I've always felt a connection to things of the past: vintage and period fashions, early 20th century classic film, vintage erotica & pinup photography, art deco architecture, art nouveau textiles & jewelry, and the gilded splendor of the Rococo era. The goal in all my work is to merge the essence of these core inspirations with the modernity of the 21st century. Thereby preserving the beauty of these bygone styles in a way that is relevant to today's aesthetics. Hence, the name rococonouveau!
I look at lots of vintage fashion illustrations and magazines for ideas. I've picked up a couple of priceless vintage sewing books just lying on the sidewalks of SF. You find a lot of treasures that way around here. Just getting out and hunting for fabric is also a huge inspiration. I'll find things on the hunt and come up with ideas that I would never think of while holed up in my crafting cave and looking at books.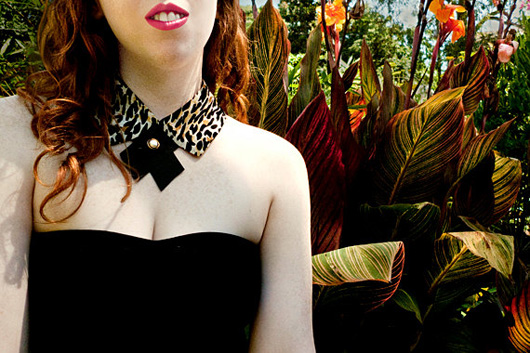 What other artists, clothing designers or otherwise, do you admire?
One of my all-time favorites is the early 20th century French fashion illustrator George Barbier. I could look at his illustrations and find new inspiration every day! I'm also an admirer of the art of Erté, Aubrey Beardsley, Tamara de Lempicka, Toulouse Lautrec, and most recently Josef Frank and Nell Brinkley.
It's funny, not a lot of my fashion inspiration comes from actual fashion designers. It's more of a melange of influences from music, art, film, and my lovely surroundings here in San Francisco. I recently also really enjoyed watching RuPaul's Drag Race! Endless inspiration from all those fabulous queens.
Who are your style icons?
The Ziegfeld girls.
If you could describe your personal style as the love child of two people, who would they be?
Prince and Daphne from Scooby Doo.
What are your wardrobe staples?
Currently: my army green vintage uniform skirt, taupe houndstooth professor blazer, Malcolm X-style prescription glasses, nude pumps or brown oxford pumps, backseam stockings or over-the-knee socks, a good red lipstick, and a fancy headscarf for bedhead days – I really want to make that "grandma chic" headscarf/turban the next big thing.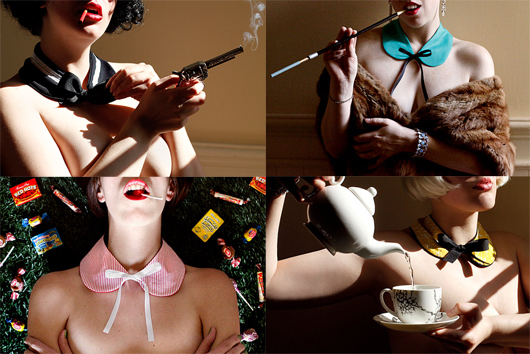 What are some movies that speak the vibe of Rococonouveau?
Blade Runner, Metropolis, Adventures of Baron Munchausen, Faster Pussycat Kill Kill!, Twin Peaks Fire Walk With Me, Dangerous Liaisons, Gilda, pretty much anything starring Fred Astaire or Gene Kelly, and for some strange reason I'm really inspired by The Shining. I think I just really fell in love with the Overlook Hotel and the idea of all those fancy ghosts from the 1930's partying down in that delicious gold deco ballroom for all eternity. Basically it's all about being fun, adventurous, fancy, romantic, mysterious, and having a little extra lady sass thrown in for good measure.
Your five most recent obsessions?
Nell Brinkley cartoons, RuPaul's Drag Race, "grandma chic" headscarves/turbans, over-the-knee socks, baking the perfect mini cupcake.
Do you collect anything?
Other than way too many clothes/shoes to fit in my tiny apartment? I'm starting to wonder at what point of closet overflow I need to admit that I have a problem…
I've always held a certain fondness for tea pots and cute tea sets. This last year I've been trying to collect various musical instruments and then figuring out how to play them in interesting ways, some of them toy instruments. However these days all I can think about collecting is vintage fabrics.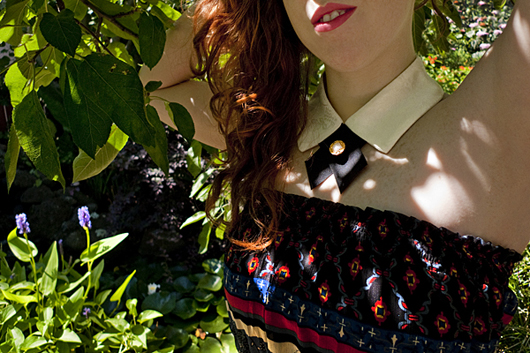 What's next for Rococonouveau?
I'm inspired all the time to design Collarettes in different shapes and styles, but my big plan is to eventually start designing and screen printing my own textiles to make them with using mostly repurposed materials. Also, thanks to my new obsession with Nell Brinkley I have been cooking up a couple stellar ideas for some new vintage-style accessories. So stay tuned!
++++++++++++++++++++++++++++++++++++++
AND NOW FOR THE GIVEAWAY! Rococonouveau is giving one of my readers (PALS OF AL) the same Madeline Collarette that I wore…which she named after me! Just leave a comment below describing the outfit that you'd wear with the Marie Madeline Collarette by Thursday, August 18th at midnight!  The winner will be chosen at random on Friday August 19. Additional entries given for tweeting about the contest on Twitter (just @ me @agentlover), and for posting on Facebook. All you have to do is "like" Rococo Nouveau and Agent Lover and link (again with @) to our pages on there! In addition to the contest, she is offering free domestic shipping when you place an order with her shop until August 26th. Just use the code AGENTLVRS upon checkout!