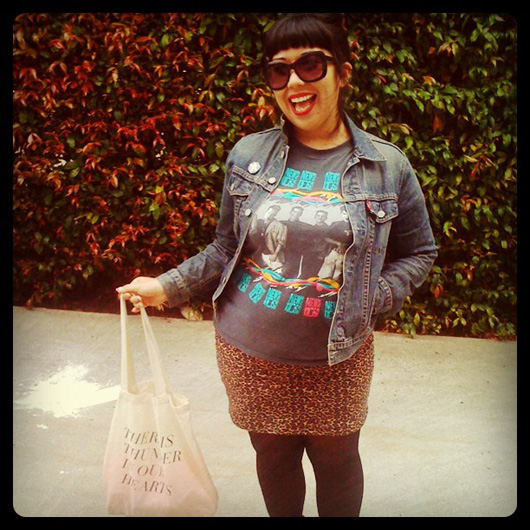 ♥ Levi's jacket, vintage NKOTB shirt from Emi's childhood, leopard mini skirt from Target, Kate Bush-themed tote from Fieldguided given to me by Melissa! There's also a Wu-Tang pin on the jacket. This combo basically sums me up well IMHO. ♥
Well dudes & dudettes, two things. I'm obsessed with Spotify and the addiction to Instagram has finally reached your pal Rie. I remember months ago when Fast Five came out, I wanted to marathon the entire series and used Instagram for screencaps to bait any of my friends who were secret Fast and the Furious fans (at least five have revealed themselves.) I hadn't really used it since because, A) my old-ass dinosaur iPhone would kick me out of the app every single time and B) It doesn't email you notifications when people add you. I am used to relying on email alerts, hello. Then Rory and another friend told me they were surprised I didn't use it more so I logged in and realized HEY THERE'S A PARTY GOING ON IN THERE. So here we are. The excitement I feel for Instagram is similar to my feelings for Flickr circa 2005-2006, which is a pretty big deal my friends.  But it really just gets me more excited for the new iPhone. Leyla and I are holding out for the iPhone 5 and will literally throw a party for the occasion. I have been holding off for so long!!!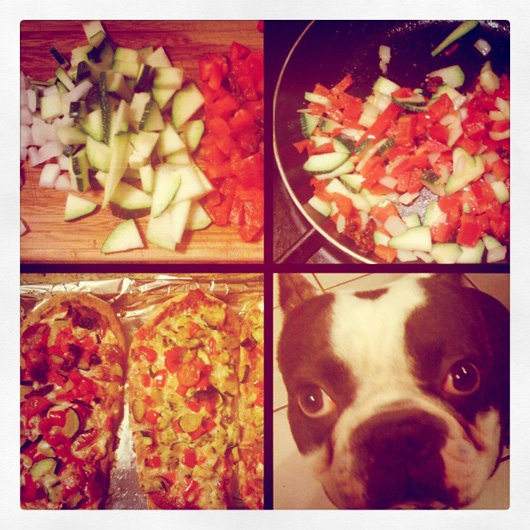 ♥ Some lil whole wheat naan pizzas I made (they look like pizza chanclas) and Mr. Shankly's hungry eyes. Does he ever get full? His stomach is like a bottomless pit. ♥
So now let me tell you about my crush on Spotify. If you work in an office all day, a good music situation is vital to your sanity. Luckily I am not tortured by Muzak (does it even still exist??) or Kiss FM and get to listen to whatever I want. HOWEVER, this can backfire if you are not careful. For instance, if you have your iTunes set to shuffle and a clip of you singing E-40's "U and Dat"  in autotune comes on it ain't gonna be pretty. That happened to me three times in the past year. It's like I keep pranking myself. 🙁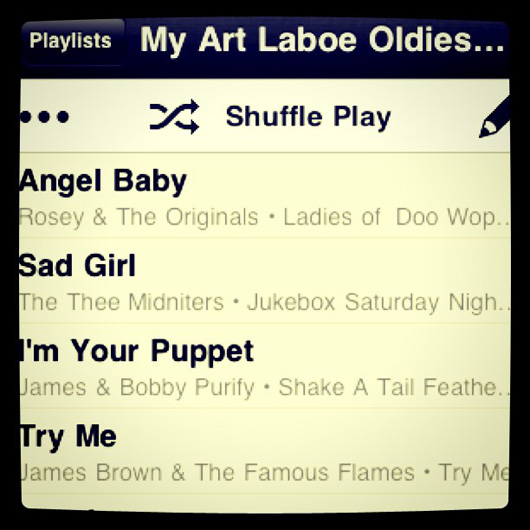 Anyway, I've ignored books, my Netflixing, my sleep, this blog, humans, food, the gym, all because I've been making playlists on Spotify and they are making me really emotional. But in a good, nostalgic, junior high sort of way. Some titles: "My Art Leboe Oldies Dedications" (romantic lowrider jams), Damn Girl (the ultimate late 90's/00's sistajams) I Was Born In The Wrong Era (Connie, Patsy, Brenda and the rest of the ladies who remind me there was a time when people actually knew how to sing) and then "I Love Every Version Of Sea of Love" which well, I've told you enough already.  Find me (agentlover) on there if you want to have a listen/cry/do the butterfly.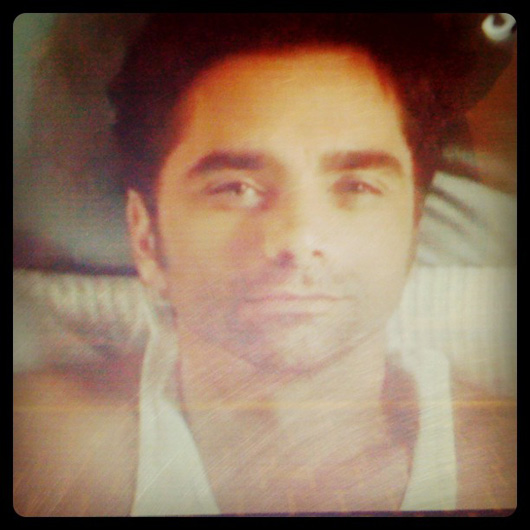 And before I leave you, Let us gaze at this screenshot from the best video ever made, (second only to the mariachi beluga serenade) the Stamos Cuddling video! So many people sent this to me. I love that so much, you guys. Of course I had to SAY SOMETHING TO MY BELOVED but alas, IGNORED AGAIN. Someday, someday…