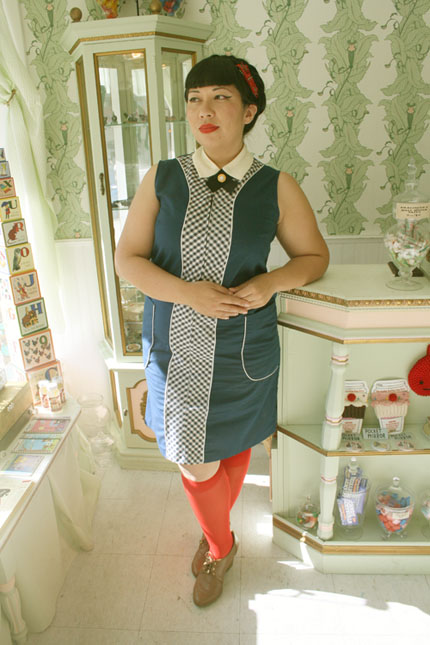 ♥ Thrifted dress, We Love Colors knee socks, shoes from Urbanog,  Rococo Nouveau "Madeline" Collarette, hair clip from Cutie Dynamite ♥
When you are a Low Maintenance Girl That Looks High Maintenance like myself (more on that later) you have to try some new things once in awhile, even though they will annoyingly cause your beauty routine to require more time. I thought this outfit called for a hairstyle that was opposite of my usual cascading 70's Cher locks (plus it was hot out and I didn't want to put it in a lazy ponytail) so I decided to finally try what The Others call "Heidi braids" or "Milkmaid braids." Of course I had my hesitations. Could I, Marie Madeline Lodi, with my natural Pocahontas-like weave pull off a hairstyle that is more  commonly seen adorning the crowns of delicate girltypes such as those found in the pages of Lula? I really wasn't sold on the idea, but once I came across photos of my two favorites Salma Hayek and Penelope Cruz wearing them, I felt I was given the green light. So I lit a candle, prepared my tresses and imagined Javier Bardem guiding my hands braid after braid. After a surprisingly quick effort, I reached SUCCESS!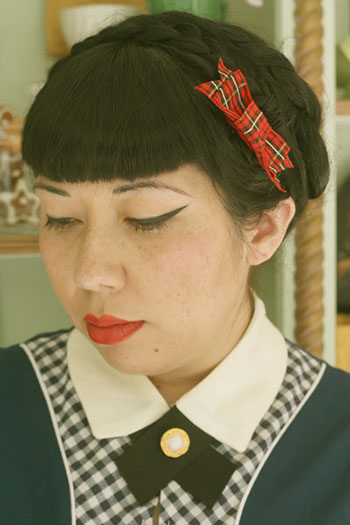 I look so innocent and freckly here, don't I? I'm going to practice so the hair tie is better hidden next time. The cute plaid clip is from Cutie Dynamite!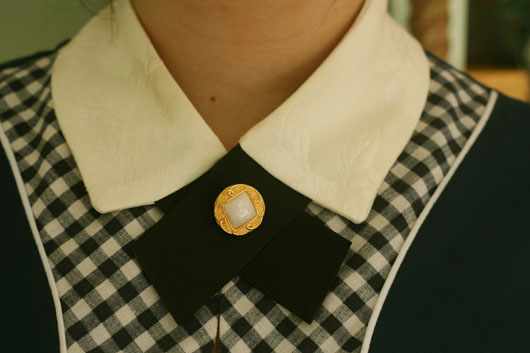 The amazing collar is from Rococo Nouveau, my friend Kristen's line of collarettes! This one is called the "Madeline" so naturally I love it even more! Keep your eyes peeled for an upcoming interview and giveaway from Rococo Nouveau!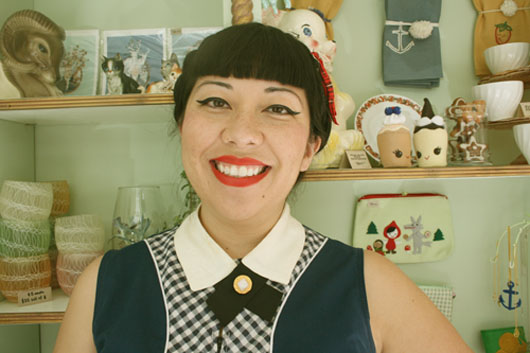 I'm also wearing a new shade of red lipstick here! This one is Besame's "Red Hot." I usually only fux with MAC and Chanel but I want to branch out and experience some new reds. This one gets my TWO THUMBS UP.
Next time I will attempt to finally conquer Madonna's Blonde Ambition ponytail. ARE YOU READY!?!? I'm going to have to prepare even more for that one, like soak my hair in virgin tears and play "Express Yourself" backwards.