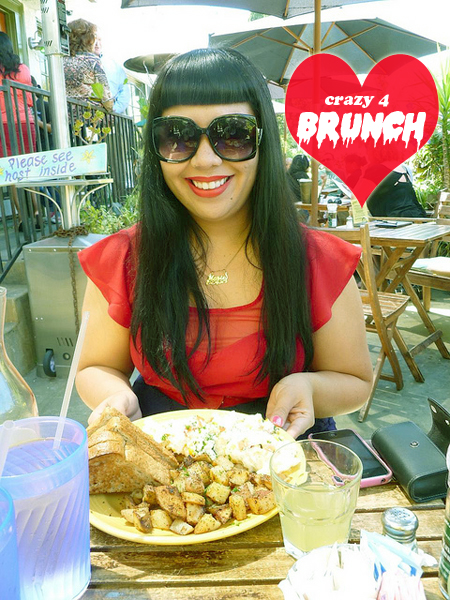 Sistadudes, can we finally talk about this IMPORTANT SUBJECT already? Brunch aka "I am too lazy and hungover to make it to breakfast," is one of my favorite things in the whole world. I know it's just a corny term you use to eat a late breakfast with your crew (usually the people you hung out with a few hours prior.) This way, you can keep the party going and extend the previous night's binge-drinking under the guise of "fancy mom drinks" like mimosas and Bloody Mary's.  Don't you need some of that el pelo del perro anyway?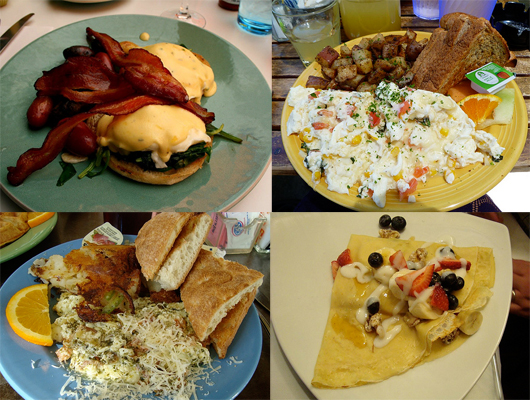 (BRUNCHES I HAVE BRUNCHED UPON, clockwise from left: Eggs Florentine at The Parker, Signature Scramble at Grub, Healthy and Happy crepe at Jack N' Jill's, Eggs Italia at Cafe 222)
Here are some Serious Brunch Rules I have made up for us to abide by, then break later:
Brunch starts at 11am and ends at 3pm. Anytime you eat prior to 11am is considered breakfast and reserved for early-risers like grampas and churchpeople. Anytime after 3pm should just be switched to "Thai takeout" because if you are starting your Sunday that late you might as well stay in and Netflix all day in your pajamas, Lazy. (Sounds awesome though)
Brunch is always on a weekend, usually after a wild night out. It can also be scheduled as a date to meet with out-of-town pals. You can't brunch on a weekday so don't even try to ask.
Brunch foods can be either breakfast or lunch items BUT they must be decadent and/or greasy with various carbs and types of cheese.  A side of fruit and oatmeal does not count as brunch, sorry.
Brunch should ideally last at least two hours. Let's be Epicurean for once and just eat, drink, and talk shit for a while. Life is too short to rush our special Brunchtimes with each other.
There must be alcohol present at Brunch, obviously.
Anytime you say you are "going to Brunch" you WILL sound like a big asshole. You might as well be taking tennis lessons at the country club afterwards with James Spader's character from Pretty in Pink, Preppy (A.C. Slater voice.) But it's okay because you're going to Brunch so screw everyone else, right?
(Now please tell me your favorite places and foods to brunch at and upon so I can make a master Brunchbook that we will pass around underground like the assholes that we are.)