So let's get real for a mome. I usually have this annual post ready for you in April and it's already almost July! Honestly, I lagged on it because I thought you guys didn't need my help no mo'. Three years ago when I first wrote this, we didn't have many options when it came to cute repros of vintage style bathing suits, but now we have so many! So I just figured all of you would just go to Modcloth and find something there. THEN I realized I can't be doing you dirty like this! Breaking this tradition of hunting for the cutest swimsuits for my sisters whilst listening to my favorite Sean Kingston pool jams?? I DON'T THINK SO. Especially because he needs our support more than ever this year since his horrible jet-ski accident! So glad you're doing OK, SEAN. WATA GWAN! Anyway, so here we are. Let's kick this off by talking about this year's icon, who is no other than the silver screen's own bathing beauty, Esther Williams.
Esther Williams aka the Million Dollar Mermaid, was the queen of the aquamusical. Her elaborate swimming scenes have always mesmerized a shy little girl who never even learned how to doggy paddle due to multiple ear surgeries as a child. THAT'S RIGHT EVERYONE I'M TALKING 'BOUT ME. If I can somehow get over this crippling fear of putting my head underwater, I WILL reenact a Busby Berkeley synchronized swimming scene. But it won't be easy. We are probably going to have to get Dr. Drew on this one you guys. Does he hypnotize people btw? Those of you who can seamlessly wade through water like sea angels, please consider yourself lucky! (F U)
ALRIGHTY MY SWEET DOVES! Let's talk about bathing suits! I know it's a bit sacrilegious to have Esther as the style icon without even showing off her own namesake designs, but I figured we should switch things up since I've been featuring her suits on here for the past few years, as well as own two of them myself. Interestingly enough, Fables and Barrie is on this list a lot! You may remember them as the creators of the wood panel pornsuit I blogged about earlier this year. You know…I actually kinda dig the two piece version of that woodboner suit!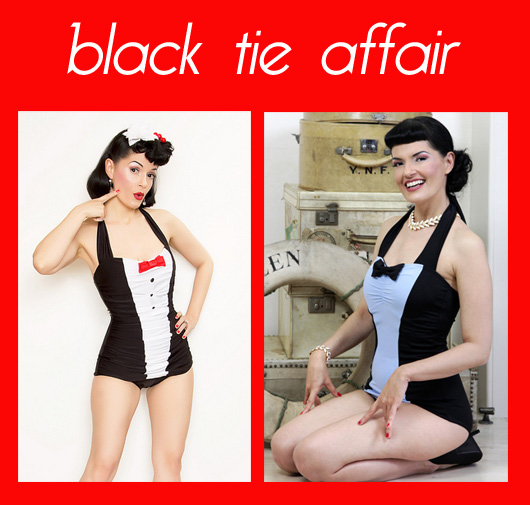 I'm really into this Puttin' on the Ritz tuxedo-style suit. Bernie Dexter is modeling two different styles from Fables by Barrie and What Katy Did. How cute are these? Would you wear a top hat in the pool? You know I would.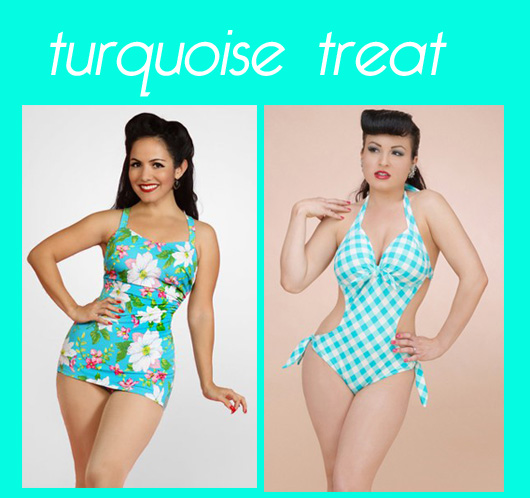 As always, I love finding a turquoise suit. These two are both from Get Go Retro, here and here. Not too crazy on the side cutouts for this style, but I really love gingham in this color!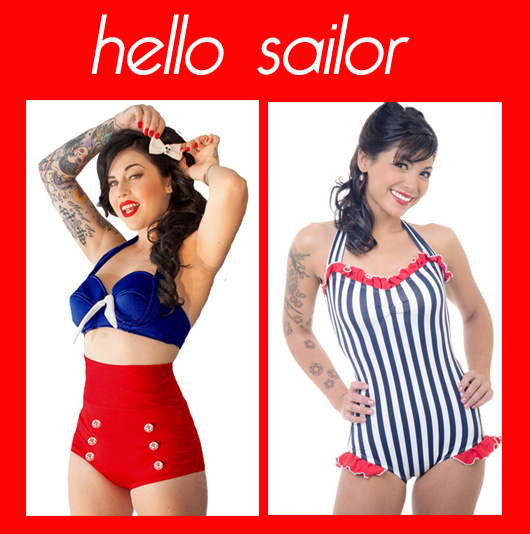 And of course, nautical is ALWAYS on the top of my list. Fables by Barrie did both of these suits and have tons of cute red and blue pieces that you can mix and match, so make sure you lurk their site thoroughly. My favorite combo on the left is SO Christina Aguilera "Candyman"-era which was the best Christina era, I think we can all agree.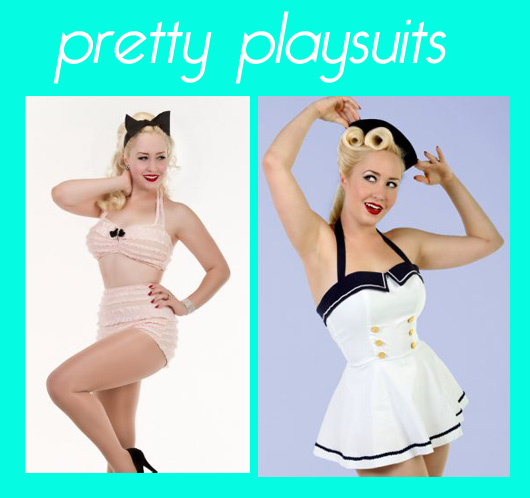 I love these two even though I think they are more for hanging out by the pool with a cocktail than swimming a few laps. From left: Get Go Retro and Vintage Suits by Mary.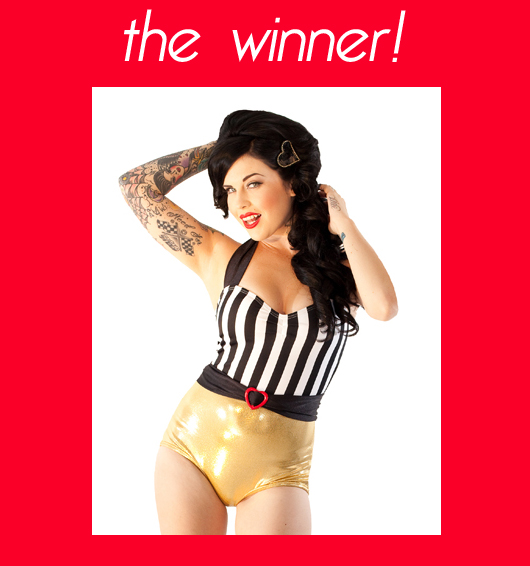 AND HERE IS THE WINNER! The Ashley swimsuit by Fables and Barrie. We have not seen a suit like this before! Is it even a bathing suit? Because I want to do a lot of things while wearing it, LIKE:
be a ring girl at a boxing match
drop a scarf to signify the start of a drag race like Paula Abdul did with Keanu in "Rush, Rush" (or Natalie Wood in Rebel Without A Cause, whichever reference you prefer)
So versatile! Have you guys found any other vintage style suits that you like?