Helloooo boos! It's just another picture of yours truly being ADORABLE!!!!
JUST KIDDING (o)(o)
♥ thrifted dress, Olsenboye bewts, my fave moto jacket ♥
I found this floral babydoll during a thrift session last weekend. It had Hulk status shoulder pads but I took them out so let me know if you need to stuff your bra and I'll put them in the mail for you STAT. These are the best kind of weekday dresses for me. Not too much revealing work cleave…comfy…casual. I also found this amazing black bomber jacket with a GOLD TIGER on the back. With rhinestone eyes! I'll take a pic soon.
Mmmm…the weekend is nigh my friends. I have a lot of work to catch up on but some fun times are planned too. PURPLE FUCKING RAIN SCREENING AT THE CEMETERY FOR INSTANCE. AHHHH! I'm so excited! I'm ironing my assless chaps as we speak. I was thinking of wearing a purple coat to the show but I don't want to be "too obvious" which makes no sense because as you may know, I like to dress in theme every chance I get.  Speaking of PRINCE, I still want this bag. Just wish it came in black too. Love 2 Love U. Whatcha got planned for the three-day weekend?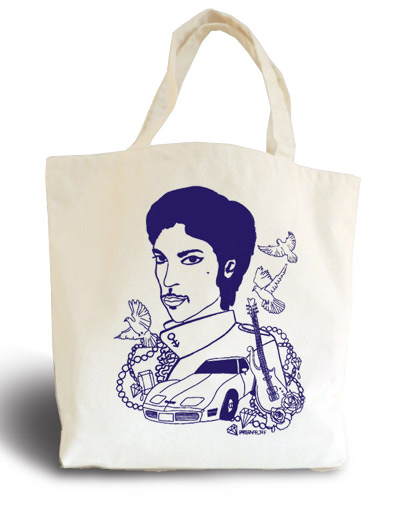 Your Little Red Corvette,

PS. My Itunes Prince play count from the past year: "Little Red Corvette" is currently at 158 plays. Mariachi El Bronx cover of "I Would Die 4 U" has 110 plays. OBSESSED