I fell in love with the amazing Elsa Billgren a few months ago when my bff Emi came across her blog on Elle Sweden. Need Help Dressing is filled with beautiful photos that peek into Elsa's whimsical life in Stockholm with her friends. I love seeing the pictures she takes of delishis food and her FANTASTIC vintage dress obsession. Like yours truly, Elsa prefers dresses and skirts to pants. She has the best dress collection I have ever seen!!! There is something very special about the simplicity of Elsa's blog and she is such a charming person to watch. Many props to Elle Sweden! I feel very happy and inspired whenever I read it (through Google Translate.) Elsa was kind enough to do a little Q&A with me so we can find out what inspires her.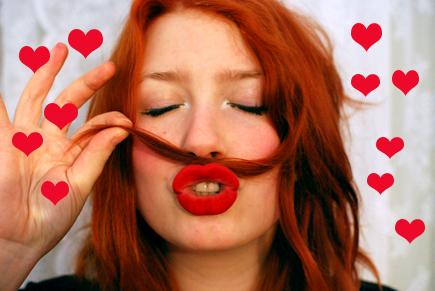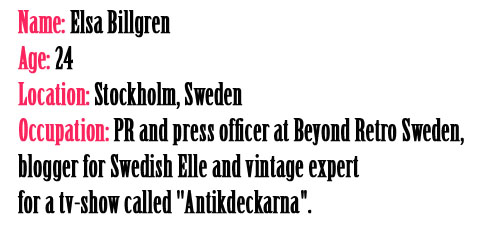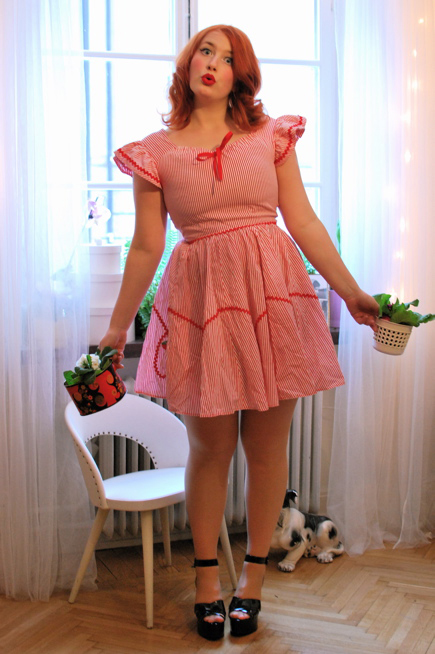 If you could describe your style as the combination of any two people or things, who or what would they be?
Marilyn Monroe and Brigitte Bardot.
Elsa, you inspire me! Who are some people that inspire you?
Oh thanks! I get inspired by old movies, French cute girls, my mother and everything with a history.
If I came to visit your city, where would you take me for a fun day?
We would go to Tranan bar the first day of summer and have a glass of wine in the sun, then a walk around our boheme blocks for some vintage shopping and end the day with a party on my friends balcony!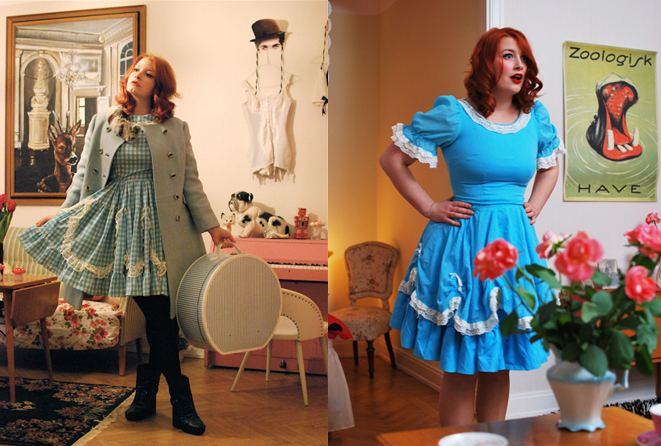 What else do you collect besides vintage dresses?
I collect glass jars to keep stuff in for my kitchen, cute comments on my blog and old pictures of my mum from when she was young.
Do you have something you wear every day?
I always wear a dress and a nice pair of stockings.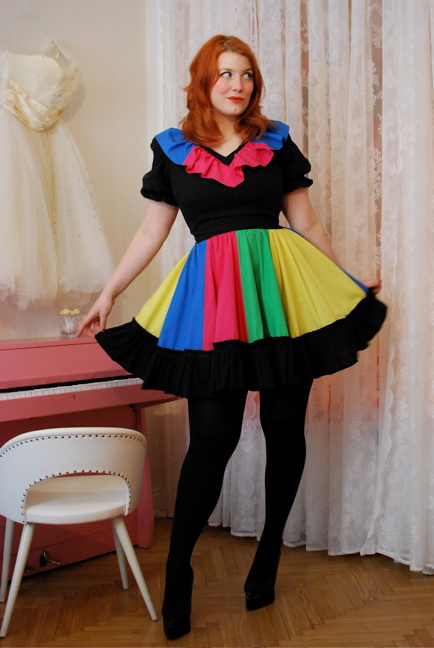 What is in your purse right now?
You can always find a camera, a calendar and some make up in my purse. And usually some fruits as well.
What music are you currently listening to?
I listen to anything from Love to Lily Allen. Right now I'm repeating a Nina Simone record.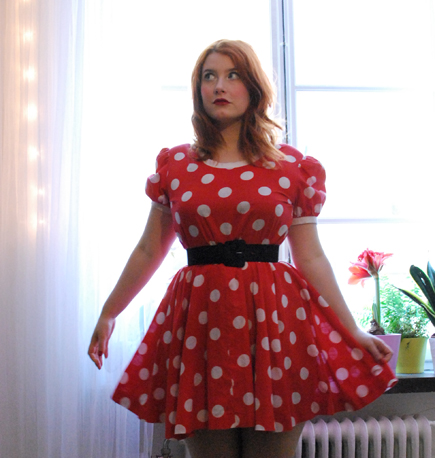 If you could have a tea party with any three people, living or dead, who would they be?
Oh, I would love to party with Andy Warhol and Salvador Dali! I believe the third person has to be Courtney Love.
What is your motto in life?
Live your life as if you are aloud to do whatever. Don't think about treating yourself, just enjoy what comes your way.
+++++++++++++++++++++++++++++++++++++++++++++++++++++++++
Here's Elsa modeling my mint green "Nikki" cake hat! How cute is she! Also a big congratulations to Elsa and her man on their recent wedding! Read more about Elsa at Need Help Dressing.