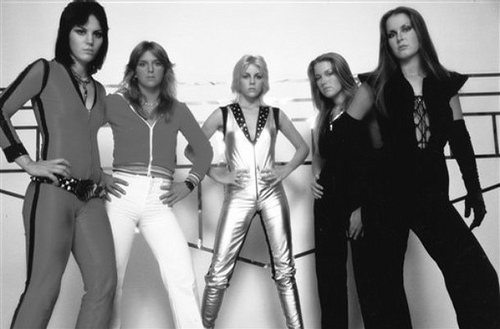 I've been waiting to see The Runaways movie since I love the band especially some of dat Joan Jett. Like many of us, I was apprehensive because of the casting choices: Kristen Stewart (BELLA) and Dakota Fanning. Honestly…I was mostly worried about Bella's mullet. Weren't you this whole time? Anyway, I actually liked the movie! Bella made a pretty decent Joan Jett. She put on her butch hat and made good use of her scowls in this film. However when I look at the real Joan Jett my lesbo-meter goes OOC. She makes me want to jump from a 2 to a 6 on the K Scale if you know what I mean. She has what we call "WHORE EYES." That super sexy, alluring, come-bone-me stare. And no matter how much black eyeliner she cakes on and cigarette smoke wafts through the air, Bella does not have "WHORE EYES". When I look at Joan Jett, penises are long gone from my mind. Like a forgotten memory or an extinct creature. A penis is basically a dodo bird when I look at Joan Jett*.  GAH!!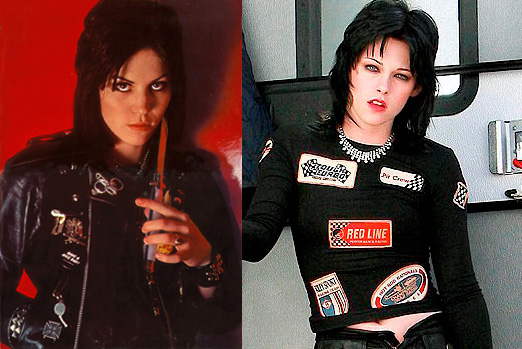 Dakota Fanning as Cherie Currie just didn't do it for me. It's just too soon in the game to turn her into a lingerie-wearing, stage-squatting tart. I still think of Uptown Girls when I see her. Come back in a few years and we'll tawk. 🙁 SAWRE DAKOTA. That's just how I feel. 70's child star Tatum O'Neal as her mom though, NICE TOUCH THERE.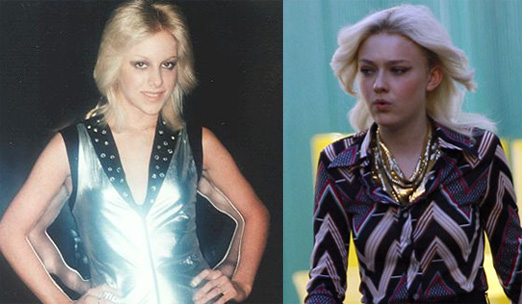 I loved the costuming though. Hello 70's fashion! There is a scene where Cherie comes out on stage to lip-synch some Bowie and she's wearing glittery gold platforms but I couldn't find a screencap of it.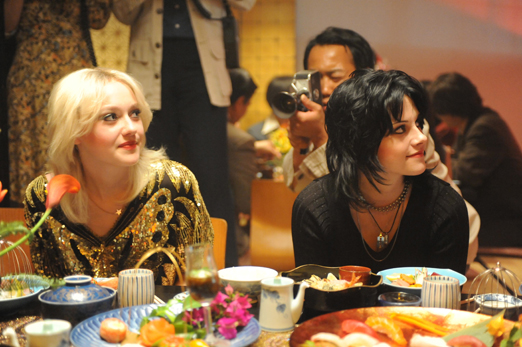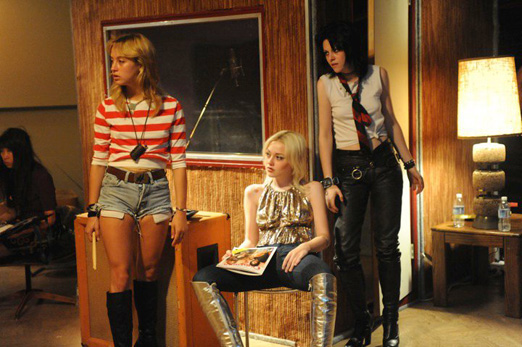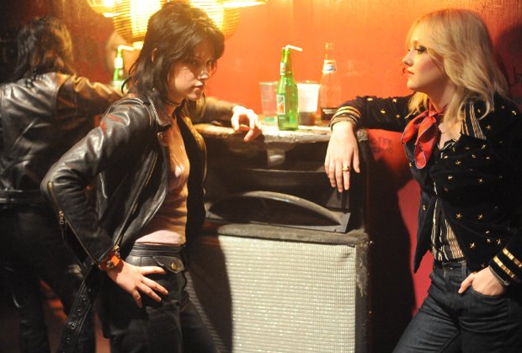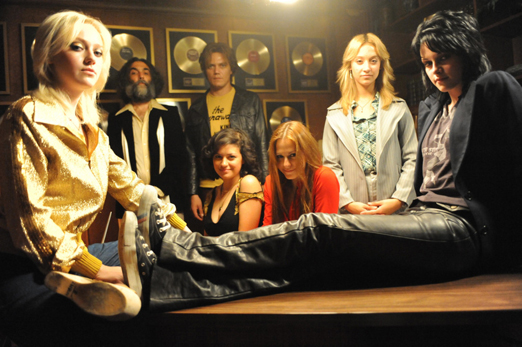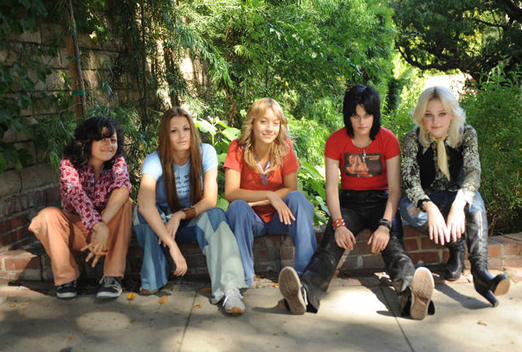 Basically if you are a NON-hardcore Runaways fan, dig the 70's, and like rock n' roll chicks then you'll probably enjoy it. And the 'sex scene' between Bella and Dakota? SICK!!! It was really PG and didn't show anything but I have never felt more dirty AND heterosexual watching that in my life. BORING! Unlike HEAVENLY CREATURES…
Joan's WHORE EYES STARING AT ME
The Runaways – Cherry Bomb
The Runaways – C'mon
Joan Jett – Crimson and Clover
*Editors note I take that back menz, I was just playin'! Don't fret my pets…