Last year I was on the search for the perfect vintage style swimsuit and have decided to go on the hunt for you again. Summer will be here in no time (can you believe it's already mid-April? Kinda makes me SICK). So Ladies, we gotsta be prepared for going to the tropics and sipping pina coladas!! (OPEN IN NEW TAB FOR SOUNDTRACK TO THIS POST) You know that's what Rie Rie will be doing this weekend in beautiful Palm Springs. Hopefully I will have better luck than last year when I was trying to tan underneath a rain cloud. MUTHA NATURE YOU WHORE.
Since I love Jayne, she'll be our vintage bathing beauty icon for 2009.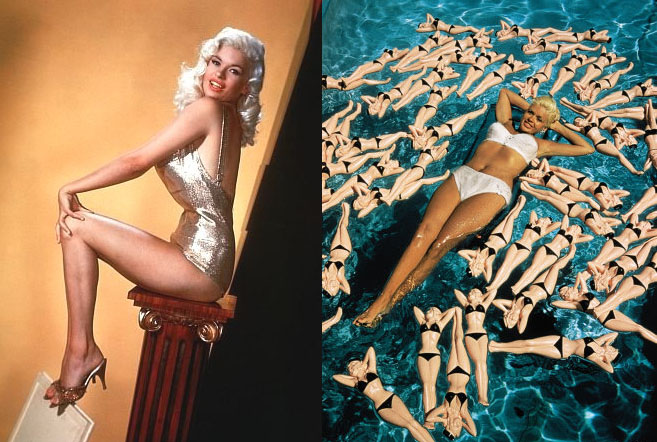 Get into the sexy mind frame of our sweet Jayne and find the right retro suit for you!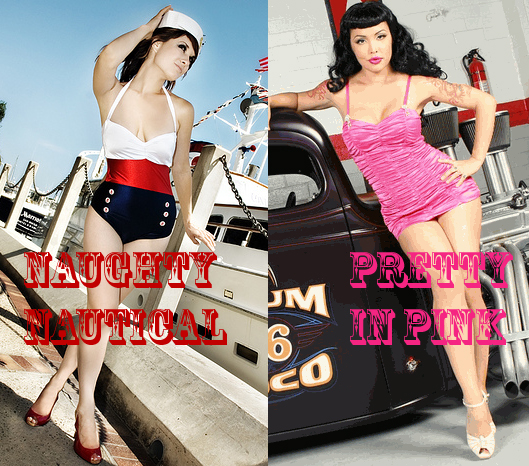 + NICE & NAUGHTY-CAL You can never go wrong with a sailor-style…anything in my opinion! It's a classic that will never be out of fashion, and in the form of a bathing suit shows proof of this. Available at Unique Vintage. This pretty in pink bathing suit is the best choice for girly girls. Wear this with flower clips and some cha-cha heels! From Pin-Up Girl Clothing.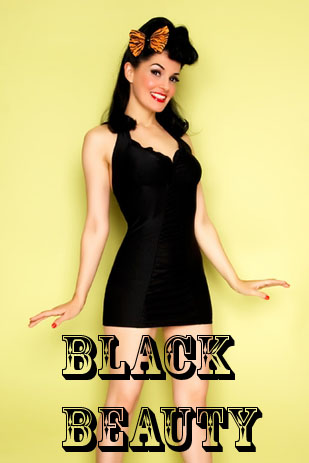 + SIMPLE & SEXY Do you want a basic black suit that will make the boy and girls drop their jaws (and maybe their drawers) when you strut by the pool? This Classic Black Marilyn suit from Lolita Girl is perfect for that in my opinion. And is that a butterfly in Bernie's hair? If so, I LOVE IT.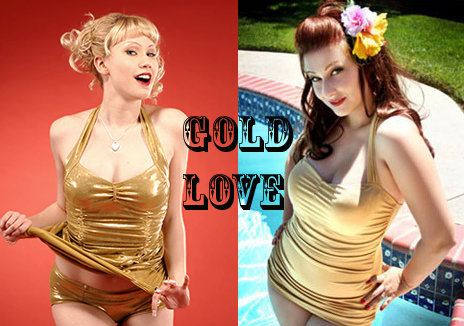 + THE GOLD SUIT. This was my choice this year because the love for gold is strong for 2009 in the Haus of Agent Lover. On the left is actually a two-piece that gives the illusion of a full suit from Baby Girl Boutique. On the right is the one that I got, an Esther Williams piece available from My Baby Jo.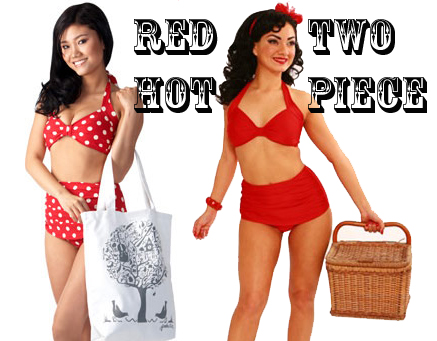 + BIKINI BOMBSHELL If a bikini is what you're after, but still want that 1950's silver screen look, you have plenty to choose from! Personally I think a red bikini is the way to go. Red lipstick, red wedges…Va-va-va-VOOM. Get the Beach Blanket Bingo Two Piece from Mod Cloth and  Classic Sheath Two Piece in red from My Baby Jo!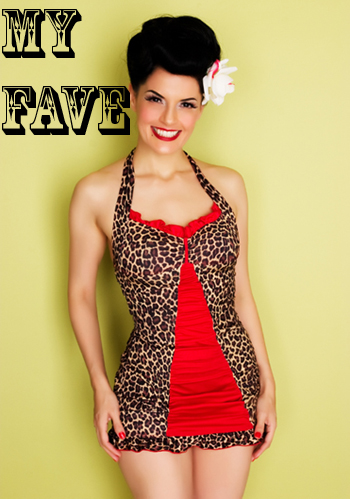 + THE WINNER! This red and leopard piece is my #1 pick! I love the red ruffles peeking out at the top and the 1940's design! From Lolita Girl Clothing.
Don't forget to accessorize with cat-eye sunglasses, cute wedges, cha-cha heels, flower barrettes, sunscreen and a cocktail or five…. And I was kidding about that Sean Kingston song for the soundtrack to this post. SIGH. But here's the right song to get you in the mood, an old favorite:
The Andrews Sisters – Rum and Coca-Cola

You might also want to peep:
+ On The Search For The Perfect Retro Bathing Suit
+ This Girl Can't Help It
+ Getaway Girl Style- Pierrot Le Fou