Confesh: I have been thinking about Justin Timberlake a lot lately because the other day I found a picture of me with short hair and glasses kissing a poster of him in Vegas WHERE I SAW HIM IN CONCERT (2003). Thank you. Ain't no shame in my game EVER. Then Gilda posted that one SNL single ladies video (did you just barely see dat m'lady?) This all has resulted in a desire for some new sexy JT tunes. He's close to perfection because #1: He funny, #2: He FUINE #3: He got flava for a white boy #4: He can sing AND dance #5: HE FUNNY!!! And now he is wearing glasses. SAY WAAT. You know every time there is a pair of Clark Kent spectacles around a panty drops (mine.) WTF is he doing to me?! My ladyboner is thru the roof. I'm hyperventilating right now. Then I come across this new Ciara video featuring the one and only:
[wp_youtube]jKt1A3Okvgo[/wp_youtube]
I'm on the floor now. My bra magically flew off Zapped-style. I don't know what happened to me but please, enjoy yourself if you feel me on this. Also have you peeped his William Rast line? Since I don't wear pants I don't see anything Rie-Rie-ish in his lady line (it's all jeanz) but I do love this GIANT BELT: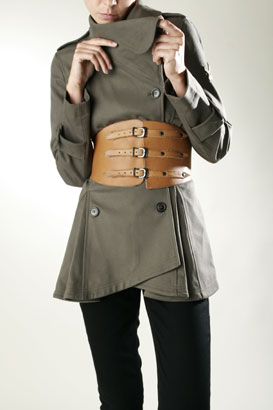 However I'm not feeling camel toe brown. I wish it were white instead so it could look like a straightjacket on my waist. Okay one more:
I wonder what kind of texter he is. Is he an ALL CAPPER, does he LOL, is he quick, bad grammar? No punctuation!?? Does he text stories of life or keep it short and sweet? I imagine he drops the good shit like LL Cool J Lyrics and doesn't miss a beat with a dirty pun. Thoughts?