I have this saying in life, "Hello Kitty transcends any age." It's true, no? There's plenty of us Sanrio fans who carried Pochacco tin boxes as purses in the sixth grade and now own Hello Kitty toasters as adults. So with the news that the M.A.C. Hello Kitty line will be dropping in a couple of months, it is certain there will be plenty of, ahem, mature ladies (ME INCLUDED OF COURSE) who will be stocking up on all the goodies.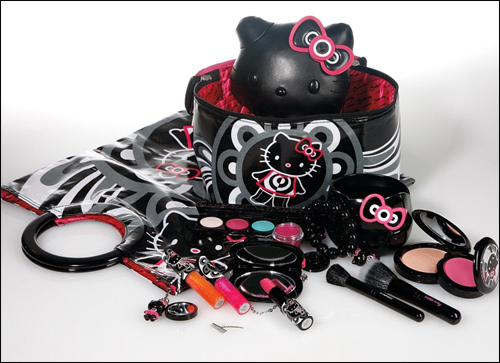 M.A.C. has been serious about this whole collaboration thing. There was Barbie last year, then my fave Fafi (which I bought almost all of), Heatherette, Dame Edna (seriously wtf is up with that one, looks kind of wack status) now HK!! Really though, what can we expect next? Have they tapped out all resources for future teamups? Can we bring back Lisa Frank for this mutha? I miss me some Lisa Frank (the old school style). Will they do a Lucha Libre-inspired M.A.C. line? Bettie Page? Betty Boop? Tammy Faye (RIP)? M.A.C. peeps-in-charge, do you see how I am giving you all these ideas? You need to hire me to think of these things all day. Also, do you think if M.A.C. was big in the nineties they would have asked the Spice Girls to collab? I do. Union Jack shimmery powder compact, I know you are feeling me.
Back to good ol' HK, so now all I need to happen is my dream collaboration that I have wanted for many years to come true…the Victoria Secret Very Sexy Hello Kitty Pushup bra. Thank you.