Finally! I have for you the second part of my "Getaway Girls" special…this one is a DOOZY!
Remember when we were sixteen and wanted to be like Rose McGowan's character in that terrible/awesome Gregg Araki movie Doom Generation? Anyone? Was it just me?!
Well…I always thought the cigarette-smokin', tough talkin', nymphomaniac that was Amy Blue was such a badass character, especially because of her look. With her black bob, bangs and crimson pout, my first and most obvious reason why I coveted her style was because she too is a member of the International Society of Black Hair, Bangs and Red Lipstick [ISBHBRL].
Since Amy and her two lowbrow Romeos were on the run during the entire movie, she was shown in only two different outfits: a black mini-dress with boots, sunglasses and tons of silver jewelry; and a pink vintage dress with see-through raincoat and white cat eye glasses. Although her fashion choices were limited, they were still memorable to a teenaged Agent Lover, especially the second outfit.
With the magic of Polyvore, I have chosen a few pieces that are sure to evoke Amy Blue style.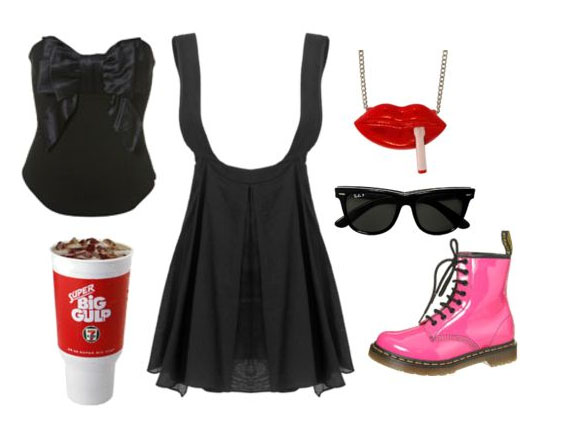 She wears black boots in the movie, but I thought bubble-gum pink boots might offer a nice touch. Don't forget your gazillion-ounce Diet Coke since Amy never ate and was tweaking the whole time. Hopefully you are unlike Amy and will just be very thirsty.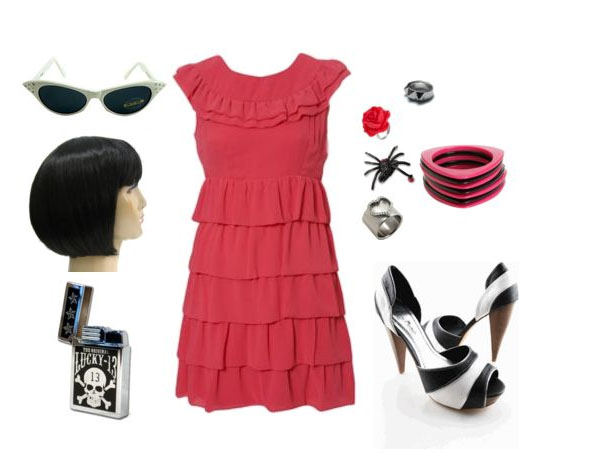 For my favorite outfit of hers, I found a ruffled pink modern dress to substitute for a vintage one, and added some sexy black and white heels. Sadly, I couldn't find a good see-through raincoat, but white cat eye glasses are an easy item to pick up. Remember she loves wearing tons of rings and smoking cigarettes. Bonus points if you have a black bob with bangs and two hot dudes hanging [banging?!] with you all the time.
I still want this belt buckle.
Part 3 coming soon, I promise!