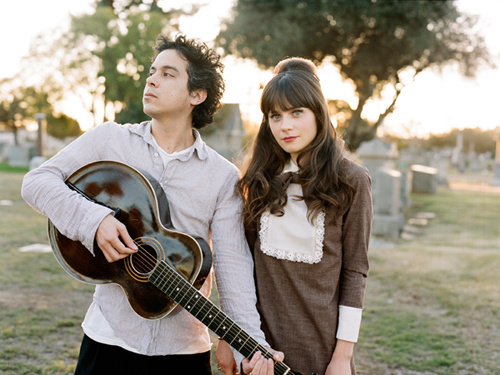 Earlier this week I caught the She & Him show at the Vista and I was beyond impressed by Zooey Deschanel and M. Ward's stage performance. I've already spoken of my love for them before, but after seeing them live I have been listening to their album Volume 1, nonstop [in between Morrissey and horny gangsta rap of course.]
The duo easily takes on a variety of genres, acting as tour guides of my childhood music nostalgia. Yes, I know Jenny Lewis already became that country-crooning indie princess we know and love, and Zooey not only masters that angle as well, but she also brings back 60's girl group sound. And if there is anything I want to make a comeback it is 60's girl group sound. It's just what we need, isn't it? And if it does become the in thing, where can I find two other ladies who will tease their hair and harmoniously "ooooh" with me just like the time I wanted to sing "Leader of the Pack" at the seventh grade talent show?
The real ultimate for me was their cover of Smokey Robinson's "You Really Got a Hold on Me." When I first heard that cover, I automatically visualized a red octopus grabbing a black dude with its tentacles. What the f, I know. Then I realized it was from a Sesame Street memory. With a little Goog, I found out it wasn't an octopus at all, but that whorish letter "U" molesting Smokey himself.
[wp_youtube]UyUxVCR0p9g[/wp_youtube]
That would always leave me feeling weird for some reason. Listen to She & Him's version and tell me how that makes you feel.
She & Him – "You Really Got a Hold On Me"
EDIT: I figured out why I have that red octopus memory! It's from this Beatles cartoon, instead with the song "I Wanna Hold Your Hand." Funny how memories fuse together like that!